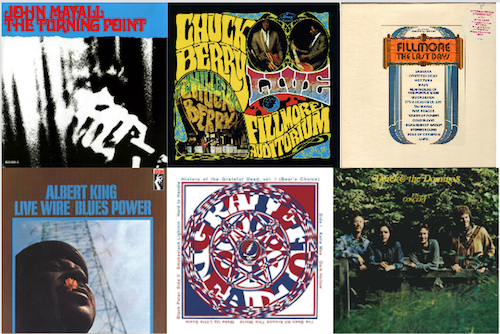 Previously, we published an article titled "10 Great 'Live at the Fillmore' Albums," which sparked a lot of debate. Welcome to part two!
Before you proceed, a polite request: If you happen to find your blood boiling as you look at the titles in this sequel, because you're not seeing those classics by the Allman Brothers Band, Jimi Hendrix, Aretha Franklin, Joe Cocker, etc., please remind yourself that this is part two! Chances are your favorite Fillmore album was covered in the previous edition; the link is in the first paragraph. And if not, we'd like to know which ones we missed!
As in the first installment, this survey takes into account only fully live albums recorded at the three Fillmores operated by the late promoter Bill Graham: San Francisco's Fillmore Auditorium (1965-68) and Fillmore West (1968-71), and New York's Fillmore East (1968-71). Only albums that were released more or less contemporaneously to those venues' actual existence are included here, although we allowed ourselves to stretch the cutoff point to 1973. Many, many "live at the Fillmore" albums have been released in recent decades—some from the original era and some from the reopened Fillmore in San Francisco—but those do not qualify for this roundup.
We also booted out recordings that were only partially recorded at one of the Fillmores. Some artists mixed studio recordings with Fillmore-taped live material, while others, although wholly live, mixed Fillmore material with live tracks from other venues. So…no 4 Way Street (Crosby, Stills, Nash and Young), Live/Dead (Grateful Dead), Cheap Thrills (Big Brother and the Holding Company), Flowers of Evil (Mountain), Some Time in New York City (John Lennon and Yoko Ono), Wheels of Fire (Cream), Live Johnny Winter And or Love, Peace and Happiness (the Chambers Brothers). Great albums all, but they don't meet our criteria.
These do…
10) Chuck Berry—Live at Fillmore Auditorium (Mercury, 1967)
Bill Graham often booked Chuck Berry at his Fillmores but, oddly, few of the other early rock pioneers (never Fats Domino, Little Richard or Jerry Lee Lewis, for example, and certainly not Elvis). And the hippie audiences loved to see him. Perhaps that was because so many of their favorite bands were inspired by (and often covered) Berry, like, for example, the Steve Miller Blues Band. When Berry appeared at the original San Francisco venue in June 1967 with the Miller crew as his backup band, they were already well known to the venue's audience and proved quite adept at accompanying the guitar icon. Berry made it pretty easy for Miller though: he threw away his usual setlist and used the opportunity to avoid all of his hits except one—"Johnny B. Goode." Instead he played a set of blues originals and covers, such as "C.C. Rider" and "I'm Your Hoochie Coochie Man," reminding his younger fans that he originally came out of the world of Midwestern blues clubs. It's neither his nor the Miller Band's finest moment, but it's a great historical document, a hand-shaking of two generations of rock 'n' roll.
9) The Fugs—Golden Filth: Alive at the Fillmore East (Reprise, 1970)
The New York band was adored in its hometown, which appreciated its mix of sloppy avant-rock, Beat-inspired poetry and quasi-pornographic lyrics. Co-leaders Ed Sanders and Tuli Kupferberg, both respected poets and provocateurs, were local legends among the hippest New Yorkers and by the time they recorded this set in 1968, their audience certainly knew what to expect: nothing very safe or conventional. The opening track, "Slum Goddess," is about as good as they got and while none of their stuff would be considered shocking today (and the humor is kind of dated), this surviving document of the live Fugs toward the end of their brief run is still worth a listen.
8) The Charles Lloyd Quartet—Love-In (Atlantic, 1967)
Bill Graham loved jazz and he booked jazz artists fairly often—A-list names like Miles Davis and even the occasional big band—usually placing them as opening acts for popular rock groups in order to expose the audiences to this music. Opening for the Paul Butterfield Blues Band at the San Francisco hall in January 1967, saxophonist/flutist Lloyd and his quartet—which included the young Keith Jarrett on piano and Jack DeJohnette drumming—was a favorite of S.F. rock fans due to its daring experimentation and an often dreamy quality that appealed to the stoners in the house (which, let's face it, was just about everyone in those days). The rock fans soon learned, when they saw these pros, that jazz musicians could jam too! Exciting, stimulating and sensual, this recording is certainly of its time but still quite a joy.
7) Albert King—Live Wire/Blues Power (Stax, 1968)
Of all the major bluesmen of the '60s, guitar great Albert King (along with B.B.—no relation) was probably the one most often featured at Graham's venues. And why not? A superb showman, he related well to the audiences there, who quickly ascertained in return why their own heroes, like Eric Clapton and Jimi Hendrix, were so in awe of King's charms. This live show is missing some of King's best known tunes, but what's here is a great cross-section of his various styles, played to near-perfection.
Related: Gregg Allman shares a Fillmore East secret
6) Taj Mahal—The Real Thing (Columbia, 1971)
Just as he was beginning to gain a strong foothold among the rock crowd as an authentic new blues and roots figure, Taj Mahal pulled a fast one: he arrived at his February 1971 Fillmore East gig with a band that included, in addition to a standard rhythm section, four tuba players! You might wonder just how that could possibly work…until you hear this double album. This band rocked, and Mahal proved such a compelling frontman that he's still going strong today, 45 years and 25-plus albums later.
5) Derek and the Dominos—In Concert (RSO, 1973)
Eric Clapton first played the Fillmore Auditorium with Cream in the summer of 1967 and then returned there with the band—and to Winterland, another San Francisco venue utilized by Graham—in March '68. They recorded the live half of their Wheels of Fire set at those shows but oddly, that band never got around to playing Fillmore East. When the guitarist hooked up with keyboardist Bobby Whitlock, bassist Carl Radle and drummer Jim Gordon as Derek and the Dominos two years later (all four had played together as part of Delaney and Bonnie's ensemble), Graham was on the case. In Concert was cut in New York in October 1970 but not released until 1973, long after the band had split up. The album didn't even make the charts—but in retrospect it proves a solid listen, with the band jamming solidly on most of the tunes from its classic Layla LP and "Presence of the Lord," the brilliant Clapton ballad from his brief 1969 outing with Steve Winwood and Ginger Baker, Blind Faith.
4) Grateful Dead—History of the Grateful Dead, Vol. 1 (Bear's Choice) (Warner Bros., 1973)
The Dead and the Fillmores were synonymous. They were one of the first bands to play the West Coast venues and quickly became regulars at the New York room, where they burnished their reputation as the must-see band from San Francisco. A chunk of their 1969 masterpiece  Live/Dead was recorded at Fillmore West but this single-LP curio, recorded at Fillmore East during the fabled shows of February 1970, was their first live set recorded entirely at one of the Graham venues. The Bear of the title was Augustus Owsley Stanley III, not only the manufacturer of the finest LSD ever known to mankind, but the Dead's eccentric soundman. He chose the five acoustic tracks that occupied side one and the two sizzling electric jams on the second, with a special emphasis on tracks featuring the Dead's early keyboardist/vocalist, Ron "Pigpen" McKernan. The album wasn't released until July '73, a few months after Pig's death, but it served as a window into an especially fertile period in the band's run. Dozens of "live at the Fillmore" Dead albums have since been released as part of series like Dick's Picks and Dave's Picks, but this short-but-sweet set still has a special place in the discography for many Dead Heads.
Related: Fillmore East opens, March 1968
3) John Mayall—The Turning Point (Polydor, 1969)
By the summer of 1969, the pioneering British bluesman had already led bands showcasing the likes of Eric Clapton, Mick Taylor and three blokes who would go on to form Fleetwood Mac: Peter Green, Mick Fleetwood and John McVie. But he was tiring of the electric blues-rock format and looking for something new. He did away with drums and electric guitar and formed a largely acoustic band featuring Jon Mark on acoustic guitar, Steve Thompson on bass and Johnny Almond on saxophones, flutes and mouth percussion. Mayall wrote a batch of new songs, including "Room to Move," which would become a perennial in his sets, and then had the band recorded live at Fillmore East. The Turning Point reached #32 and probably saved Mayall's career. He's still at it today, at age 83, and this is considered one of his finest moments.
Related: BCB chats with John Mayall
2) King Curtis—Live at Fillmore West (Atco, 1971)
The release of Live at Fillmore West by the R&B saxophonist King Curtis was bittersweet. On March 5, 6 and 7, 1971, Curtis Ousley and his band were not only serving as accompanists to Queen of Soul Aretha Franklin for her historic sets at the venue, but also as her opening act. One of the most skilled and versatile bands around, they epitomized the classic soul revue of the day, knocking audiences out with their virtuosic playing and dynamic presentation. Atlantic Records saw fit to record the band's own sets and released the live LP—featuring soul covers of "Whole Lotta Love" and "A Whiter Shade of Pale," even Bobbie Gentry's "Ode to Billie Joe," as well as Ousley originals and other hip covers. The bittersweet part happens when the album is released in August '71. Just a week later, Ousley was stabbed to death outside of his Manhattan apartment, robbing the world of a gifted musician.
1) Various Artists—Fillmore: The Last Days (Fillmore, 1972)
This is where it all ended. In mid-1971, Bill Graham decided to close both Fillmore East and Fillmore West. He'd become disgusted with the way the concert business was heading, with artists demanding more money and wanting to play larger venues, and with audiences that seemingly wanted shows that went on forever and cost them nothing. The NYC venue was shuttered first, on June 27, with a single-night bash that featured the Allman Brothers Band (who'd practically made their home at the room over the past 18 months), the J. Geils Band, Albert King, the Beach Boys, Edgar Winter's White Trash, Mountain and Country Joe McDonald. The show was simulcast on two New York rock stations, WNEW-FM and WPLJ, and then Graham turned his attention west. For San Francisco Graham scheduled an entire week's worth of shows, from June 29-July 4, each featuring artists that had become crowd favorites, from Santana and the Grateful Dead to Tower of Power, Boz Scaggs, Quicksilver Messenger Service, Hot Tuna and others. The proceedings were filmed and released to theaters as Fillmore in 1972. This three-LP companion boxed set was not technically a soundtrack—only eight of its 20 songs were also in the film—but it served as a fitting farewell to one of the most fondly remembered eras in rock history. As for Graham, his retirement didn't last long. He continued to present concerts in both San Francisco and New York as well as the rest of the country—many in the stadiums and arenas he had said he detested—until his untimely 1991 death in a helicopter crash.
Bonus Albums
Bill Graham prided himself on booking diverse acts into his halls, and although he usually stuck with rock, R&B, blues and jazz, every so often he confounded fans by featuring someone they never would have expected. Like these two…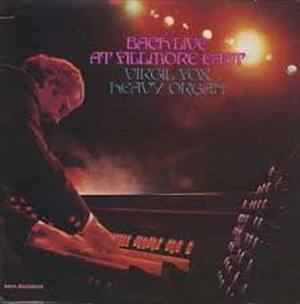 Virgil Fox/Heavy Organ—Bach Live at Fillmore East (Decca, 1971)
Recorded in 1970 and released the following year, it's just what's advertised: Bach organ music performed by the musician, then in his mid-50s, complete with psychedelic light show.
But by far, the weirdest was this…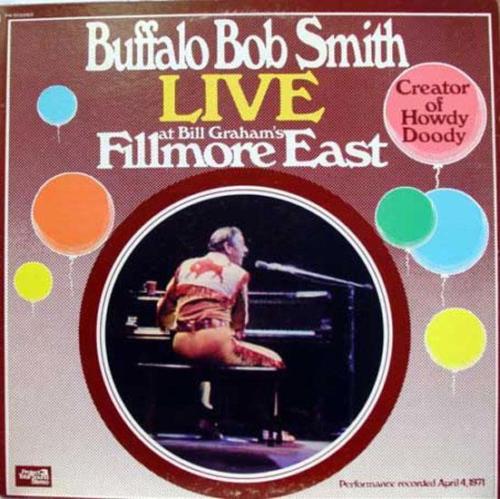 Buffalo Bob Smith—Live at Bill Graham's Fillmore East (Project 3 Total Sound, 1971)
If you're thinking, wait, the only Buffalo Bob Smith I know is the one who created and hosted The Howdy Doody Show, well, you're not crazy! On April 4, 1971, the kids' show star played Fillmore East. He was cashing in on a wave of nostalgia that also gave us Sha Na Na and the show was recorded and released. Hey, it was a strange, strange time, man.

Latest posts by Jeff Tamarkin
(see all)