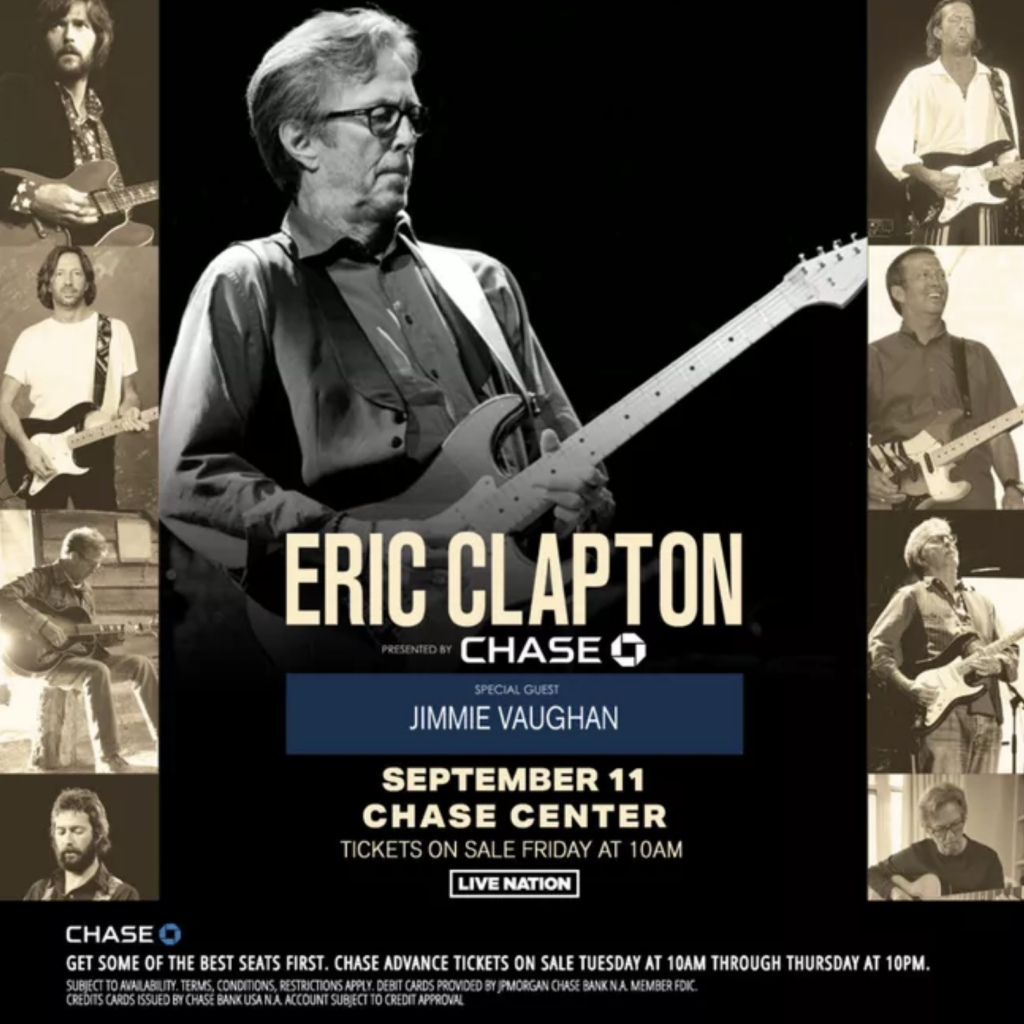 The last time that Eric Clapton performed in the San Francisco Bay Area was an interminably long eight years ago, roughly the length of time it took him in his early days to get from the Yardbirds through John Mayall's Bluesbreakers, Cream, Blind Faith and well into his solo career.
For his return, Clapton, whose tours have grown increasingly rarer as time goes on—Slowhand is now 74 and has been in the public eye for more than half a century—was booked into the brand new Chase Center in San Francisco, the new home of the Golden State Warriors. The venue opened only three nights earlier with a well-received concert featuring hometown heroes Metallica accompanied by the San Francisco Symphony, and then the Dave Matthews Band touched down at the venue the night before Clapton.
Watch Clapton perform "Key to the Highway" at Chase Center
Clapton's short U.S. tour will also take him, over the next several days, to Las Vegas, Phoenix and, on the 20th and 21st, to Dallas, where he'll headline this year's annual Crossroads Guitar Festival at the American Airlines Center. Clapton's infrequent live shows have countered his earlier announcements that his touring days are over—he began this year with a five-night run in Tokyo and last year performed in London's Hyde Park and New York's Madison Square Garden.
Watch "I Shot the Sheriff" from the Chase show
At the Chase Center, Clapton—who enjoys the rare status of having been inducted three times into the Rock and Roll Hall of Fame—began his 14-song set with "Pretending," from his 1989 album Journeyman, before zig-zagging through tunes from throughout his career.
Related: Watch Clapton play Prince's "Purple Rain" in London earlier this year
Watch "Circus" from the Bay Area concert
The set included trademark numbers such as "Key to the Highway," Cream's "Badge" (but not "Sunshine of Your Love"), "I Shot the Sheriff" and "Tears of Heaven," and of course his famed Bob Marley cover "I Shot the Sheriff" and Derek and the Dominos' "Layla," which closed the main part of the set. He also performed several blues numbers, among them two penned by his hero Robert Johnson, "Crossroad Blues" (which Cream recorded as "Crossroads") and "Little Queen of Spades."
Watch part of the performance of Cream's "Badge" from Chase
One of the first published reviews of the concert, from San Jose's Mercury News, found Clapton's performance at the Chase Center disappointing, calling it "uneven — and, ultimately, unfulfilling." The newspaper's reviewer called the four-song acoustic portion of the show "sleepy" and noted that the encore, "High Time We Went," which featured guest Carlos Santana doubling up on guitar, "failed to live up to its promise."
Related: 10 great Eric Clapton collaborations
Watch "Holy Mother" from Chase Center
Watch Robert Johnson's "Little Queen of Spades," one of several blues songs from the show
When Clapton presents the fifth installment of the Crossroads Guitar Festival, on September 20 and 21 at the American Airlines Arena in Dallas, the performances by the all-star lineup will be available worldwide for a live simulcast stream on Pay-Per-View. The news of its worldwide availability was announced on September 11.
The price for each event is U.S. $39.99 and will be transacted at locally equivalent exchange rates. Order it here.
Clapton will be joined by an assembly of many of the world's foremost classic rock guitarists including Jeff Beck, Billy Gibbons, Joe Walsh, Bonnie Raitt, Peter Frampton, Robert Cray, and dozens more.
Watch the encore of "High Time We Went" with Carlos Santana joining in
Eric Clapton Chase Center Setlist
1. Pretending
2. Key to the Highway
3. I'm Your Hoochie Coochie Man
4. I Shot the Sheriff
5. Driftin' Blues
6. Circus
7. Nobody Knows You When You're Down and Out
8. Tears in Heaven
9. Badge
10. Holy Mother
11. Crossroads
12. Little Queen of Spades
13. Layla
Encore:
14. High Time We Went (with Carlos Santana)
Watch "Layla" from the San Francisco show

The BCB team brings you the latest Breaking News, Contests, On This Day rock history stories, Classic Videos, retro-Charts and more.

Latest posts by Best Classic Bands Staff (see all)