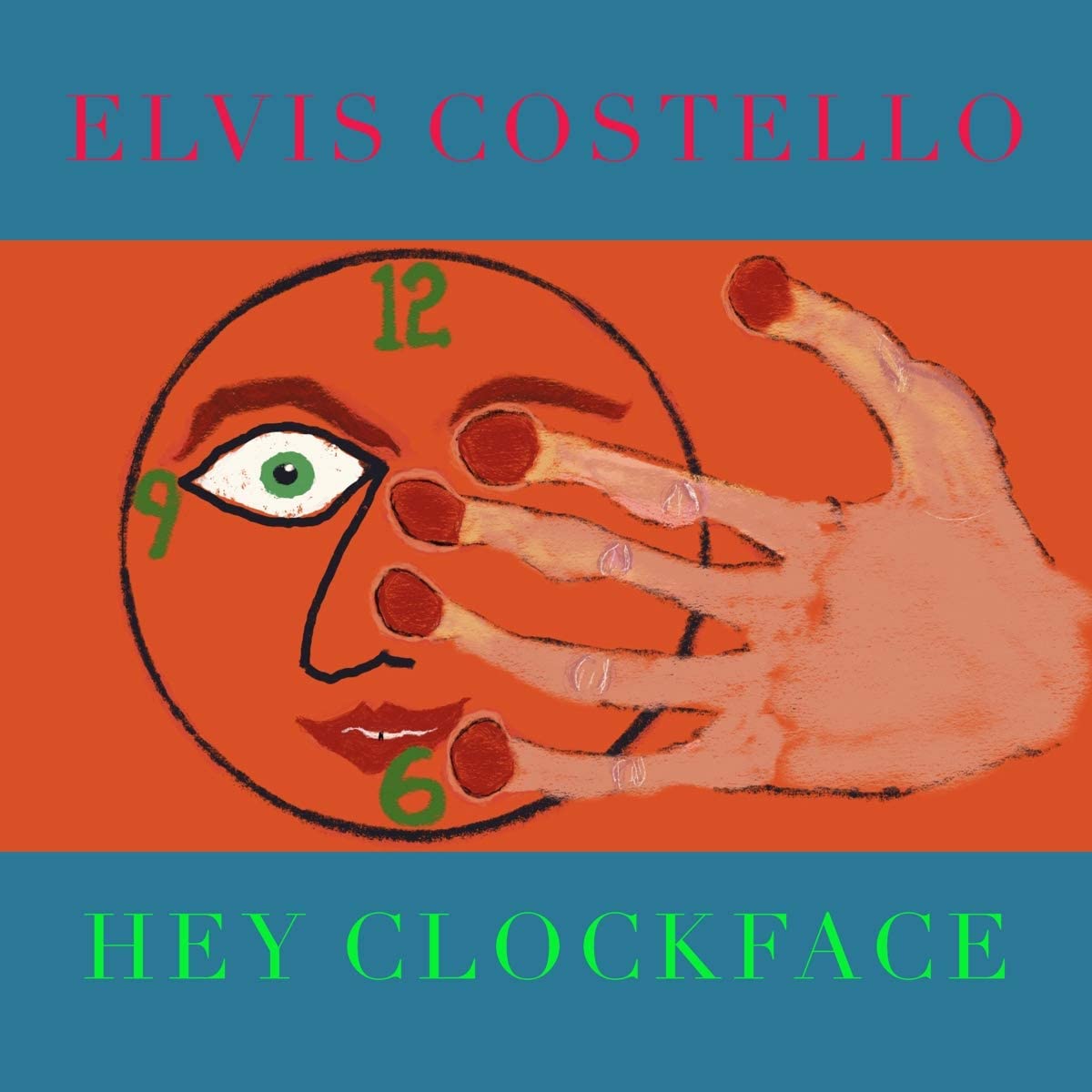 Elvis Costello has announced a new album, Hey Clockface, to be released October 30. The album was recorded in Helsinki, Paris, and New York. On Sept. 11, the singer-songwriter released a video for the album's jaunty title track. The video follows the earlier release of "We Are All Cowards Now," "Hetty O'Hara Confidential" and "No Flag" on June 5. It's his first new music since 2018. Listen to the tracks, as well as a new B-side, "Phonographic Memory," below.
Following the solo recording of "No Flag," "Hetty O'Hara Confidential" and "We Are All Cowards Now" at Suomenlinnan Studio, Helsinki by Eetü Seppälä in February, Costello immediately traveled to Paris for a weekend session at Les Studios Saint Germain.
Costello says, "I sang live on the studio floor, directing from the vocal booth. We cut nine songs in two days. We spoke very little. Almost everything the musicians played was a spontaneous response to the song I was singing. I'd had a dream of recording in Paris like this, one day."
Watch the video for "Hey Clockface"/"How Can You Face Me"
The ensemble, dubbed, "Le Quintette Saint Germain" by Costello, was recruited for these dates by Steve Nieve (who plays grand piano, upright piano, organ, mellotron and melodica) and features Mickaél Gasche on trumpet, flugel horn and serpent, Pierre-François "Titi" Dufour on cello, and the drums, percussion and high harmonies of Ajuq.
Reed player Renaud-Gabriel Pion plays contrabass clarinet, bass clarinet, Bb clarinet, tenor saxophone, bass flute and cor anglais. The Paris sessions were recorded by François Delabrière.
Watch the video for "We Are All Cowards Now"
The New York sessions were produced by composer, arranger and trumpet player, Michael Leonhart in collaboration with guitarists, Bill Frisell and Nels Cline and completed, lyrically and vocally by Costello, "via Electrical Wire."
The musician had been teasing the first two songs' release in late spring and early summer with a series of tweets that featured some of the songs' lyrics and illustrations from the music videos. Costello performs Hammond organ, Fender Jazzmaster, upright piano, Rhythm Ace and "all other noises."
"She could kill a man with a single stroke," he sings on "Hetty O'Hara Confidential." "She is not the one you want to provoke."
Watch the lyric video for "Hetty O'Hara Confidential"
As with all of us, 2020 has been a memorable year for Costello, though he has several unique reasons. On Feb. 14, he became an Officer of the Order of the British Empire, at a ceremony overseen by Prince Charles at Buckingham Palace.
And though his celebrated career is decades old, Costello had never won a Grammy Award for one of his albums. That all changed at the 62nd Grammy Awards, held on Jan 26. The musician won for Best Traditional Pop Vocal Album for his Oct. 2018 release, Look Now. The legend had previously won in 1999 for Best Pop Collaboration with Vocals, with Burt Bacharach.
"You may be joking, but I don't get the gag," he sings in "No Flag." "I sense no future, but time seems to drag."
Watch the lyric video for "No Flag"
Hey Clockface Track Listing
Revolution #49
No Flag
They're Not Laughing At Me Now
Newspaper Pane
(Elvis Costello /Michael Leonhart / Bill Frisell)
I Do (Zula's Song)
We Are All Cowards Now
Hey Clockface/How Can You Face Me?
(Elvis Costello/Andy Razaf & Thomas Fats Waller)
The Whirlwind
Hetty O'Hara Confidential
The Last Confession Of Vivian Whip
(Words: Elvis Costello | Music: Steve Nieve & Muriel Teodori)
What Is It That I Need That I Don't Already Have?
Radio Is Everything
(Elvis Costello / Michael Leonhart / Bill Frisell / Nels Cline)
I Can't Say Her Name
Byline
All songs written by Elvis Costello except as noted.
On Aug. 28, Costello surprised his audience with the release of a spoken word song, "Phonographic Memory," described as "the B-Side of the recently released, 'We Are All Cowards Now'."
"Phonographic Memory" imagines a post-war ceremony involving an archive recording of the voice of Orson Welles and someone identified only as "President Swift".
The recording takes the form of a short story recited over an open-tuned acoustic guitar soundtrack and as such is unique in Costello's recorded catalog.
Related: Our inside story on the U.S. launch of Costello's debut album

Latest posts by Best Classic Bands Staff
(see all)