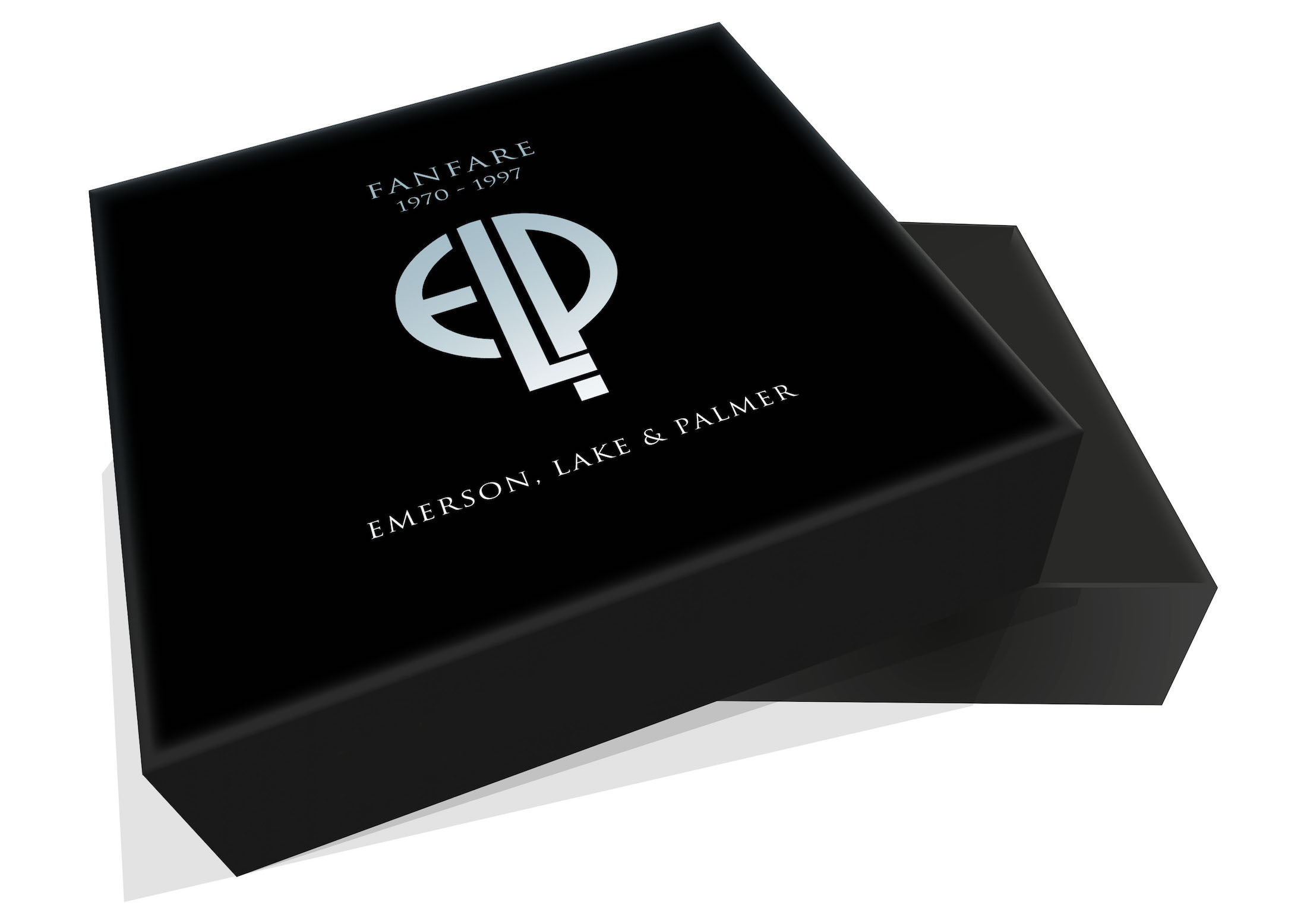 In recent years, BMG has released terrific remasters of 11 Emerson, Lake & Palmer titles. The label's comprehensive ELP series continues with the June 11, 2021 re-release of Fanfare: Emerson, Lake & Palmer 1970 – 1997 with loads of previously unreleased recordings. The lavishly produced box set, on CD and vinyl, collates nearly three decades of work from the trio, keyboardist Keith Emerson, bassist/vocalist Greg Lake and drummer Carl Palmer.
The collection's title is taken from the group's 1977 larger-than-life adaptation of Aaron Copland's "Fanfare For the Common Man."
The Fanfare box, originally released by BMG in 2017, offers a wealth of the progressive rock group's treasures: All of ELP's remastered 11 albums; five previously unreleased CDs of never issued recordings; a never-before-issued triple-vinyl set (Live In Italy, May 1973); 1 x Surround Sound Blu-ray audio; plus some high quality memorabilia including a 40-page hardback book with rare band photos, tour programs and a reproduction 7" single of "Fanfare For The Common Man."
Full details are below. Pre-order the box set here.
Throughout their decades as an active touring band, ELP were known for their wildly spectacular concerts and inventive music. Their recordings achieved worldwide sales of over 40 million albums. As the original announcement notes: "Their penchant for appropriating themes from classical music and the group's more nuanced, textured approach to symphonic arrangements set ELP apart from their more bombastic guitar-based contemporaries of the time."
Watch ELP perform "Fanfare For the Common Man"
Despite the 2016 deaths of Emerson and Lake, Carl Palmer continues to play sold-out shows all over the world with his group Carl Palmer's ELP Legacy.
Related: Our interview with Carl Palmer
Fanfare 1970-1997 Box Set Details
Remastered original ELP albums, on CD, with original sleeve artwork reproduced:
Emerson, Lake & Palmer (1970)
Pictures at an Exhibition (1971) (Live)
Tarkus (1971)
Trilogy (1972)
Brain Salad Surgery (1973)
Welcome Back, My Friends, To the Show That Never Ends (1974) (Live 2-CD)
Works Volume 1 (1977) (2-CD)
Works Volume 2 (1977)
Love Beach (1978)
Black Moon (1992)
In the Hot Seat (1994)
Previously unreleased, gatefold album:
Live at Velodromo Vigorelli, Milan, Italy, 4th May 1973 & Stadio Flaminio, Rome, Italy, 2nd May 1973 (3-LPs)
Previously unreleased live CDs, mastered by the celebrated studio engineering team of Andy Pearce and Matt Wortham:
Live at Pocono International Raceway, Long Pond, PA, U.S.A., 9th July, 1972
Live at Waterloo Concert Field, Stanhope, NJ, U.S.A., 13th August, 1992
Live at Birmingham Symphonic Hall, U.K., 27th November, 1992
On the BBC: The Old Grey Whistle Test 1979; Pop Goes Summer 1993
Live at Élysée Montmartre, Paris, France, 2nd July, 1997
Audio Blu-ray, containing the stereo 5:1 and surround sound mixes:
Emerson, Lake & Palmer (Steven Wilson, 2012)
Tarkus (Steven Wilson, 2012)
Trilogy (Jakko M Jakszyk, 2015)
Brain Salad Surgery (Jakko M Jakszyk, 2014)
Remastered 7" singles with reproduced original sleeve artwork:
Lucky Man b/w Knife-Edge (1970)
Fanfare For the Common Man b/w Brain Salad Surgery (1977)
Deluxe, hardback book with band photos and extensive notes from journalist Chris Welch, featuring quotes from the band
Reprinted original 1970 promo poster, 1972 promo brochure, 1974 and 1992 tour programmes
Metal & enamel ELP logo pin badge

Latest posts by Best Classic Bands Staff
(see all)