"Hotel California" may be one of The Eagles' most popular songs, but that doesn't mean they want anyone staying there. The band has filed a lawsuit in Todos Santos, Mexico, against an actual Hotel California—its full title is Hotel California Todos Santos—claiming that the 11-room establishment has no right to affiliate itself with the band or its music.
In their suit the Eagles claim that the hotel is illegally cashing in by selling merchandise—including t-shirts, playing cards, refrigerator magnets, keychains, posters and, of course, guitar picks—with the name Hotel California emblazoned. The band is also claiming that the Mexican inn "actively encourages consumers to believe that the hotel in Todos Santos is associated with the Eagles to further their sale" by playing Eagles music in its lobby, particularly the song of that name.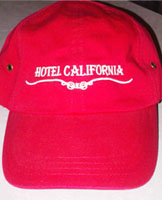 "Through advertising targeted to U.S. consumers, and in-person communications, defendants lead U.S. consumers to believe that the Todos Santos Hotel is associated with the Eagles and, among other things, served as the inspiration for the lyrics in 'Hotel California,' which is false," the lawsuit claims.
There is one sticking point that may derail the band's claim, however: The hotel, in the Baja California section of Mexico, has been in existence since 1950; the song was released in 1976. The establishment underwent several name changes over the years before being restored to the original. The hotel's website addresses the issue directly: "Many legends are less black and white and continue to fascinate the public. Although the present owners of the hotel do not have any affiliation with the Eagles, nor do they promote any association, many visitors are mesmerized by the 'coincidences' between the lyrics of the hit song and the physicality of the hotel and its surroundings."
Related: The Eagles at the Kennedy Center Honors
This is not the first time the Eagles have sued over the name. A restaurant in Dallas, Hotel California Grill, was reportedly taken to court by the group but decided not to fight and instead changed its name.
Listen to a live version of the Eagles' classic

Latest posts by Best Classic Bands Staff
(see all)