Dire Straits are being celebrated with Live 1978-1992, a box set of concert recordings to coincide with the 40th anniversary of their 1983 show at the Hammersmith Odeon in London, immortalized in the live album Alchemy. The collection, on 8-CDs or 12-LPs, offers many other previously unreleased concert performances. It arrived in the U.K. on November 3, 2023, via Universal's Mercury label and will be released in the U.S. on January 19, 2024, on Rhino. Order the CD edition in the U.K. and the U.S.; and the LP set in the U.K. and U.S.
From the announcement: The set features newly remastered versions of Alchemy and On the Night, plus an expanded version of Alchemy that includes the unreleased songs from the performance, "Industrial Disease" and "Twisting By the Pool," as well as an expanded version of On the Night including tracks performed during the tour which have never been released. These multitrack recordings of Dire Straits shows in Nimes, Rotterdam and Paris include "Tunnel of Love," "Telegraph Road," "Sultans of Swing," and more.
Also included are the EP Encores (remastered for Black Friday 2021); a 1995 collection Live at the BBC; an unreleased Live from the Rainbow Theatre show from 1979, mixed by Guy Fletcher, and featuring guest performances from Phil Lynott and Tony de Meur. Fletcher notes, "The discovery of the Rainbow show was a delightful surprise; I had no prior knowledge of its existence. Upon receiving the files, I eagerly immersed myself in the entire performance. When I heard the unmistakable voice of Phil Lynott in the encores, it nearly knocked me off my chair. Clearly, it was a remarkable evening, marking the conclusion of an exhausting tour, and you can hear the tight bond within the band."
The set includes a booklet featuring a new essay by journalist Paul Sexton titled Making Milestones: The Momentous Road Years of Dire Straits.
As Mark Knopfler told him, "I enjoyed writing the songs, I enjoyed recording them, so I'm going to enjoy playing them. I don't play anything I don't want to play, so if I get up there and play 'Romeo And Juliet' or 'Brothers In Arms,' it's because I want to play them. It's important to me that it's important to people, that you've created milestones in people's lives."
The complete track listing of Live 1978-1992 appears below the Amazon links. When you buy something using one of the links on our site, we receive a commission. Thank you for supporting Best Classic Bands.
Related: Our feature on Dire Straits' breakthrough debut
Dire Straits Live 1978-1992 CD Track Listing 
Disc: 1
1 Once Upon a Time in the West
2 Industrial Disease
3 Expresso Love
4 Romeo And Juliet
5 Love Over Gold
6 Private Investigations
7 Sultans of Swing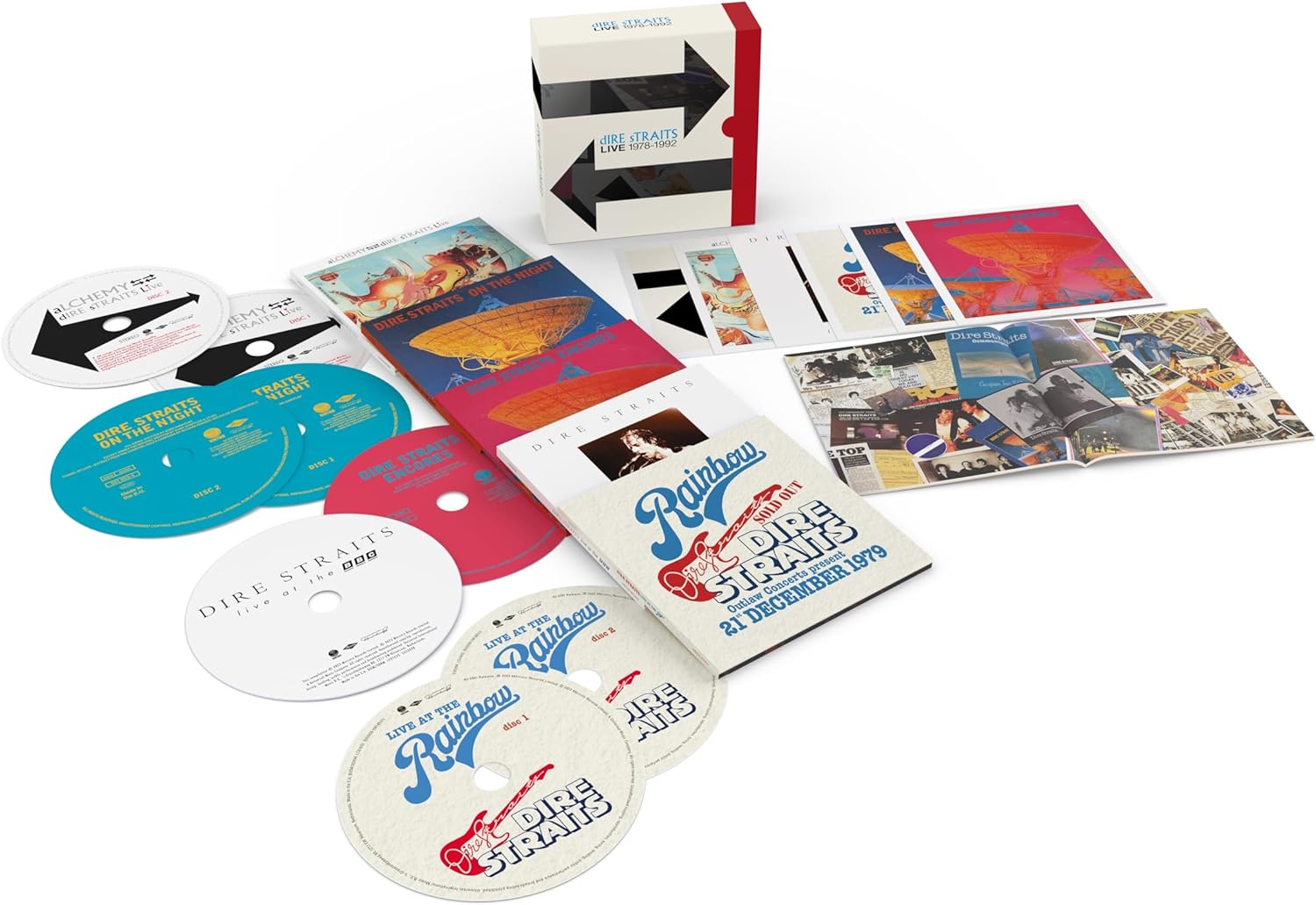 Disc: 2
1 Twisting by the Pool
2 Two Young Lovers
3 Portobello Belle
4 Tunnel of Love
5 Solid Rock
6 Telegraph Road
7 Going Home (Theme from Local Hero)
Disc: 3
1 Calling Elvis
2 Walk of Life
3 Heavy Fuel
4 Romeo and Juliet
5 Private Investigations
6 Sultans of Swing
7 Fade to Black
8 Your Latest Trick
9 When It Comes to You
10 I Think I Love You Too Much
Disc: 4
1 You and Your Friend
2 On Every Street
3 Two Young Lovers
4 Tunnel of Love
5 Telegraph Road
6 Money for Nothing
7 Brothers in Arms
Disc: 5
1 Your Latest Trick
2 The Bug
3 Solid Rock
4 Local Hero / Wild Theme
Disc: 6
1 Down to the Waterline (Live 1978)
2 Six Blade Knife (Live 1978)
3 Water of Love (Live 1978)
4 Wild West End (Live 1978)
5 Sultans of Swing (Live 1978)
6 Lions (Live 1978)
7 What's the Matter Baby (Live 1978)
8 Tunnel of Love (Intro: The Carousel Waltz) [Live 1981]
Disc: 7
1 Down to the Waterline
2 Six Blade Knife
3 Once Upon a Time in the West
4 Lady Writer
5 Lions
6 Sultans of Swing
7 Les Boys
8 Portobello Belle
9 News
10 What's the Matter Baby
Disc: 8
1 Setting Me Up
2 In the Gallery
3 Solid Rock
4 Southbound Again
5 Where Do You Think You're Going?
6 Wild West End
7 Twisting by the Pool
8 Good Morning Little Schoolgirl (feat. Phil Lynott and Tony de Meur)
9 That's Alright Mama (feat. Phil Lynott and Tony de Meur)
10 Nadine (with Phil Lynott and Tony de Meur)
11 Keep On Knocking (with Phil Lynott and Tony de Meur)

Latest posts by Best Classic Bands Staff
(see all)