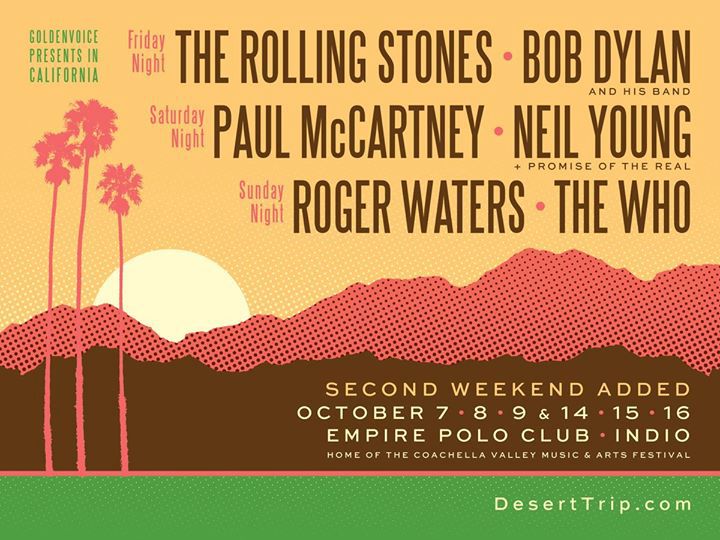 Update (6/1): Desert Trip promoters Goldenvoice have proven themselves responsive to consumer and media concerns.
On the Show Info & FAQs page of the concert's website, in answer to the question, "Can I bring a chair or blanket to sit on for General Admission?" the answer now reads: "Small blankets or towels and/or low back chairs WILL be allowed in designated viewing areas of the venue." It even has a link to examples of low back chairs they will allow.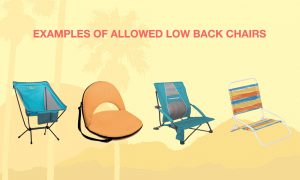 The Los Angeles Times recently uncovered a disconcerting change in what the Desert Trip festival over two weekends in October will allow some ticketholders to do at the shows. Simply put, its least expensive general admission tickets to the sold-out classic rock fest featuring the Stones, Dylan, McCartney, Neil Young, Roger Waters and The Who were sold with the understanding that those concertgoers could bring their own seating.
But now the General Info on the fest's website reads: "No chairs or blankets will be allowed in the show." (Not even blankets? Really?) It seems to be the second issue with the event that already rankled some music lovers after complaints about the ticketing process.
Read our article that compiled social media reports and comments on the Desert Trip prices and ticketing process.
As L.A. Times consumer reporter David Lazarus notes, the festival-going experience is "sure to be a little rough on the hips, backs, knees and necks of some audience members who have seen younger days." Since it is "Oldchella" with boomer era rock stars rather than Coachella for the younger and more spry set at the Polo Grounds in Indio, CA, promoters Goldenvoice will install reserved seat grandstands and front-of-stage seating.
Then there's the general admission field tickets, the cheap seats if you will… that aren't that cheap. And have no "seats."
Lazarus cites the experience of Cindy Reul, 65, who bought four tickets at close to $1700. "She wanted to know if she'd be able to bring a camp-style folding chair." the article says."'I'm not 20 years old any more,' she noted…. The Desert Trip website said chairs would be allowed."
Never miss a post! Sign up for Best Classic Bands' Newsletter; form is on every page.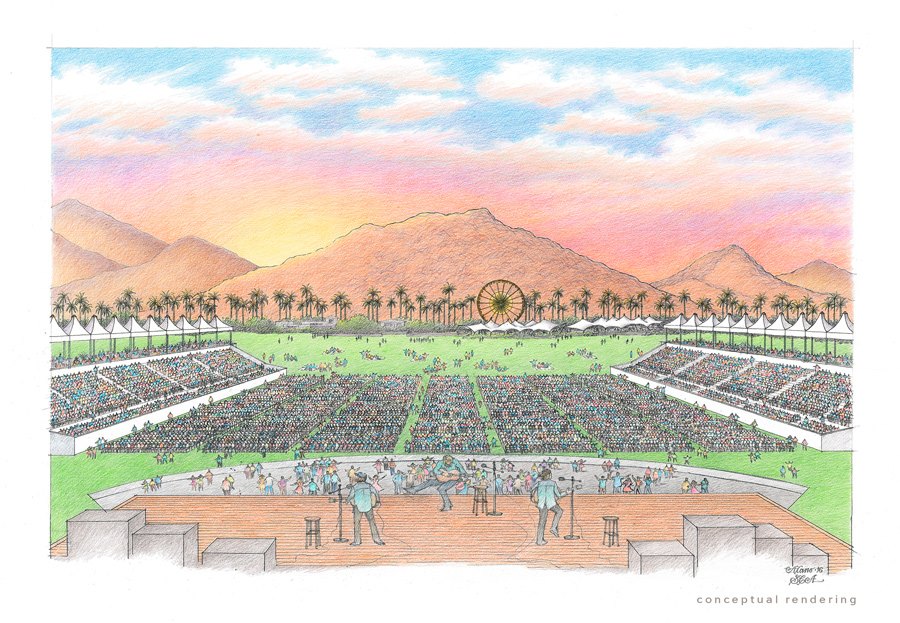 Even more troubling, "Goldenvoice, owned by Los Angeles entertainment behemoth AEG, doesn't dispute that the chair rule was quietly changed. And… it seems to feel that it doesn't owe anyone an explanation."
"How can you change the rules after I have bought my tickets?" Reul asked them in an email that they did respond to, "saying that to accommodate all general-admission ticket holders 'equally, fairly and safely, in regard to space distribution, we must forego chairs and blankets in the venue.'"
"I just want them to do what they promised,' says Reul.

Latest posts by Best Classic Bands Staff
(see all)