The New York street singer best known for his anthem "I Like Marijuana," and his John Lennon/Yoko Ono-produced album The Pope Smoke Dope, died yesterday (April 6), days after suffering a heart attack. David Peel was 74.
Peel was being treated since March 31 in the ICU of Manhattan's V.A. Hospital after complaining about not feeling well.
Peel was born David Rosario on Aug. 3, 1942, in New York City, and spent two years in the Army from 1960-62. After his discharge, he lived for a time in Alaska and then took a job on Wall Street, but the straight life proved not to be his calling. He went to San Francisco as the counterculture was blooming there but then returned to New York, where he began singing his protest songs on the street and in Washington Square Park.
He reportedly changed his name to Peel to cash in on the unsubstantiated rumor at the time that smoking banana peels could get one high.
Peel was discovered in 1968 by Elektra Records A&R man Danny Fields, who signed him to a contract. His first album, Have a Marijuana, recorded with his band the Lower East Side, included the pro-weed anthem "I Like Marijuana" as well as other stoner tunes and protest songs. The album reached #186 on the Billboard chart largely via word of mouth among the nascent hippie community.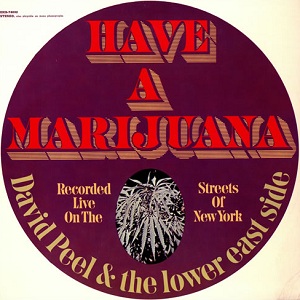 A second Elektra album, The American Revolution, was released in 1970 but it wasn't until he was befriended by the Lennons that Peel's notoriety was elevated. John and Yoko had been in Washington Square Park with Yippie activist Jerry Rubin and Village Voice writer Howard Smith, who'd suggested they catch Peel's street act. Introductions were made and the couple co-produced David Peel and the Lower East Side's third album, The Pope Smokes Dope, released on April 17, 1972, on the Beatles' Apple Records. It peaked at #191.
Peel performed with Lennon at the John Sinclair Freedom Rally in Ann Arbor, Mich., in Dec. 1971 and on The David Frost Show in 1972.
Nothing much changed for David Peel for the rest of his life, except that famous people no longer aligned with him. He released dozens of albums and continued to perform in downtown Manhattan. Many of his later recordings continued to take up the cause of legalizing marijuana. His last album, in fact, was Give Hemp a Chance, released in 2015.
Watch John Lennon and Yoko Ono perform with David Peel and the Lower East Side on The David Frost Show

Latest posts by Best Classic Bands Staff
(see all)