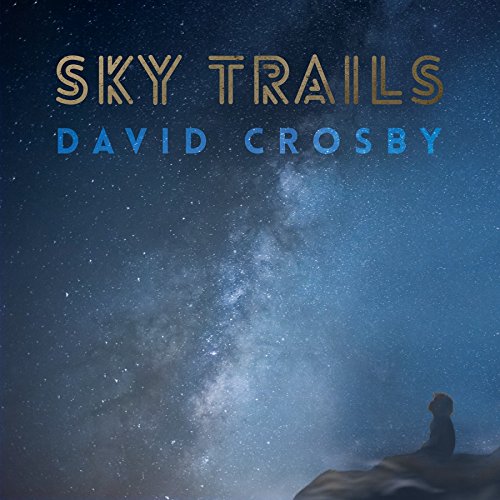 Sky Trails, David Crosby's third album of original material in four years, will be released Sept. 29 on BMG. The album, according to a press release, "features a full band sound that takes Crosby in a new musical direction as the set tilts toward jazz." Says Crosby in the release, "It's a natural thing for me. I've always felt more comfortable there. There's complexity, intricacy and subtleties in the music. I like that stuff."
The album opens with "She's Got To Be Somewhere," which Crosby and a nine-piece band premiered via the Tonight Show earlier this year. Crosby is backed on the album by the Sky Trails musicians, the core of whom are saxophonist Steve Tavaglione, bassist Mai Agan, drummer Steve DiStanislao and Crosby's son, multi-instrumentalist James Raymond, who also produced the album.
Sky Trails follows last year's Lighthouse, which was preceded by 2014's Croz, Crosby's first solo album in 20 years. Though Crosby wrote many of the songs for Sky Trails as he was working on Lighthouse, the two are described as "distinctly different projects." |
Pre-order the Sky Trails CD here and the vinyl LP here.
"Lighthouse was conspicuously and deliberately acoustic," Crosby says. "Sky Trails was intended to be a full band record from the start. All the people in the Sky Trails band are much younger than me," he adds, "so I have to paddle faster to keep up."
Related: Listen to Crosby's earliest recorded song
Crosby co-wrote four of the album's 10 songs with Raymond. "He's probably the person I write best with," Crosby says in the press release. "We often write over the internet. I'll send him a scrap of words and then we'll expand on it or I'll send him a complete set of words and he'll say, 'Please let me see what I can come up with,' and he'll send me back a demo of what he thinks the music should be."
Crosby and Raymond recorded some of the songs at Raymond's home studio and then moved to Jackson Browne's Groove Masters studio in Santa Monica for tunes that feature the full band.
Other standout tracks include "Curved Air" and "Before Tomorrow Falls On Love," a piano ballad Crosby co-wrote with Michael McDonald. Crosby serves as writer/co-writer of eight of the tracks. The album's lone cover is a "Amelia," a tune written by Crosby's longtime friend Joni Mitchell and featured on her own jazz-based seminal work, 1976's Hejira. "I've always loved how Joni wrote about her love life and Amelia Earhart's life at the same time," Crosby says. "It's just exquisite writing."
Watch David Crosby sing "She's Got to be Somewhere" on The Tonight Show
David Crosby – Fall 2017 North American Tour Dates
Oct 30 – Chicago, IL – City Winery
Nov 1 – Des Moines, IA – Hoyt Sherman Place
Nov 2 – Burnsville, MN – Ames Center
Nov 4 – Carmel, IN – The Palladium – Center for the Performing Arts
Nov 5 – Kent, OH – The Kent Stage
Nov 7 – Munhall, PA – Carnegie Music Hall of Homestead
Nov 8 – Ithaca, NY – State Theatre
Nov 10 – Montreal, QC – Place des Arts
Nov 12 – Portland, ME – State Theatre
Nov 13 – Boston, MA – City Winery
Nov 15 – Derry, NH – Tupelo Music Hall
Nov 17 – Albany, NY – The Egg Center For the Performing Arts
Nov 18 – Rutland, VT – Paramount Theater
Nov 20 – Ridgefield, CT – Ridgefield Playhouse
Nov 21 – Collingswood, NJ – Scottish Rite Auditorium
Nov 25 – New York, NY – The Concert Hall at NYSEC
Nov 26 – Morristown, NJ – Mayo Performing Arts Center
Nov 28 – Vienna, VA – The Barns at Wolf Trap
Nov 29 – Vienna, VA – The Barns at Wolf Trap
Dec 1 – Annapolis, MD – Rams Head On Stage
Dec 2 – Durham, NC – Carolina Theater
Dec 4 – Nashville, TN – CMA Theatre – Country Music Hall of Fame
Dec 5 – Atlanta, GA – City Winery Atlanta
Dec 7 – Fort Lauderdale, FL – Parker Playhouse
Dec 9 – Clearwater, FL – Capitol Theater
Listen to "Sell Me a Diamond" from Sky Trails

Latest posts by Best Classic Bands Staff
(see all)