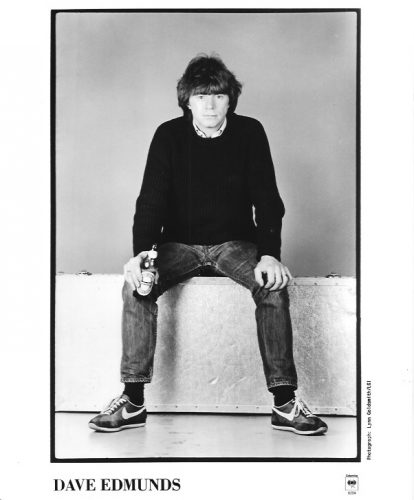 Many of Dave Edmunds' solo albums are being released in a new collection, Five Originals. The Welsh born rocker's 3-CD set will arrive on October 2.
The collection begins with 1975's Subtle as a Flying Mallet which includes his covers of "Baby, I Love You" and "Born to Be With You," both of which were Top 10 U.K. singles. The set bypasses his great solo albums that he made for Swan Song in the late '70s and then picks up with his recordings for Arista in the U.K. and Columbia in the U.S.
Those begin with 1982's self-produced D.E. 7th which is highlighted by his great cover of Bruce Springsteen's Chuck Berry-style rocker, "From Small Things (Big Things One Day Come)," and "Warmed Over Kisses (Left Over Love)."
Related: Edmunds tells how that Springsteen cover came about
Next up is 1983's Information, which Edmunds produced with Jeff Lynne. The highlights include the title cut and Lynne's "Slipping Away," which will remind many listeners of an Electric Light Orchestra track.
1984's Riff Raff, again produced by Edmunds and Lynne, includes a cover of the Holland-Dozier-Holland song, "Something About You," as well as the bouncy "Can't Get Enough." The collection concludes with 1987's live I Hear You Rockin', recorded in New York City, London, and Passaic, NJ, during his 1986 tour. The album includes Edmunds' covers of such favorites as "Crawling From the Wreckage" (Graham Parker), "Girls Talk" (Elvis Costello) and "I Hear You Knocking," for which Edmunds earned his biggest U.K. and U.S. hit in 1970 at the age of 26.
Edmunds, born April 15, 1944, in Cardiff, Wales, has retired from the stage. He made his final performance in July 2017.

Latest posts by Best Classic Bands Staff
(see all)