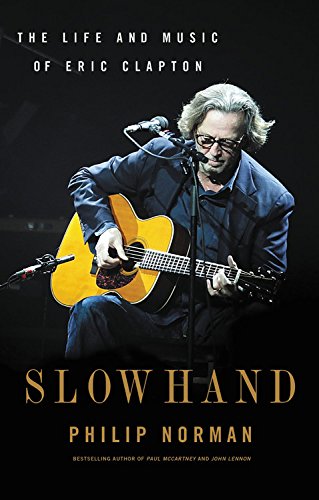 Eric Clapton will be the subject of a new biography, Slowhand: The Life and Music of Eric Clapton, from noted music biographer Philip Norman. The 432-page title, coming October 30 in the U.S. (pre-order) and November 6 in the U.K (pre-order), is "with Clapton's consent and access to family members and close friends," said the announcement from its publisher.
Norman is best known for his bestselling first book, 1981's Shout! The Beatles in Their Generation. He has since published two biographies on the Rolling Stones, as well as ones on Elton John, Buddy Holly, Paul McCartney, John Lennon and other classic rock legends.
From the announcement: "[Norman] returns to the heroic age of British rock and follows Clapton through his distinctive and scandalous childhood, early life of reckless rock 'n' roll excess, and twisting and turning struggle with addiction in the '60s and '70s. Readers will learn about his relationship with Pattie Boyd–wife of Clapton's own best friend George Harrison–the tragic death of his son, which inspired one of his most famous songs, "Tears in Heaven," and even the backstories of his most famed, and named, guitars."
Despite no longer touring, the 73-year-old Clapton continues to have a busy calendar. He has recorded his first full-length Christmas album, Happy Xmas, coming October 12.
He is also doing selective concerts, only some of which are announced to the public.
On August 18, for instance, he was an unannounced guest performer at pal Jimmie Vaughan's set in Columbus, Ohio. Earlier this year, he appeared at a charitable concert in the U.K. and then at a private event in Paris.
So far in 2018, he's had just three ticketed events, including his July 8 headlining performance in London's Hyde Park as part of the British Summer Time series.
There are two announced dates remaining on his 2018 schedule, both at New York's Madison Square Garden. Tickets are available here and here.
Watch Clapton perform "The Core" from his Slowhand album – a song he hadn't played live in decades – earlier this year
Related: Listings for 100s of classic rock tours

Latest posts by Best Classic Bands Staff
(see all)