Cat Stevens' 'Teaser and the Firecat' Deluxe Edition: Review
by Jeff Burger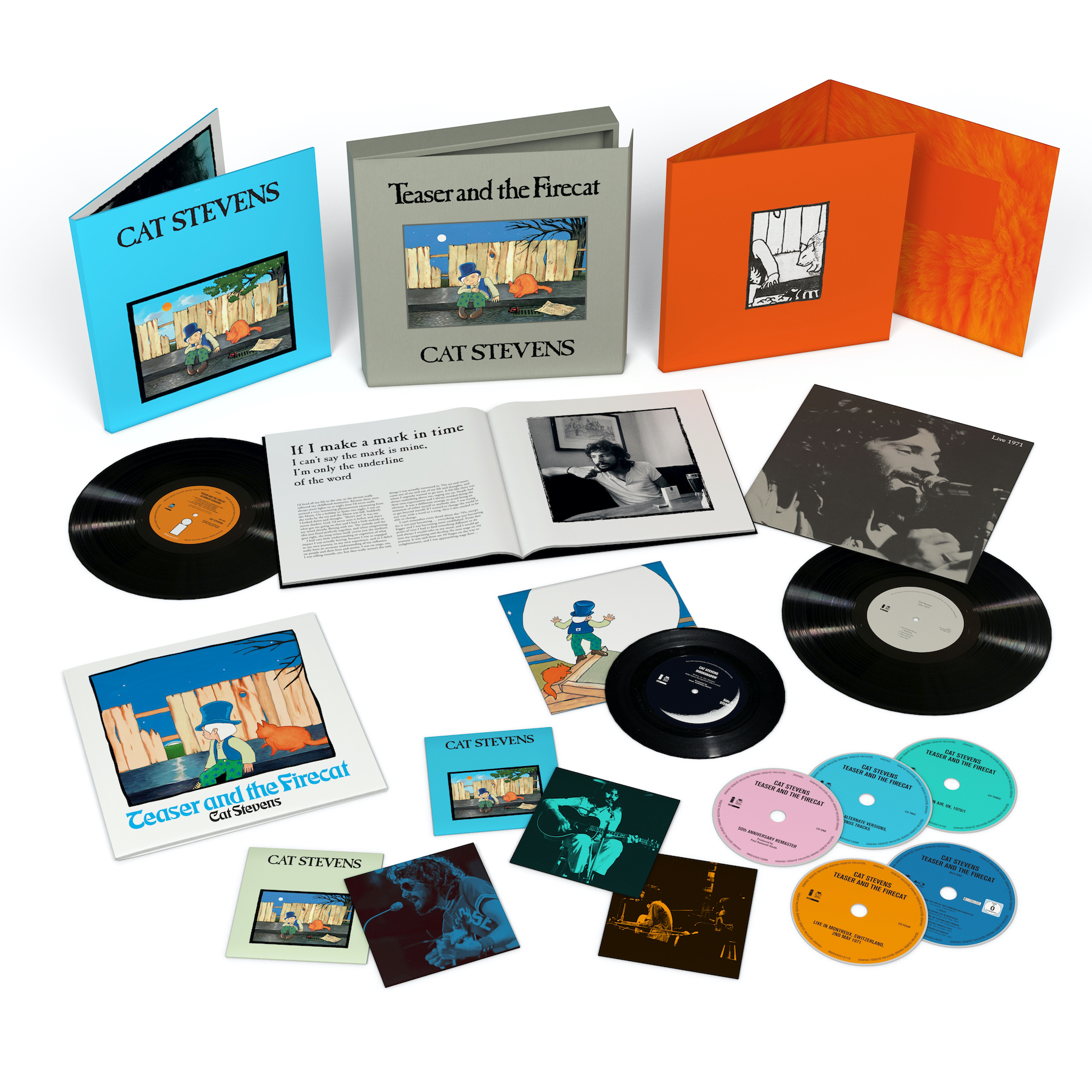 Last year's holiday season witnessed the release of massive 50th anniversary editions of Cat Stevens' Mona Bone Jakon and Tea for the Tillerman, both of which originally appeared in 1970. Now comes an equally hefty 2021 boxed set to mark the golden anniversary of Teaser and the Firecat, the 1971 follow-up to those LPs. Even more popular than Tillerman, the multi-platinum Teaser made it all the way to #2 on the U.S. charts and spawned three hit singles.
Related: Our review of the Mona Bone Jakon and Tea for the Tillerman boxed sets
The original LP is a bit of a mixed bag. Unlike Tillerman, it incorporates four rhythm-driven and relatively undistinguished rockers ("Changes IV," "Tuesday's Dead," "Bitterblue" and the platitudinous "Peace Train," a Top 10 hit) that fail to take full advantage of Stevens' most distinctive asset—his voice. But the other six tracks are at least as well-crafted and accessible as anything on Tillerman. "The Wind" (which decades later was featured in the films Rushmore and Almost Famous), "Rubylove," "If I Laugh" and "How Can I Tell You" are all acoustic guitar-flavored love songs that will appeal to anyone who enjoyed such earlier numbers as "Sad Lisa" and "Wild World." "Moonshadow" and "Morning Has Broken," both of which were hit singles, are almost as likable, though they have been such big radio staples for so long that you may well have had enough of them by now.
Be that as it may, there's lots more to like in the handsomely packaged new "super deluxe" Teaser and the Firecat box, which features 59 songs, 41 of them previously unreleased, on four CDs. The first disc showcases a remaster of the original album while studio demos and rehearsals of Teaser's songs dominate the second.
A third CD makes room for 20 live numbers that aired in 1971 on BBC radio and TV and Yorkshire television, including most of the songs from Teaser, plus several of the best compositions from Tillerman. A fourth disc offers a 13-track set from May of the same year in Montreux, Switzerland, that focuses almost exclusively on earlier material, including "Wild World," "Sad Lisa," "Lady D'Arbanville" and "Longer Boats."
That's not all. A Blu-ray disc adds an HD-audio copy of the remastered original album plus a 1977 video for "Moonshadow," as well as videos of all the TV performances that are on the third CD and some of the Montreux tracks that are on the fourth. You'll also find two vinyl LPs, one with an alternate version of the album and one that includes some of the Montreux and BBC material.
Other goodies include a 108-page hardcover book, a vinyl single that features "Moonshadow" and a couple of tracks that demonstrate that Stevens—known these days as Yusuf—can still deliver the goods: the Blu-ray incorporates a live 2020 performance of "The Wind" while the second CD offers a newly recorded, "reimagined" rendition of "Bitterblue."
If you're not a vinyl junkie or the full "super deluxe" edition is more than your budget can handle, be advised that you can buy a version that omits only the LPs for less than half the price of the one that includes them. If you want to save even more or are just a casual fan, you can opt for an even less expensive package consisting of only two CDs, one with the remastered original album and one with the cream of the B-sides, demos and concert, radio, and TV performances.
Listen to an alternate version of "Peace Train"
Latest posts by Jeff Burger
(see all)