Yusuf / Cat Stevens has announced King of a Land, his seventeenth studio album, set for release via BMG / Dark Horse Records on June 16, 2023. The first three tracks, "Take the World Apart," the title cut, and "All Nights, All Days," have been shared; watch the lyric videos and a live-in-the-studio performance below.
From the March 15 album announcement: More than a decade in the making, King of a Land's 12 new songs are full of extraordinary surprises. His poetic storytelling invites the listener on a journey towards the gates of an alternative universe to that which we presently inhabit – where happy endings can possibly happen. "Looking at the jagged journey of my music, beginning as I did in the 60's, I would say this new record is a mosaic," says Stevens. "A very clearly defined description of where I've been and who I am. Sometimes you have to take something apart, to find the peace you're looking for."
Ahead of the coronation of His Majesty King Charles III, Stevens says of the title track, "King of a Land," "One of the privileges of being an artist is to express what seems unimaginable, and then hang it up there for people to ponder; we can say things that others can't. Sure, I know full well music can't necessarily solve the world's problems, but it can help to direct the narrative. There are a few aspirations in 'King of a Land' that I hope resonate with His Majesty. The major message of the song – and this applies to all those in positions of leadership – is, don't forget that there's One above you, and be careful to look out for those who are below you."
The news of King of a Land arrives amidst a wave of celebratory activity for 2023 including the announcement of Stevens' Glastonbury Festival debut on June 25, on the coveted Sunday legends slot. The performance will come just one month ahead of his 75th birthday on July 21. Stevens has begun to announce dates for a 2023 tour.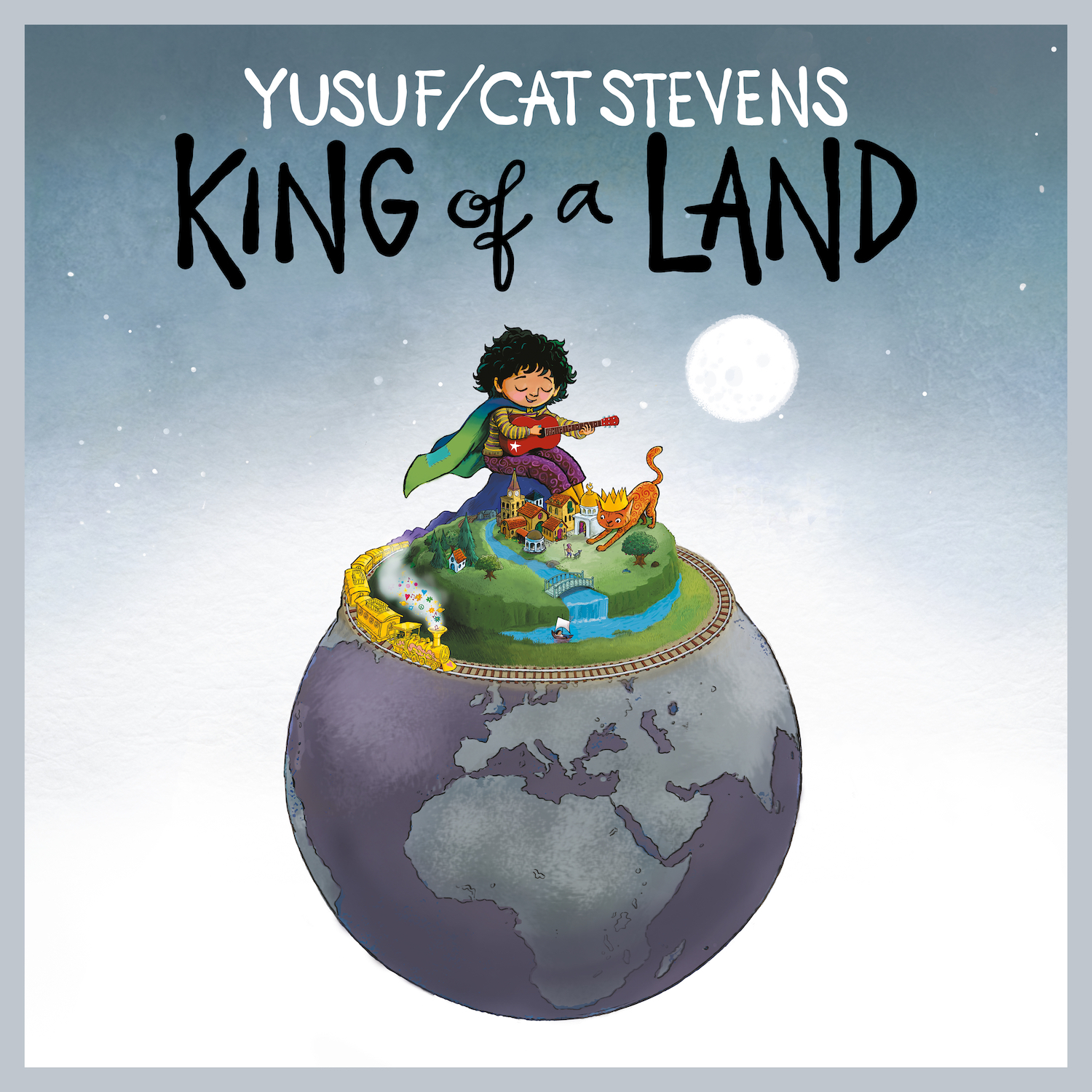 The video and album artwork was created by Peter Reynolds, an award-winning children's illustrator. King of a Land is the continuation of a collaboration between the two that began with the New York Times best selling Peace Train picture book in 2021. Reynolds also created illustrations for each of the songs portraying the album's lyrical themes featured in the record's accompanying booklet.
King of a Land is an album not bound by genre, but a deeply meaningful and moving self-portrait by one of popular music's most enduring and beloved songwriters. From the gloriously unexpected hard-rock intensity of "Pagan Run" to the Tchaikovsky-inspired orchestration on "How Good It Feels," the delicate acoustic balladry of "He Is True" through to the driving Phil Spector-goes-gospel vibe of "Highness." The Travelling Wilburys-styled rolling Americana groove of "All Nights, All Days," and the ornate, atmospheric "Son Of Mary."
The video for "All Nights, All Days" references the cult classic film Harold and Maude, for which Yusuf provided the iconic soundtrack. The pair appear as main characters in the clip, which brings the narrative of the song to life in a child-like manner. Politicians are depicted as evil characters who chase Harold through a forest, ultimately getting their comeuppance as they are captured and locked up in London Zoo.
Early recording sessions for King of a Land stretch back to 2011 at Berlin's Hansa Studios (the setting for classic albums such as David Bowie's Low, Heroes and U2's Achtung Baby). From there, recording locations moved through the years from ICP Studios in Brussels to La Fabrique in Provence, South of France. Additional overdubs and a 60-piece orchestra were recorded in Air and Angel studios in London, with some key work originally recorded in Yusuf's own garage-based home studio in Dubai he calls "Dubville." "Most of the songs started with me playing and recording everything at home in the garage – it's as close as you can get to being inside my head," he says.
Overseeing the recording process was Yusuf's long-term producer (since 1970's Mona Bone Jakon), and later co-producer, ex-Yardbird, Paul Samwell-Smith. In choosing the musicians for the album, the pair assembled a top-flight team including bass-player Bruce Lynch (who first worked with him on 1974's Buddha and the Chocolate Box), keyboard-player Peter Vettese (Jethro Tull, Bee Gees, Simple Minds) and drummer Russ Kunkel (Joni Mitchell, Carole King, James Taylor, CSN&Y), as well as his familiar two-piece band of Kwame Yeboah and Eric Appapoulay.
The final mix down of King of a Land took place in Henley-on-Thames, at George Harrison's private studio lodged in his former home, Friar Park. "We were very privileged to be in Friar Park," says Stevens, "and to be one of the first outsiders to enter that control room and mix an album. George Harrison has been an immense influence on me spiritually, from the very beginning. He pioneered certain thoughts and ideas, which stretched way east, and that was very important. If you listen to some of these songs on this album, you'll hear a kind of spirit of George." The album is also released through Dark Horse Records, Harrison's own label run by his son Dhani.
The tracklisting appears below the Amazon links. [It can be pre-ordered in the U.S. here.]
Cat Stevens King of a Land Tracklisting
1. Train on a Hill
2. King of a Land
3. Pagan Run
4. He is True
5. All Nights, All Days
6. Another Night in the Rain
7. Things.
8. Son of Mary
9. Highness
10. The Boy Who Knew How to Climb Walls
11. How Good it Feels
12. Take The World Apart

Latest posts by Best Classic Bands Staff
(see all)