The Cars Talk About Their 'Drive' to the Rock Hall
by Jim Sullivan
They were lapped by other bands before the Rock and Roll Hall of Fame finally took notice. The Cars were nominated twice before but didn't make the final selection. In 2018, however, they made it and we spoke with guitarist Elliot Easton and keyboardist Greg Hawkes about their acceptance and on the eve of their induction. (We've also included some quotes from the band, including drummer David Robinson, from a previous interview.)
First, some background: The Cars formed in 1976, its members coming from various other groups. They began life playing in Boston clubs like the Rat, bringing a more polished synth-and-guitar-oriented sound to the punk world. The gigs helped them hone their songs and sound and they were signed by Elektra Records.
Nearly every song on 1978's The Cars sounded like a hit, and the first three—"Good Times Roll," "My Best Friend's Girl" and "Just What I Needed"—were hits.
"Our first record we recorded in 12 days," Easton says. "I did all my guitar parts in a day-and-a-half. It was our club set. The old expression—you have your whole life to prepare your first album and six months for the second one. The band was successful. We were fortunate to be allowed the time to experiment in the studio. We always had a great time recording. It was a real workshop atmosphere. Anybody could suggest an idea and we'd go with the best one."
The Cars went on to sell more than 23 million albums in America, notching 13 top 40 singles from their seven albums, four of which went top 10.
The Cars brought a certain moodiness, quirkiness and ironic detachment to the mainstream. Also, major-league pop hooks from singer-songwriter-rhythm guitarist Ric Ocasek and a layered, textural sensibility. Other reference points: the Velvet Underground, Suicide, Kraftwerk.
They became one of the rare bands spawned by punk-rock that broadened the terms without losing the edge. A minimalistic, Beat-influenced Ocasek put wry twists on pop clichés, worked with paradoxes and wrote, time and time again, about women who—if you conjured them up—seemed to be gorgeous, icy, dangerous or unattainable. It wasn't that Ocasek's and the bassist-singer Benjamin Orr's vocals had no emotion, but there was a distance. (Orr died of pancreatic cancer in 2000.) They were the voices of someone, a desperate romantic maybe, trying to connect, but not quite able to do it.
Best Classic Bands: What do you expect the vibe at the Hall of Fame induction ceremony to be?
Easton: I expect the vibe to be celebratory and joyful. I mean, it's an honor. It's quite something for a band to achieve. I'm really looking forward to it.
Hawkes: Wow! I don't know what to expect. It'll probably seem pretty surreal. It's starting to feel like a bigger deal than I expected, just because a lot of people are mentioning it to me, saying "Congrats." People I wouldn't necessarily have expected. I've got mixed emotions. I've got a certain amount of anxiety just because we haven't played in a long time. I must admit to never having seen any of the [Rock Hall] shows. Elliot's the opposite; he's like, 'I've seen 'em all.'"
Related: The Cars at Live Aid
How are you planning your performance?
Easton: We have a short song list and I think we'll fool around with a few and see what makes a good little mini-set. Three or four. I don't know if all four would be in the broadcast [airing May 5 on HBO]. They haven't given us a directive, but I think it makes sense to play some familiar material.
Hawkes: We've had a couple of conference calls trying to decide what songs we're going to play. It hasn't been easy. There's been talk of four and the only way we've been able to agree on three is to do four and see which three sound better. The first three that popped into my head were "Just What I Needed," "Good Times Roll" and "Let's Go." And then it wasn't until we actually started talking about it that it occurred to me that two of those songs Ben sang. Did that mean we should do two songs that Ric sang? It's those kinds of funny dynamics that makes picking three songs more complicated.
Watch the Cars perform "Just What I Needed" at their induction
Related: Our recap of The Cars HoF induction
Obviously, with Ben not among you, you've got to move some things around. How do you plan to compensate?
Easton: [Not having] Ben leaves a big hole in the band, let's face it; he had the greatest voice and when Ric would be singing lead in a song, Ben really helped us sound better, besides his amazing lead vocals.
Hawkes: Ben was the better singer, the more melodic. Ric had his stylized quirky thing going. But especially early on, people used to say they couldn't tell 'em apart, especially on the first couple of albums.
Related: The Rock Hall performance proved to be Ocasek's last; he died in 2019
The Cars' biggest hit was the 1984 ballad "Drive" and Ben sang that.

Hawkes: If anybody's going to sing "Drive" it's going to be Ric. (Ocasek wrote it and sang on the demo version.) I feel like Ben's presence will be there, whether or not we do "Drive" and whether or not there's a video montage of Ben during "Drive."
Watch the video for "Drive"
What can you tell today's younger music fans about the Cars, who might be ancient history to them?
Hawkes: Now, that's a tough question. I'd say we were one of the new wave bands. I, at least, framed us in with the Police, Talking Heads, Devo and the Pretenders. [New wave] is not my favorite term, but I'm used to it and for historical purposes, yeah, the Cars were a new wave band. I always thought of us as a pop-art band, in the Warhol sense certainly, but also we were pop and sort of arty.
You guys broke big out of Boston. What was it like when you first went to England? Did the press–the NME, Sounds and Melody Maker–take to you?
David Robinson: It was not like [critics] understood it and did not like it, They did not even come close to what it was all about. We did not want it to be so artsy that you could not understand the music, but we wanted to be artistic.
Who do you think you've influenced?

Hawkes: [Nine Inch Nails leader Trent Reznor] said, "When I was young, I liked the Cars. I liked the way they blended keyboards and guitars." I thought, "Gee, that's great, that's a nice nod of appreciation." From younger bands, I figure a lot of them might look at the Cars and go, "Eh, too pop."
Ric and Ben began sharing the lead vocals back in the early days. You've said before it was "pretty organic," with Ric pushing Ben to the front. Later, they'd they'd each do leads and the band would pick the better one for the record. Did this lead to strife?

Hawkes: Not really, though maybe on the last album. But there was a lot of strife on the last album anyway. A lot of it had to do with the time between records. It started getting tense around Heartbeat City [in 1984], just the length of time it took to do that record. That was the one with Mutt [Lange, producer] where we were in England, living in this rented house together and the hours were pretty unbelievable. I think that's where we started feeling certain people were being left out of the process. The album was fairly well-programmed—that's no secret.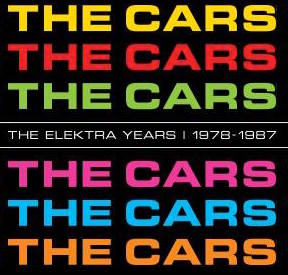 How did the Cars' boxed set [The Elektra Years 1978-1987] come about?

Hawkes: We had approached Elektra with the idea of doing something like that, and for whatever reason they came back and said, "We'd like a new Cars album or, barring that, three or four new Cars tracks." But it never happened. Everybody had a boxed set out but us. 
Watch the Cars' video for "Good Times Roll"

Latest posts by Jim Sullivan
(see all)