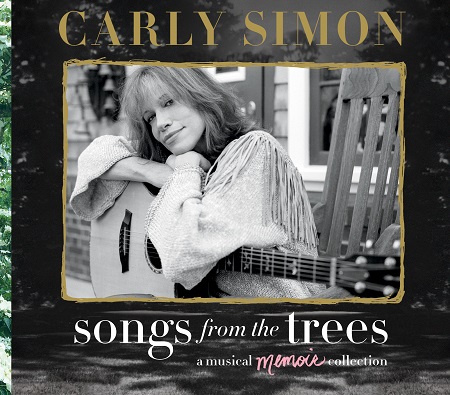 Just a few days before Carly Simon's long-awaited memoir Boys in the Trees hits shelves, fans can get their hands on the book's double-disc musical companion, Songs from the Trees (A Musical Memoir Collection). This special compilation album takes listeners on a 31-track journey through the award-winning musician's career, from her start singing folk songs in Greenwich Village to her string of hit records in the 1970s and early '80s. The companion record will be available November 20th.
"This is a special album that serves as an additional way to look at my stories," the singer explained in a statement. "As the narrative only goes up to 1983, there are many songs to follow. If you feel like playing this puzzle, there are clues of how to cross-reference the songs with the chapters, pages and words."
In addition to songs that fans already know and love, Songs from the Trees will also include two unreleased tracks: "Showdown," which was recorded during the sessions for Simon's 1978 album Boys in the Trees, and "I Can't Thank You Enough," a new tune she wrote with her son.
But we know what you're really wondering – will we ever find out the carefully guarded secret subject of the song "You're So Vain"? Time will tell. Simon's memoir Boys in the Trees arrives November 24th via Flatiron Books.
Songs from the Trees (A Musical Memoir Collection) Track List:
Disc One:
1.    "Boys In The Trees"
2.    "Winken', Blinkin' And Nod" – The Simon Sisters
3.    "Orpheus"
4.    "Older Sister"
5.    "It Was So Easy"
6.    "Embrace Me, You Child"
7.    "Hello Big Man"
8.    "Two Hot Girls (On A Hot Summer Night)"
9.    "It Happens Everyday"
10.  "His Friends Are More Than Fond Of Robin"
11.  "I'm All It Takes To Make You Happy"
12.  "That's The Way I've Always Heard It Should Be"
13.  "I've Got To Have You"
14.  "Anticipation"
15.  "Legend In Your Own Time"
16.  "Three Days"
Disc Two:
1.    "Julie Through The Glass"
2.    "We Have No Secrets"
3.    "You're So Vain"
4.    "Mind On My Man"
5.    "Mockingbird"
6.    "After The Storm"
7.    "Haunting"
8.    "In Times When My Head"
9.    "You Belong To Me"
10.  "We're So Close"
11.  "From The Heart"
12.  "Come Upstairs"
13.  "The Right Thing To Do"
Bonus Selections:
14.  "Showdown"
15.  "I Can't Thank You Enough"

Latest posts by Best Classic Bands Staff
(see all)