Capitol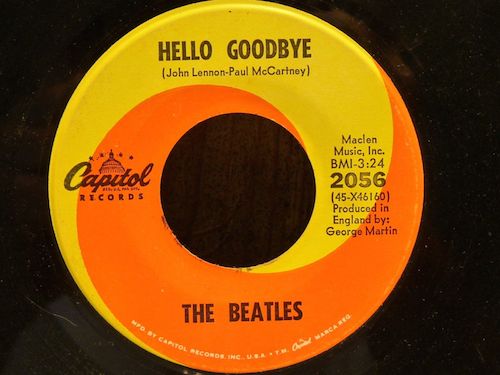 Records will launch its 75th anniversary celebration this month with what's described in a company press release as "an extensive slate of music, film and literary projects that will pay tribute to Capitol artists spanning the past eight decades and shine a spotlight on their historic contributions to music and popular culture."
Plans include a yearlong, major vinyl reissue campaign, The Capitol Records 75th Anniversary Collection, 75 albums (see complete list at bottom) that "illustrate the unparalleled artistry of Capitol Records throughout its history." The vinyl reissue program will be launched this month in partnership with Crate and Barrel. The anniversary celebration will also include the publication of a deluxe photograph and essay book, 75 Years Of Capitol Records, on December 15, and the development of a Capitol Records "docuseries" being produced by Nigel Sinclair/Whitehorse Pictures (The Beatles: Eight Days A Week—The Touring Years, No Direction Home: Bob Dylan), with individual episodes to be directed by music luminaries and Capitol artists, past and present.
Related: Which landmark Capitol single was released on December 26, 1963? Read on…
The celebration will commence on November 15 when Capitol becomes the first record company to receive a star of recognition from the Hollywood Chamber of Commerce, which will be installed in front of the landmark Capitol Tower and adjacent to the Hollywood Walk of Fame. At the star's unveiling, the Los Angeles City Council will present Capitol with a resolution declaring November 15 Capitol Records Day in the city. Beginning that evening, the spire on top of the Capitol Tower that has always emitted "Hollywood" in Morse code will change to "Capitol 75," and will continue to flash in that manner for the next 12 months.
Regarding the vinyl reissues, the label press release states: "To select 75 albums that represent the best of Capitol Records from among literally thousands of works the company has released over the past 75 years, the label convened an advisory board of noted music journalists, authors and renowned creative figures to decide on the final list of albums that comprise the Capitol Records 75th Anniversary Collection. The result spans myriad Capitol eras and musical genres, and includes best sellers, influential works and lesser-known gems (see below)." The reissue program begins this month, and titles will be available through music retailers throughout 2017.
TASCHEN is publishing the official account of Capitol Records from its founding year of 1942 through to the present. To be released December 15, 75 Years of Capitol Records follows the label's evolution and includes hundreds of images from Capitol's extensive archives. Pre-order and details are available here.
The Capitol Records Docuseries will "tap into the creative passions of Capitol's artists, the hidden glories of the company's extensive archives and the many stories that have taken place within the Capitol Tower throughout its 75-year as one of the world's premiere music companies."
The Capitol Records 75th Anniversary Collection
(alphabetical by artist)
1.
Ashford & Simpson
Solid
1984
2.
Beastie Boys
Paul's Boutique
1989
3.
Beck
Morning Phase
2014
4.
Blind Melon
Blind Melon
1992
5.
Bob Seger
Night Moves
1976
6.
Bobbie Gentry
Ode To Billy Joe
1967
7.
Bobby Darin
You're The Reason I'm Living
1963
8.
Bonnie Raitt
Nick of Time
1989
9.
Bonnie Raitt
Luck Of The Draw
1991
10.
Buck Owens
Buck Owens
1961
11.
Cannonball Adderley
Mercy Mercy Mercy
1966
12.
Coldplay
Parachutes
2000
13.
Crowded House
Crowded House
1986
14.
Dean Martin
Dino: Italian Love Songs
1962
15.
Duke Ellington
The Duke Plays Ellington
1953
16.
Foo Fighters
Foo Fighters
1994
17.
Frank Sinatra
In The Wee Small Hours
1955
18.
Frank Sinatra
Songs for Swingin' Lovers!
1956
19.
Frank Sinatra
Come Fly With Me
1958
20.
Frank Sinatra
Frank Sinatra Sings For Only The Lonely
1958
21.
Freddie Jackson
Rock Me Tonight
1985
22.
Gene Vincent & His Blue Caps
Bluejean Bop
1956
23.
George Clinton
Computer Games
1982
24.
George Harrison
All Things Must Pass
1970
25.
Glen Campbell
By the Time I Get to Phoenix
1968
26.
Grand Funk Railroad
We're an American Band
1973
27.
Heart
Heart
1985
28.
James Taylor
James Taylor
1968
29.
Joe South
Introspect
1968
30.
John Lennon
Imagine
1971
31.
Johnny Mercer
Accentuate the Positive
1957
32.
Judy Garland
Judy at Carnegie Hall
1961
33.
Katy Perry
Teenage Dream
2010
34.
Kingston Trio
Kingston Trio
1958
35.
Knack
Get The Knack
1979
36.
Les Paul and Mary Ford
Les and Mary
1955
37.
Linda Ronstadt
Heart Like a Wheel
1974
38.
Louie Prima
The Wildest
1956
39.
Maze Featuring Frankie Beverly
Maze Featuring Frankie Beverly
1977
40.
Mazzy Star
So Tonight That I Might See
1993
41.
MC Hammer
Please Hammer Don't Hurt 'Em
1990
42.
Megadeth
Peace Sells
1986
43.
Merle Haggard
Mama Tried
1968
44.
Miles Davis
Birth Of The Cool
1957
45.
Nancy Wilson
How Glad I Am
1964
46.
Nat King Cole
Unforgettable
1953
47.
Natalie Cole
Unpredictable
1977
48.
Neil Diamond
The Jazz Singer
1980
49.
Norah Jones
Come Away With Me
2002
50.
Peggy Lee
Is That All There Is
1969
51.
Pink Floyd
Dark Side of the Moon
1973
52.
Radiohead
OK Computer
1997
53.
Raspberries
Raspberries
1972
54.
Richard Thompson
Rumor & Sigh
1991
55.
Ringo Starr
Ringo
1973
56.
Robert Glaspar
Black Radio
2012
57.
Rosanne Cash
Black Cadillac
2006
58.
Sam Smith
In The Lonely Hour
2014
59.
Steve Miller Band
Fly Like an Eagle
1976
60.
Tavares
In The City
1975
61.
Tennessee Ernie Ford
Sixteen Tons
1960
62.
The Band
Music From Big Pink
1968
63.
The Band
The Band
1969
64.
The Beach Boys
Surfer Girl
1963
65.
The Beach Boys
Pet Sounds
1966
66.
The Beatles
Meet The Beatles
1964
67.
The Beatles
Revolver
1966
68.
The Beatles
Sgt. Pepper's Lonely Hearts Club Band
1967
69.
The Beatles
The Beatles
1968
70.
The Beatles
Abbey Road
1970
71.
Tina Turner
Private Dancer
1984
72.
Various
Oklahoma
1955
73.
Various
Funny Girl
1968
74.
Wanda Jackson
There's a Party Goin' On
1961
75.
Wings
Band on the Run
1973

Watch Linda Ronstadt sing "Heart Like a Wheel"
Never miss a post! Sign up for Best Classic Bands' Newsletter; form is on every page.

Latest posts by Best Classic Bands Staff
(see all)