Buffalo Springfield 2018 Tribute Concert Led by Richie Furay
by Steven Mirkin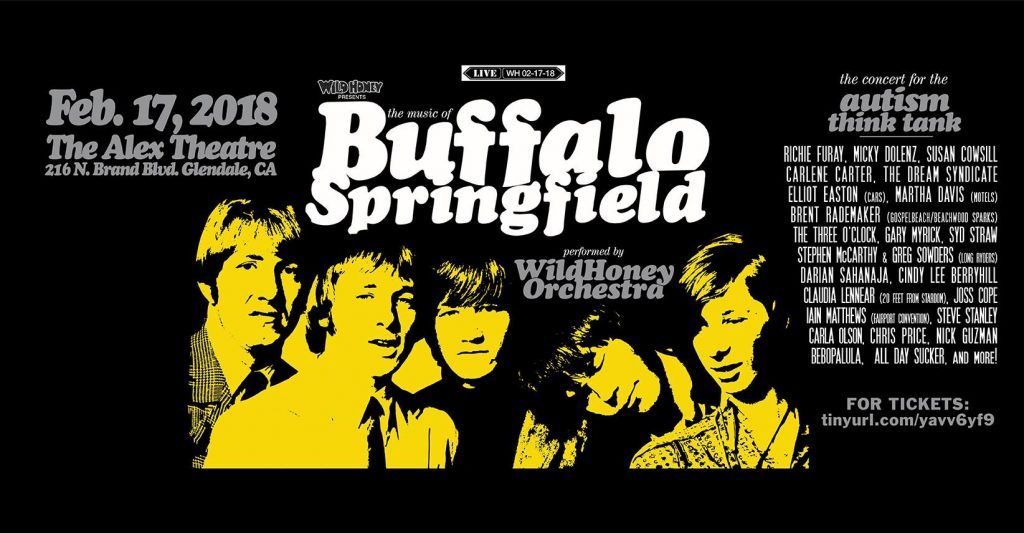 They only released three albums, between 1966-68, but Buffalo Springfield's short lifespan belies their influence. Songs such as "Bluebird," "Mr. Soul" and their biggest hit, "For What's It's Worth," are essential building blocks of country-rock, garage-rock and shimmering Los Angeles pop. The combination of Stephen Stills, Neil Young, Richie Furay (all on guitar and vocals), Dewey Martin (drums) and a few different bassists was simply too combustible to last very long; even their reunion in 2010 was short-lived. They were the perfect subject for the Feb. 17, 2018, Wild Honey Orchestra tribute show/benefit for the Autism Think Tank.
A collection of some of L.A.'s best musicians, players who have logged time with Johnny Cash, Brian Wilson, Leonard Cohen, Jackson Browne, Dave Davies, Sheryl Crow, Tom Waits, the Long Ryders and more, the Wild Honey Orchestra attracts an impressive array of guest singers; this year's show was headlined by original Springfield member Furay.
Watch Richie Furay sing "A Child's Claim to Fame"
Related: BCB's interview with Richie Furay
Furay, a lean, spry 73, is in great voice; when he tears into "Go And Say Goodbye" (from their 1966 debut), accompanied by his daughter, Jessie Furay Lynch, and Chris Price, the joy in his performance is palpable. You can still hear the song's genesis: two guys living in a small Hollywood apartment, besotted by the Beatles' Rubber Soul, learning to sing harmony. The gentle "Kind Woman" was inspired by a woman Furay used to see dancing in front of him at the band's early Whisky A-Go-Go gigs–they've been married now for 51 years, he says (which might explain why he's still so youthful). He jokes that Young interrupted his introduction of the lilting "Do I Have to Come Right Out and Say It" at one of their reunion shows and asked, "Is that song about me?" (It was, he admitted.) And there was no mistaking the big grin on his face.
Watch Susan Cowsill and Darian Sahanaja fronting the band on "Sit Down, I Think I Love You"
There was no letdown in quality for the rest of the three-and-a-half-hour (including intermission) show. Highlights included Susan Cowsill and the Wondermints' Darian Sahanaja dueting on "Sit Down, I Think I Love You" (using an arrangement closer to the delicate psychedelic filagree of the Mojo Men's hit cover), Syd Straw's passionate take of "Down to the Wire" (from the band's aborted fourth album, Stampede) and Rob Laufer and Claudia Lennear harmonizing on a stunning "Expecting to Fly," performed with horns and strings. For Iain Matthews' take of "Broken Arrow," the orchestra was joined by Don Randi, one of the session players who was part of the Wrecking Crew, who played on the song's original recording. The Dream Syndicate played a snarling garage-rock take of "Mr. Soul," while Willie Aron fronted a version of "Bluebird" that featured a wild Elliot Easton solo.
Related: When Buffalo Springfield were on Mannix
Micky Dolenz of the Monkees also appeared. Here he is singing "It's So Hard to Wait"
Easton also took the honors on the guitar line of the encore, which could only be "For What's It's Worth." With the entire company on stage, it quickly turned raucous, ending the evening on a high note. It's the kind of show that leaves everyone happy: they're doing good, helping a member of the community, and getting in a night of wonderful music.
Watch the Dream Syndicate, joined by Susan Cowsill and Claudia Lennear for "Mr. Soul"
Watch the entire cast sing "For What It's Worth"
Bonus: Watch Stills, Young and Furay perform "For What It's Worth" at a 2011 reunion
Related: Our Album Rewind of Buffalo Springfield Again

Latest posts by Steven Mirkin
(see all)