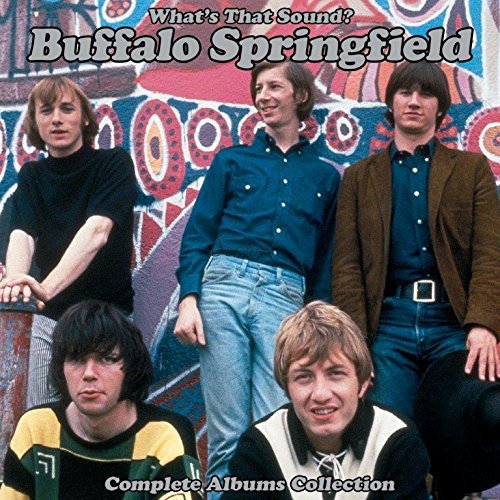 Buffalo Springfield's three studio albums have been remastered from the original analog tapes for a 2018 box set. The release, What's That Sound? The Complete Albums Collection, arrived June 29, 2018, via Rhino as a 5-CD set. In addition, the albums were released – for the first time ever – on 180-gram vinyl as part of a limited-edition 5-LP set of 5,000 copies.
Both sets include stereo mixes of all three albums originally released on Atco, plus mono mixes for Buffalo Springfield and Buffalo Springfield Again. High resolution streaming and downloads are available through NeilYoungArchives.com. The remastering process was under the auspices of Neil Young.
The 5-LP box is presented in sleeves and gatefolds that faithfully re-create the original releases.
The group enjoyed an intense, two-year creative burst. Young, Stephen Stills, Richie Furay, Bruce Palmer and Dewey Martin played their first show together as Buffalo Springfield in 1966. The same year, the band recorded and released its self-titled debut, which included the iconic protest song, "For What It's Worth" and the band's first single, "Nowadays Clancy Can't Even Sing."
The group spent the first half of 1967 making Buffalo Springfield Again, which was the first album to feature songs written by Furay ("A Child's Claim To Fame"). Stills and Young both contributed some all-time classics: "Bluebird" and "Rock And Roll Woman" from Stills; and "Mr. Soul" and "Expecting To Fly" from Young.
Listen to the newly remastered "For What It's Worth"
[The word "heat" in the lyric "What a field day for the heat" from "For What It's Worth" actually refers to the authorities who arrested many protestors during Los Angeles curfew riots in 1966.]
Related: That time Buffalo Springfield had a cameo on the TV detective series, Mannix
The band played its final show more than 50 years ago, on May 5, 1968. When Last Time Around was released in July 1968, the band members were in the midst of transitioning to new projects that still resonate as some of classic rock's finest. Stills formed Crosby, Stills and Nash with David Crosby and Graham Nash; Young went solo; and Furay started Poco with Jim Messina (who produced Last Time Around and played bass on two of the songs). Album highlights include Young's "I Am A Child" and Furay's "Kind Woman."
See the complete track listings below.
Listen to the mono version of "Bluebird"
Track Listing
Buffalo Springfield (1966)
1. "Go And Say Goodbye"
2. "Sit Down I Think I Love You"
3. "Leave"
4. "Nowadays Clancy Can't Even Sing"
5. "Hot Dusty Roads"
6. "Everybody's Wrong"
7. "Flying On The Ground Is Wrong"
8. "Burned"
9. "Do I Have To Come Right Out And Say It"
10. "Baby Don't Scold Me"
11. "Out Of My Mind"
12. "Pay The Price"
13. "For What It's Worth"
Buffalo Springfield Again (1967)
1. "Mr. Soul"
2. "A Child's Claim To Fame"
3. "Everydays"
4. "Expecting To Fly"
5. "Bluebird"
6. "Hung Upside Down"
7. "Sad Memory"
8. "Good Time Boy"
9. "Rock And Roll Woman"
10. "Broken Arrow"
Last Time Around (1968)
1. "On The Way Home"
2. "It's So Hard To Wait"
3. "Pretty Girl Why"
4. "Four Days Gone"
5. "Carefree Country Day"
6. "Special Care"
7. "The Hour Of Not Quite Rain"
8. "Questions"
9. "I Am A Child"
10. "Merry-Go-Round
Since you've read this far, watch Peter Tork introduce the band at the Monterey Pop festival in 1967

The BCB team brings you the latest Breaking News, Contests, On This Day rock history stories, Classic Videos, retro-Charts and more.

Latest posts by Best Classic Bands Staff (see all)