Brian Setzer has released a new solo album, The Devil Always Collects, coinciding with a 2023 tour for this fall, "Rockabilly Riot." The album arrived on September 15 via Surfdog Records. Listen to four of the songs, "Girl On the Billboard," "Black Leather Jacket," the title track, and the rollicking "Rock Boys Rock," below. The concerts mark his first tour in over four years. Setzer had cancelled a 2019 Christmas tour just days before it was scheduled to begin, due to what was described at the time as a "severe case of tinnitus." In the 2023 tour announcement, Setzer said, "I've had a pretty long break, and I needed it. I'm renewed and really want to play live again. I want to just get out on the road with this kick-ass little 3-piece band and start playing." Setzer turned 64 on April 10. Tickets are available here and here.
For these dates, Setzer will be joined by, in his words, an "international rockabilly band, Chris D'Rozario from Melbourne, Australia and Juan Laurios from Mexico City."
The shows will be highlighted by songs from the iconic guitarist, songwriter, vocalist and 3-time Grammy award-winner's 40-year career as a solo artist, leader of the Brian Setzer Orchestra and as a Stray Cat. He adds, "I think fans can always expect that I'm going to play the hits. I also want to play some solo guitar and little things I've worked out by myself. I've never really gotten to do that, so it's going to be something new."
Related: Our Album Rewind of the Stray Cats' debut LP
His setlists will include "some of the favorite covers I'm doing now. I haven't recorded it, but I really like playing my version of 'Georgia On My Mind'."
Watch the official video for "Rock Boys Rock"
"It's an old truckers song," says Setzer about "Girl On the Billboard," popularized in 1965 by country music singer Del Reeves. "At first I wasn't getting the sound I wanted until I picked up my Gretsch 1957 Duo Jet 6131 Firebird. I mean, the sound is monstrous, dirty and twangy."
"Black leather jackets are very personal things," he says of the inspiration to another of the songs. "They're something you keep. You don't get rid of those. So one of the first ones I bought was probably down at St. Mark's Place [in NYC]… But I still have one from England from the 80's. Surprisingly it's a little small," he jokes. "It must have shrunk. But I still take it out for a ride."
The title track was released on Aug. 25.
The new solo album is his first since 2021's Gotta Have the Rumble.
Brian Setzer Rockabilly Riot 2023 Tour (Tickets are available here and here)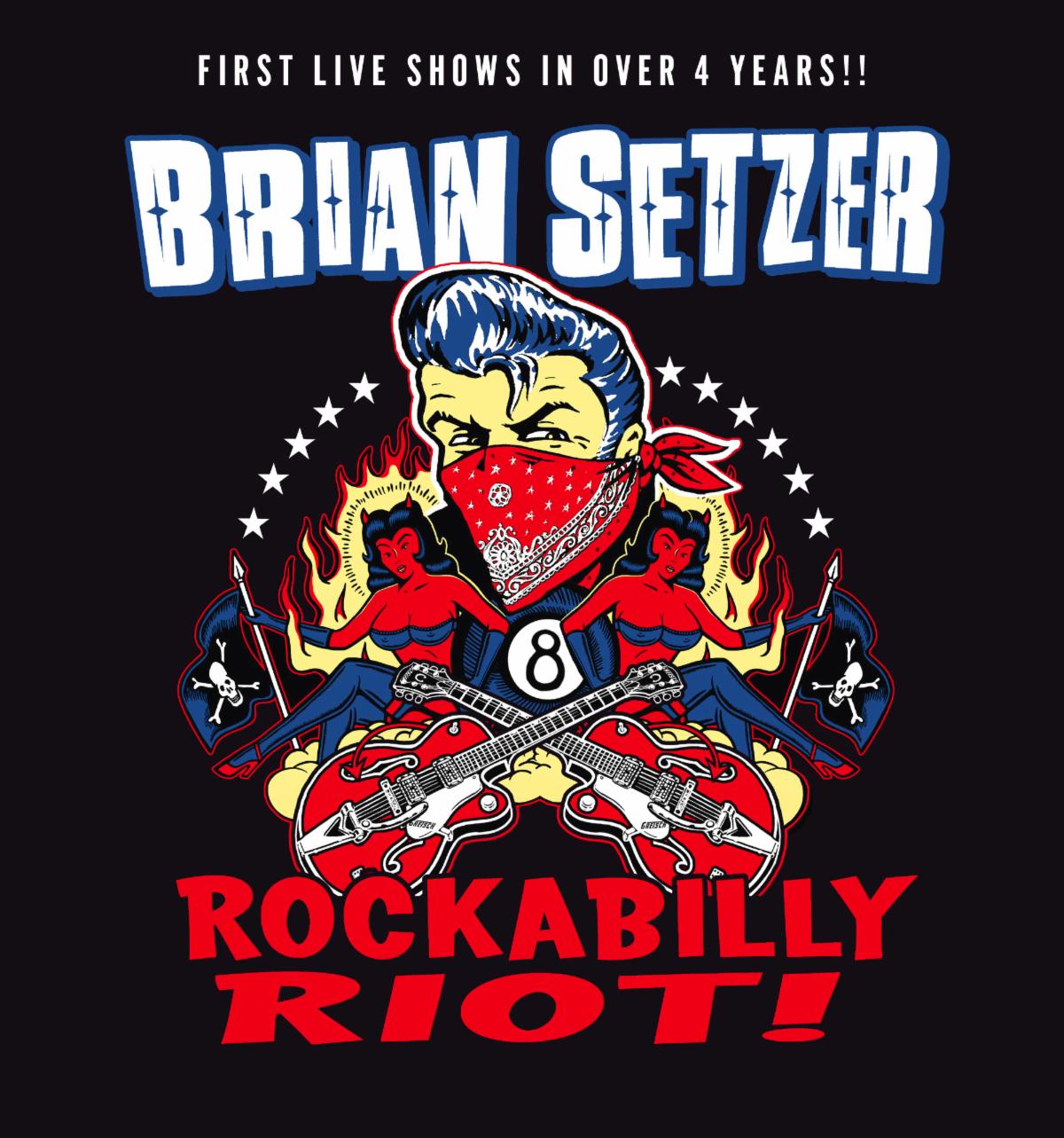 Sep 27 – Red Bank, NJ – Count Basie Center For the Arts
Sep 29 – Mashantucket, CT – Foxwoods Resort Casino
Sep 30 – Greensburg, PA – The Palace Theatre
Oct 02 – Nashville, TN – Ryman Auditorium
Oct 03 – Cincinnati, OH – Taft Theatre
Oct 05 – Nashville, IN – Brown County Music Center
Oct 06 – Northfield, OH – MGM Northfield Park
Oct 07 – Waukegan, IL – Genesee Theatre
Oct 09 – Madison, WI – Orpheum Theater
Oct 10 – Des Moines, IA – Hoyt Sherman Place
Oct 12 – Davenport, IA – Adler Theatre
Oct 13 – Minneapolis, MN – State Theatre
Related: Links to 100s of current classic rock tours

Latest posts by Best Classic Bands Staff
(see all)