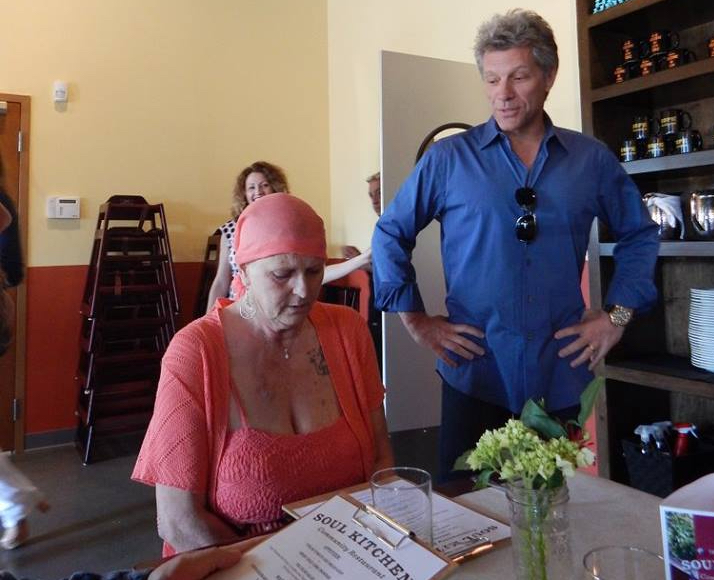 Carol Cesario got the thrill of her lifetime when she went to dinner with her family this past Saturday (6/25). She got to meet her favorite classic rocker, Jon Bon Jovi, while she dined at his charity eatery: JBJ Soul Kitchen in Toms River, New Jersey.
It was a well-executed surprise that started with a photo her daughter, Rosie Skripkunis, posted on Facebook a few weeks ago. It was of her mom, who's battling stage IV lung cancer, holding a sign from her hospital bed that said, "Please share so I can meet Bon Jovi."
The photo caught the attention of Bon Jovi, whose team reached out to Skripkunis shortly thereafter to help set up this amazing surprise for her mother.
"I lied to her," Skripkunis said. "I told her I wrote to his restaurant, that they said they couldn't pass fan mail on, but that they had invited us for a free meal. It was a free meal, but it was a free meal with Bon Jovi there."
The family accepted the invitation and drove from neighboring Pennsylvania, where they live. During their meal, Bon Jovi sneaked in behind Cesario and stood beside her without saying anything. Video shot by Skrikunis shows Cesario scream out "Oh my God!" after she notices the singer next to her.
Don't miss a post! Sign up for Best Classic Bands' Newsletter; form is on every page.
Though a quick hello probably would've been enough, Bon Jovi went above and beyond to make their trip even more worthwhile. "He spent almost two hours hanging out with her and just chatting with my family," Skripkunis said in a Facebook post. Bon Jovi also gave Cesario a signed guitar and book and played them his new album, not yet released.
Related: Bon Jovi announces new album
"[M]om's dream came true," Skripkunis wrote on Facebook, sharing photos and the video, which has more than 180,000 views at press time. "You have no idea what this meant to us. This is a day we will never forget," Skripkunus posted on Sunday (6/26). "Thank you so much for these memories with our mom and her Bons."
Related: Jon Bon Jovi opens second charity restaurant
JBJ's Soul Kitchens serve Bon Jovi's needy fellow New Jersey residents who might suffer from hunger. They ask diners to either donate a minimum of $10 for food, or work in the kitchen to earn their meals. The Tom's River location is the second Soul Kitchen, the first opened in Red Bank, NJ in 2011. Their motto is: Community Dining with Dignity.
Bon Jovi also recently established the B.E.A.T. Center (Bringing Everyone All Together), also in Toms River, to help people in need. It offers culinary training programs and a kitchen to feed at-risk youth.

Latest posts by Best Classic Bands Staff
(see all)