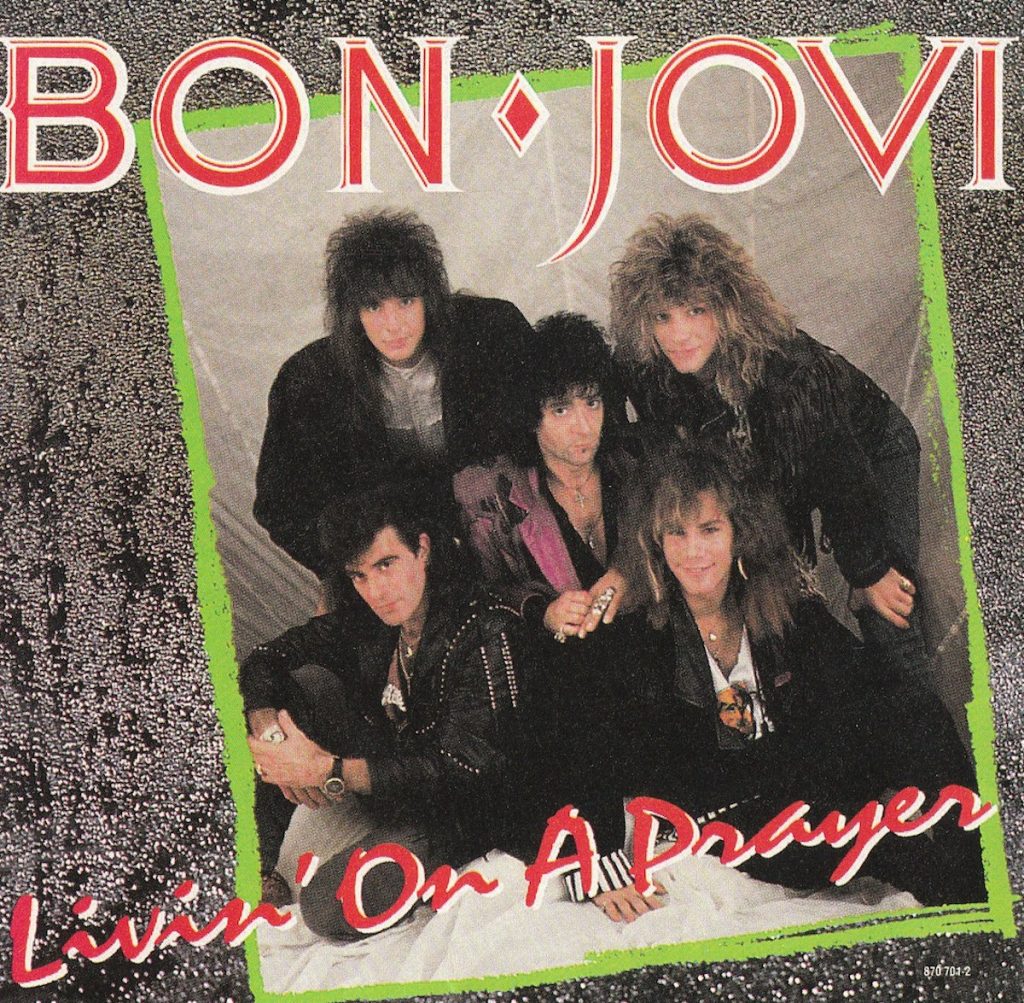 If you ask most rock fans to name just one Bon Jovi song, chances are good that it'll be "Livin' on a Prayer," the New Jersey band's #1 smash of 1987. Since its release on Halloween 1986, the triple platinum single (and album track) from the band's early years has only grown in popularity, and is now undeniably one of the anthems most closely identified with that decade and the era of so-called "hair metal."
Here's the funny thing about "Livin' on a Prayer": Jon Bon Jovi, who co-wrote the tune with his namesake band's guitarist, Richie Sambora, and Desmond Child, wasn't that crazy at first about the band's recording of the song. The singer felt that it needed a tune-up, so the recording was given a new bass line, some drum fills and its now-signature talkbox feature. (Bon Jovi bassist Alec John Such is credited with being on the entire album, although the replacement bass on the track is actually provided by Hugh McDonald. Keyboardist David Bryan and drummer Tico Torres rounded out the lineup.)
Although it was included on Bon Jovi's third album, Slippery When Wet, released in August 1986, it was only after speaking with a group of teens who said that it was their favorite track that Jon Bon Jovi agreed to release it as a single.
"Livin' on a Prayer" basically chronicles the saga of a couple who are having difficulties making ends meet and staying above the fray while they struggle. "It was the first time we ever used characters," Sambora told Fuse TV. "We decided to jump into the social lyric with 'Livin' on a Prayer,' and bring in two characters, Tommy and Gina, which essentially were some blue collar people trying to make ends meet through life, and essentially that was my parents. It could've been Jon and I in that particular part of time. It could've been anything, but what that did, they became everybody across the world. Because at a time, every couple, no matter what, is going through that hardship where they're trying to make ends meet and it's not coming easy. They gotta get over that hurdle. So that was a very inspirational song, and it's morphed and transformed throughout the years."
"Livin' on a Prayer" was issued as the followup to "You Give Love a Bad Name," the hit first single from the album. Like that song, "Livin'…" topped the Billboard singles chart–on February 14, 1987–and stayed there for four weeks. No Bon Jovi single has ever surpassed it in sales.
The Slippery When Wet album, meanwhile, given a boost by those two massive hit singles, itself rocketed to #1, where it remained for eight weeks, eventually going platinum 12 times over! It remains by far Bon Jovi's best-selling album and is one of the top 100 best-selling albums of all-time in the United States.
To say that Jon Bon Jovi's initial impression of "Livin' on a Prayer" was wrong would be a serious understatement. In 2006, VH1 viewers voted it the #1 song of the '80s, and it ultimately made the top 10 in more than a dozen countries worldwide. The music video for the song, filmed in Los Angeles in September 1986, was in regular rotation for ages on MTV.
Watch the classic video for "Livin' on a Prayer"
On Sept. 21, 2001, Bon Jovi played a slow version of the song as part of the Tribute To Heroes telethon benefiting victims of the 9/11 terrorist attacks.
Related: Coverage of Bon Jovi's 2018 Rock Hall induction
When Bon Jovi tour, tickets are available at Ticketmaster.com and here.
So what does Jon Bon Jovi think of "Livin' on a Prayer"? In 2010, he told the London Times that he never gets tired of singing this song: "Not when I see the jet with my name on it."
Watch them perform the song in 2022
Related: What happened when Jon Bon Jovi was asked to sing "Livin'" at a wedding?

Latest posts by Best Classic Bands Staff
(see all)