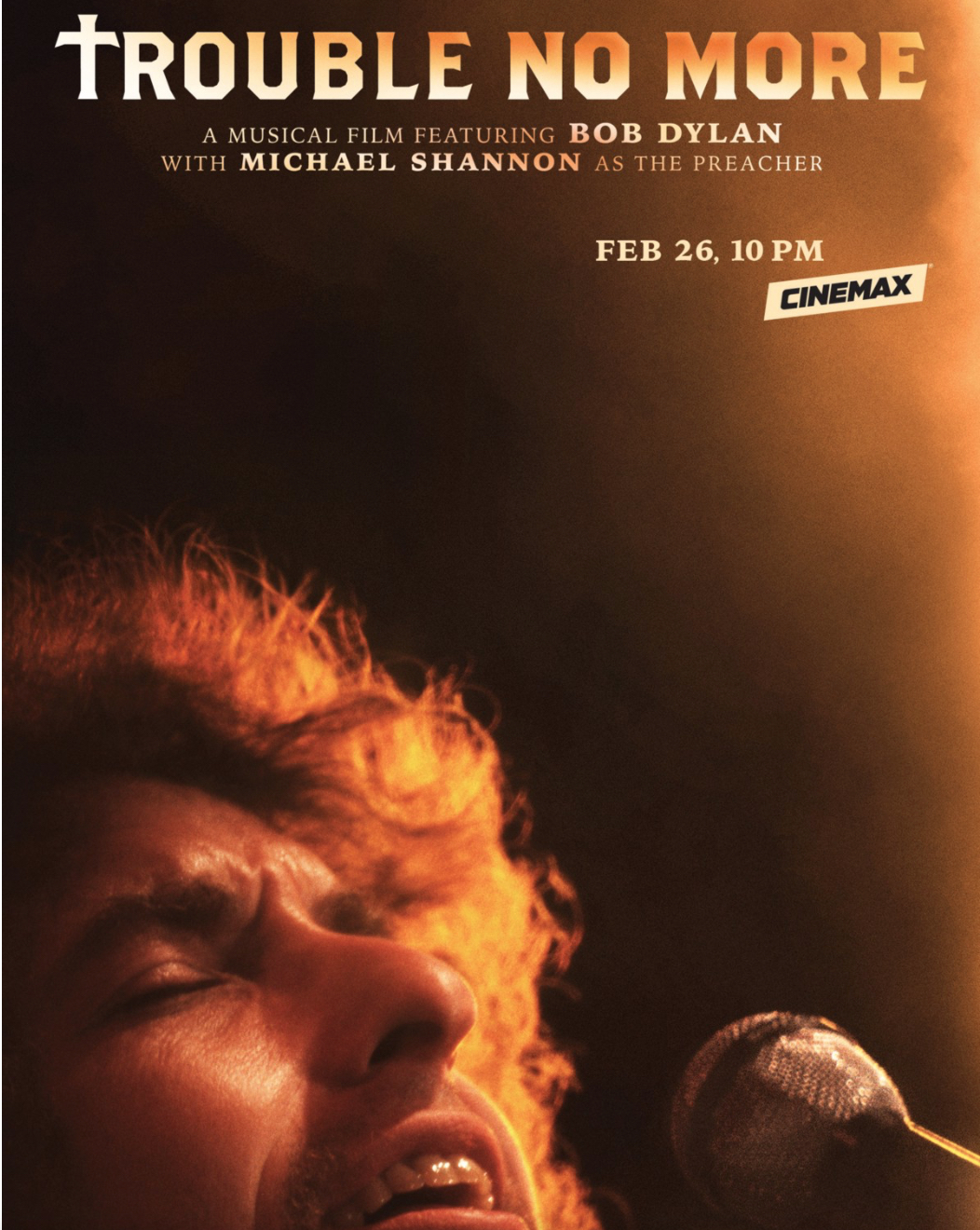 Trouble No More, a feature-length presentation starring Bob Dylan, that accompanied the deluxe edition of his outstanding 2017 box set of the same name, will air Monday, Feb. 26 at 10 p.m. ET/PT, exclusively on Cinemax.
Directed  by Jennifer Lebeau, Trouble No More spotlights Dylan's passionate, faith-based music, featuring electrifying, digitally restored footage from concerts in Toronto and Buffalo in late-April and early-May 1980, which is interspersed with fiery sermons written by Luc Sante and delivered by actor Michael Shannon (HBO's Boardwalk Empire, Oscar® nominee for Nocturnal Animals and Revolutionary Road).
Dylan's controversial "gospel" period began with the release of the 1979 album Slow Train Coming, which was followed in 1980 by Saved and ended with Shot of Love in 1981. TROUBLE NO MORE showcases one of Dylan's most exciting bands, consisting of Muscle Shoals veteran Spooner Oldham and Terry Young on keyboards, Fred Tackett on guitar, Tim Drummond on bass, Jim Keltner on drums and backing singers Clydie King, Gwen Evans, Mona Lisa Young, Regina McCrary and Mary Elizabeth Bridges.
Related: Album Rewind from an earlier Dylan period, his masterful Blood on the Tracks
Watch a trailer for Trouble No More
The film debuted at the 2017 New York Film Festival. The Trouble No More deluxe box set includes the DVD of that film plus a hardcover book featuring an introduction by Dylan scholar Ben Rollins with liner notes by Amanda Petrusich, Rob Bowman and Penn Jillette.
The latest edition in Columbia/Legacy Recordings' lavish mining of Dylan's catalog was released last Nov. 3 as a 2-CD set, a 9-disc (8-CD/1-DVD) deluxe edition with 100 previously unreleased live and studio recordings, including 14 unreleased songs, and a 4-LP set.
Related: Details of the Trouble No More box set

Latest posts by Best Classic Bands Staff
(see all)