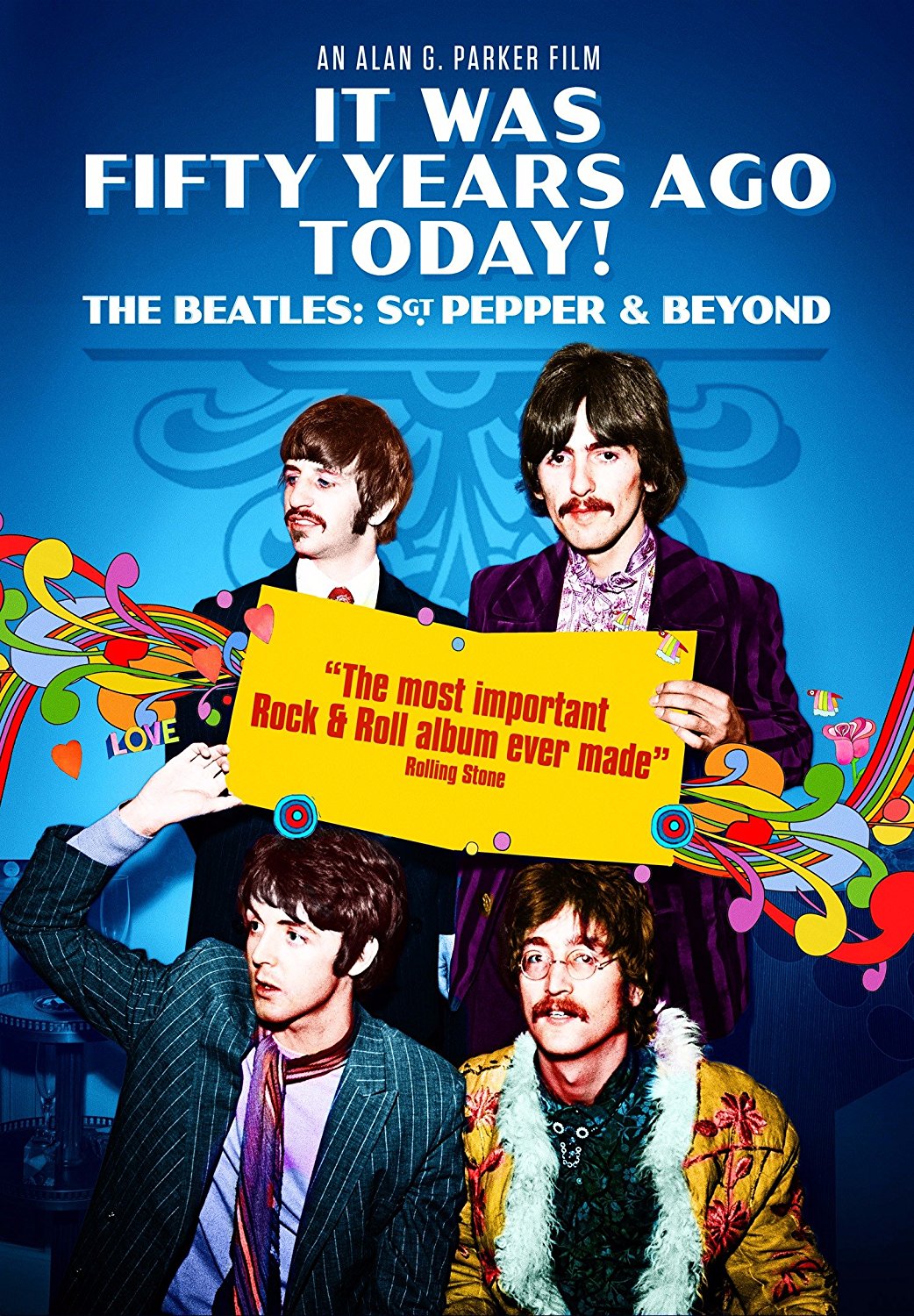 An all-new Beatles documentary, It Was Fifty Years Ago Today! The Beatles: Sgt. Pepper & Beyond, is being released in the U.S. on September 8 on DVD, Blu-ray and VOD, by BFD distributed by The Orchard.
The film is director by Alan G. Parker, the director of Monty Python: Almost The Truth, Rebel Truce: The Story of The Clash, Never Mind the Sex Pistols, and Who Killed Nancy, among many others.
The film features rare archival footage unseen since the 1960s plus rare interviews with the Beatles' original drummer Pete Best, John Lennon's sister Julia Baird, Beatles' manager Brian Epstein's secretary Barbara O'Donnell, Beatles associate Tony Bramwell, Pattie Boyd's sister Jenny Boyd, Beatles author Philip Norman, and more.
From the announcement: "It Was Fifty Years Ago Today! The Beatles: Sgt. Pepper & Beyond examines the year 1967, the year that would arguably be the most crucial in the band's career, a year in which they stopped being the world's number one touring band and instead became the world's most innovative recording artists, pushing the boundaries of what could be achieved in the studio.
"A devoted Beatles fan since the age of nine, Parker explores this period by filming interviews with former employees, fellow musicians, family member and journalists, all of whom were there at the time. These stories are in turn supported by a vast array of impressive archival footage, much of it not seen since first transmission. The result is a detailed examination of why the band stopped touring, how the Sgt. Pepper album was conceived and its recording at EMI's Abbey Road Studios, its lyrics, the creation of its sleeve and finally its release. All this is set against a background of the band's changing relationship with their manager, and the tragedy of his death, the creation of Apple and the powerful influence of the Maharishi Mahesh Yogi."
Watch the film's trailer
Says Parker: "We're combining first-hand accounts of the events that allowed 'Sgt. Pepper' to happen with rare and unseen footage that we've forensically unearthed from mainstream archives and private collectors. The last days of touring…. the execution of the album…. and the aftermath that it left behind will, I hope, give the audience an intimate sense of the band, the time and the impact of this extraordinary album."

The BCB team brings you the latest Breaking News, Contests, On This Day rock history stories, Classic Videos, retro-Charts and more.

Latest posts by Best Classic Bands Staff (see all)