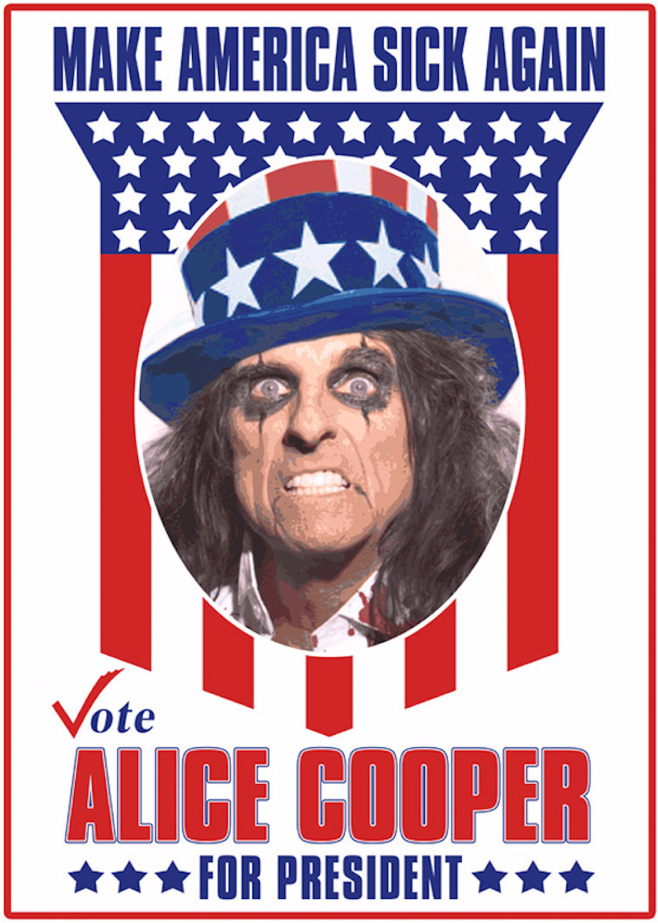 Let's face it: This isn't a very fun election season. But with Alice Cooper now throwing his famous top hot into the ring for both President of the United States and Prime Minister of England, we classic rock fans can enjoy some much-needed levity.
And he doesn't have to worry about some artist getting in a snit if he uses their rock song at a campaign rally because he has his own number for the occasion: a remake of his 1972 song "Elected," a #26 pop hit from the million-selling #1 album Billion Dollar Babies.
As a press release explains, "Alice Cooper is tired of the rhetoric – the mudslinging – the media frenzy. Keeping his snake in his cage and the guillotine in storage, he is putting people before career. Alice Cooper wants to be elected.
Related: Our interview with Alice Cooper where he discusses addiction, Vampires & possible reunion
"He is asking his fellow Americans, his British friends and all those around the world who are disillusioned with their leaders, to join The Wild Party," the release explains. "Alice Cooper is tackling the everyday concerns discussed among his fellow woman and man – the ordinary,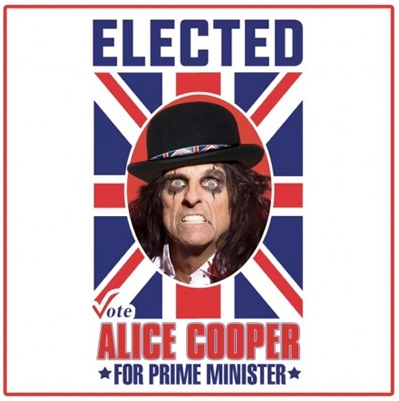 decent hard working (and rocking) people he meets and entertains every day while performing nearly 100 concerts a year around the world."
He also has a 10 point platform we can all get behind:
1. Getting Brian Johnson back in AC/DC
2. A snake in every pot
3. No more pencils, no more books
4. Adding Lemmy to Mt Rushmore
5. Rename Big Ben "Big Lemmy"
6. Groucho Marx on the $50 bill
7. Peter Sellers on the £20 note
8. Cupholders required for every airplane seat
9. Ban on talking during movies in movie theaters
10. Ban on taking selfies, except on a designated National Selfie Day
It's easy to cast your vote for a man who will bring a putting green to the White House lawn. Just click on http://votealicecooper.com/ and show your support. Or attend one of his "rallies" as Alice tours with Hollywood Vampires and then invites you to Spend a Night With Alice Cooper over the three months to follow.
Don't miss a post! Sign up for Best Classic Bands' Newsletter; form is on every page.

The BCB team brings you the latest Breaking News, Contests, On This Day rock history stories, Classic Videos, retro-Charts and more.

Latest posts by Best Classic Bands Staff (see all)