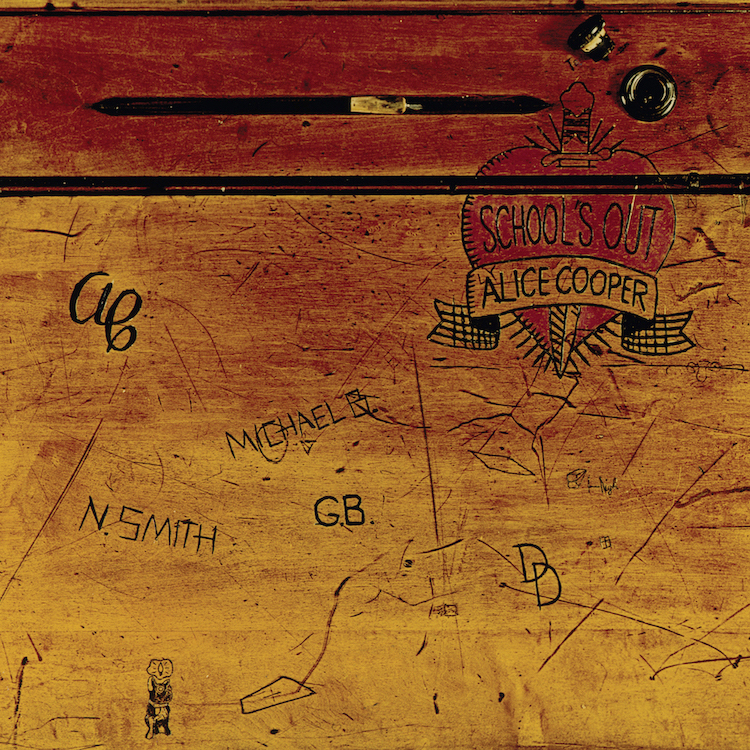 Alice Cooper had an enviable run during the 1970s when the band released four consecutive platinum albums, all produced by Bob Ezrin, with such Top 40 hits as "I'm Eighteen," "School's Out," "No More Mr. Nice Guy," and "Elected." Rhino will reissue two of those platinum albums – 1971's Killer and 1972's School's Out – with newly remastered sound, rare recordings, and previously unreleased live performances. (Listen to several below.) Both Deluxe Editions will be released on June 9, 2023, as 2-CD sets and 3-LP versions on 180-gram vinyl.
Released in 1971, Killer was the fourth studio album recorded by the founding quintet of singer Alice Cooper, lead guitarist Glen Buxton, rhythm guitarist/keyboardist Michael Bruce, bassist Dennis Dunaway, and drummer Neal Smith. Along with the singles "Under My Wheels" and "Be My Lover," the record also includes "Yeah, Yeah, Yeah," "Desperado," and the prog-rock-inspired epic "Halo of Flies." The bonus material features alternate takes for "You Drive Me Nervous," "Under My Wheels," and "Dead Babies."
The collection also gives fans an unreleased live recording of the band's performance at Mar Y Sol Pop Festival in Puerto Rico on April 2, 1972. Recorded a few months before the band returned to the studio to make School's Out, the show previews "Public Animal #9" from the upcoming album. Shortly after the festival, the band released the title track from School's Out. The single was released several weeks ahead of the full album to ensure it hit radio airwaves before the school year ended. It worked. By the time school was out, the song was a hit, reaching #7 in the U.S. and #1 in the U.K.
Listen to a previously unreleased version of Killer's "You Drive Me Nervous" from the Mar Y Sol festival
School's Out (Deluxe Edition) begins with a newly remastered version of the 1972 original, which reached #2 on the albums chart. Essential tracks like "Luney Tune" and "Alma Mater" are joined by "Gutter Cat vs. The Jets." The latter is an homage to West Side Story, a significant influence on the band. The song incorporates lyrics from "Jet Song" from the 1957 musical, which led to an unlikely songwriting credit for Leonard Bernstein and Stephen Sondheim on an Alice Cooper track.
Two previously unreleased tracks are included, an alternate version of "Alma Mater" and an early demo for "Elected," a song that would appear in 1973 on the band's first #1 album, Billion Dollar Babies.
Related: Our Album Rewind of Billion Dollar Babies
Listen to a previously unreleased live version of "Be My Lover" from the upcoming School's Out Deluxe Edition
Alice Cooper's concert in Miami on May 27, 1972, adds even more unreleased music to the collection. The show was recorded a few weeks before the band entered the studio to record School's Out. The live performance features standout versions of "Halo of Flies," "School's Out," and "Yeah, Yeah, Yeah," a song that gives Cooper a chance to show off his impressive harmonica skills.
The vinyl versions for both Deluxe Editions recreate the original album sleeves down to the smallest detail. For Killer, that means a gatefold sleeve that opens to reveal a detachable 1972 calendar with a photo of Cooper in the gallows. The cover of School's Out looks like a wooden school desk and opens to reveal the LP wrapped in a pair of panties. The band stopped including the underwear following a controversy as to whether or not they were flammable. (Thankfully, the lacy undergarments in the new Deluxe Edition are not a fire hazard.)
Both sets come with booklets that include track-by-track commentary by band members and former Creem magazine editor Jaan Uhelszki, plus liner notes by Bill Holdship, also a former Creem editor. Holdship writes: "Listening to Killer again after all these years to write these notes was rewarding because, like The Beatles and Elvis, it's gratifying to realize I ended up 'wasting' my life on something that, even in retrospect, really was that great. Fifty years later, Killer remains a perfect – perfect! – rock 'n' roll record."
In addition to experiencing the unearthed concerts on these two new deluxe editions, fans can also see Alice Cooper revisit School's Out and Killer on an extensive tour spanning spring and summer. The run of more than 40 shows will bring him and his band all across the country, including dates with Def Leppard and Mötley Crüe, plus a month-long run with Rob Zombie, Ministry, and Filter for this year's Freaks on Parade.
Alice Cooper 2023 Tour Dates (Tickets are available here and here)
4/29 – Covelli Centre – Youngstown, OH
4/30 – Hershey Theatre – Hershey, PA
5/02 – Allen County War Memorial Coliseum – Fort Wayne, IN
5/03 – Miller High Life Theatre – Milwaukee, WI
5/05 – Mystic Lake – Prior Lake, MN
5/06 – Sanford Center – Bemidji, MN
5/07 – Tyson Events Center – Sioux City, IA
5/09 – State Farm Center – Champaign, IL
5/10 – The Louisville Palace – Louisville, KY
5/13 – Tennessee Theatre – Knoxville, TN
5/14 – Spartanburg Memorial Auditorium – Spartanburg, SC
5/15 – North Charleston Coliseum – North Charleston, SC
5/17 – Shreveport Municipal Auditorium – Shreveport, LA
5/18 – Beau Rivage Theatre – Biloxi, MS
5/20 – Daytona International Speedway – Daytona Beach, FL
8/05 – JMA Wireless Dome – Syracuse, NY**
8/08 – Ohio Stadium – Columbus, OH**
8/11 – Fargodome – Fargo, ND**
8/13 – Charles Schwab Field Omaha – Omaha, NE**
8/16 – Skelly Field at H.A. Chapman Stadium – Tulsa, OK**
8/18 – Sun Bowl Stadium – El Paso, TX**
8/24 – Dos Equis Pavilion – Dallas, TX*
8/26 – MIDFLORIDA Credit Union Amphitheatre – Tampa, FL*
8/27 – iTHINK Financial Amphitheatre – West Palm Beach, FL*
8/29 – Coastal Credit Union Music Park – Raleigh, NC*
8/30 – Veterans United Home Loans Amphitheater – Virginia Beach, VA*
9/01 – Hollywood Casino Amphitheatre – Tinley Park, IL*
9/02 – Wells Fargo Arena – Des Moines, IA*
9/05 – Pine Knob Music Theatre – Clarkston, MI*
9/06 – Budweiser Stage – Toronto, ON*
9/08 – The Pavilion at Montage Mountain – Scranton, PA*
9/09 – Northwell Health at Jones Beach Theater – Wantagh, NY*
9/10 – Xfinity Theatre – Hartford, CT*
9/12 – Bridgestone Arena – Nashville, TN*
9/13 – Riverbend Music Center – Cincinnati, OH*
9/15 – Azura Amphitheater – Bonner Springs, KS*
9/16 – Fiddler's Green Amphitheatre – Greenwood Village, CO*
9/19 – RV Inn Style Resorts Amphitheater – Ridgefield, WA*
9/20 – White River Amphitheatre – Auburn, WA*
9/22 – Concord Pavilion – Concord, CA*
9/23 – Honda Center – Anaheim, CA*
9/24 – Talking Stick Resort Amphitheatre – Phoenix, AZ*
*Freaks on Parade Tour with Rob Zombie, Ministry, and Filter
**with Def Leppard and Mötley Crüe
The complete track listing for the Deluxe Editions appears below the Amazon links.
Killer Deluxe Edition Vinyl Track Listing
LP One: Original Album Remastered
Side One
1. "Under My Wheels"
2. "Be My Lover"
3. "Halo Of Flies"
4. "Desperado"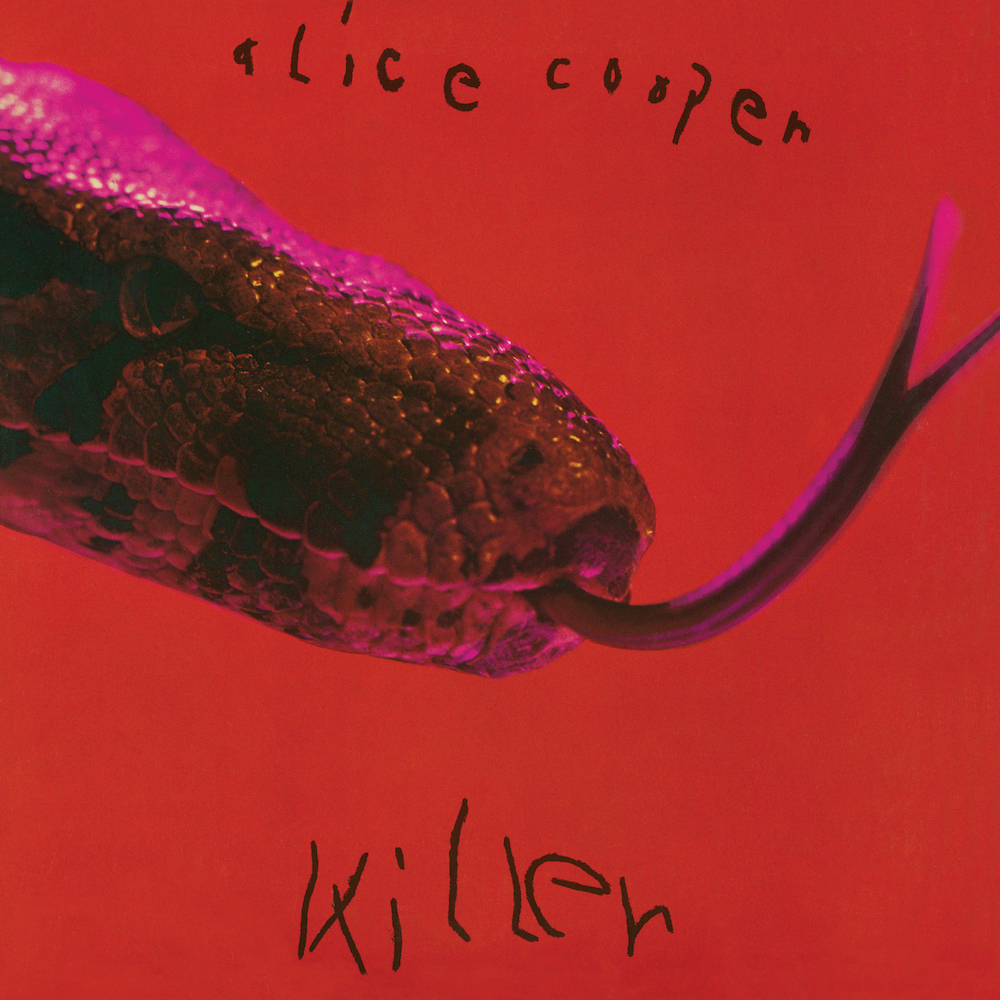 Side Two
1. "You Drive Me Nervous"
2. "Yeah, Yeah, Yeah"
3. "Dead Babies"
4. "Killer"
LP Two: Live at Mar Y Sol Pop Festival, Puerto Rico (April 2, 1972)
Side One
1. "Be My Lover" *
2. "You Drive Me Nervous" *
3. "Yeah, Yeah, Yeah" *
4. "I'm Eighteen" *
Side Two
1. "Halo Of Flies" *
2. "Is It My Body?" *
LP Three: Live at Mar Y Sol Pop Festival, Puerto Rico (April 2, 1972)
Side One
1. "Dead Babies" *
2. "Killer" *
3. "Long Way To Go" *
Side Two
1. "Under My Wheels" *
Studio Extras
2. "You Drive Me Nervous" (Alternate Version)
3. "Under My Wheels" (Alternate Version)
4. "Dead Babies" (Alternate Version)
School's Out Deluxe Edition Vinyl Track Listing
LP One: Original Album Remastered
Side One
1. "School's Out"
2. "Luney Tune"
3. "Gutter Cat vs. The Jets"
4. "Street Fight" (Instrumental)
5. "Blue Turk"
Side Two
1. "My Stars"
2. "Public Animal #9"
3. "Alma Mater"
4. "Grande Finale" (Instrumental)
LP Two: Live in Miami, FL (May 27, 1972)
Side One
1. "Be My Lover" *
2. "You Drive Me Nervous" *
3. "Yeah, Yeah, Yeah" *
4. "I'm Eighteen" *
Side Two
1. "Halo Of Flies" *
2. "Dead Babies" *
3. "Killer" *
LP Three: Live in Miami, FL (May 27, 1972)
Side One
1. "Long Way To Go"*
2. "School's Out" *
3. "Is It My Body?" *
Side Two: Studio Extras
1. "School's Out" (Single Version)
2. "Gutter Cat" (Single Version)
3. "Alma Mater" (Alternate Version) *
4. "Elected" (Early Take) *
* Previously Unreleased

Latest posts by Best Classic Bands Staff
(see all)