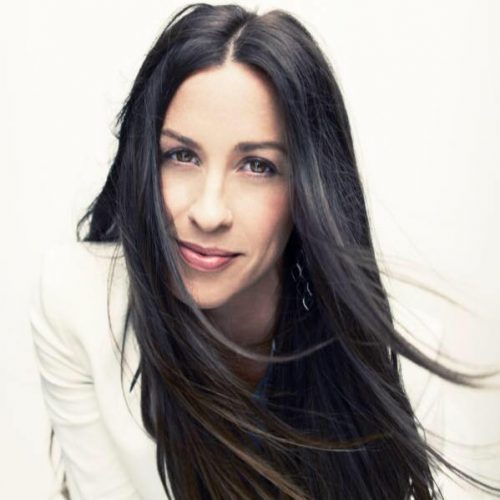 Always known for doing things her way, it would be a mistake to think Alanis Morissette's pregnancy would be anything different.
The Canadian artist, 42, gave her Instagram followers a look at pregnancy aquarium-style earlier this week. The stunning photo shows a nude Morissette floating in a swimming pool, clutching her bosom and looking very serene with the caption being a sweet quote from her 5-year old son: "You have to be extra gentle around ladies because they are the most helpful people in the world 'cause they make persons."
This will be the second child for the "You Outta Know" singer and her rapper husband Mario "Souleye" Treadway, which they are expecting sometime this summer. The couple and son Ever announced the new pregnancy last February by way of an animated music video on her website, which depicted the story of her life with "Souleye," from when they first met, to having their first child, with the end of the video showing the three of them gazing lovingly at the ultrasound picture.
Don't miss a post! Sign up for Best Classic Bands' Newsletter; form is on every page.
This has been a busy year for Morissette. Aside from the upcoming birth of her child, she has been in the middle of a lawsuit battle with her recently fired business manager, Jonathan Schwartz, who she accused of stealing a total of $4.7 million, between 2010-2014. She filed the complaint in May with the Los Angeles County Superior Court against Schwartz and GSO Business Management citing breach of fiduciary duty, conversion, fraud and negligence back.
Related: Former Morissette business manager apparently had one hand in her pocket
On a happier note, the alternative singer/songwriter has been celebrating the 20-year anniversary of her breakout, impactful album Jagged Little Pill. The artist in collaboration with Rhino released a four-disc collector's edition last fall that includes a re-mastered edition of the LP, a previously unreleased full live concert in London, an acoustic version of the full LP from 2005 and an unreleased disc of demos recorded between 1994-1998.

Latest posts by Best Classic Bands Staff
(see all)