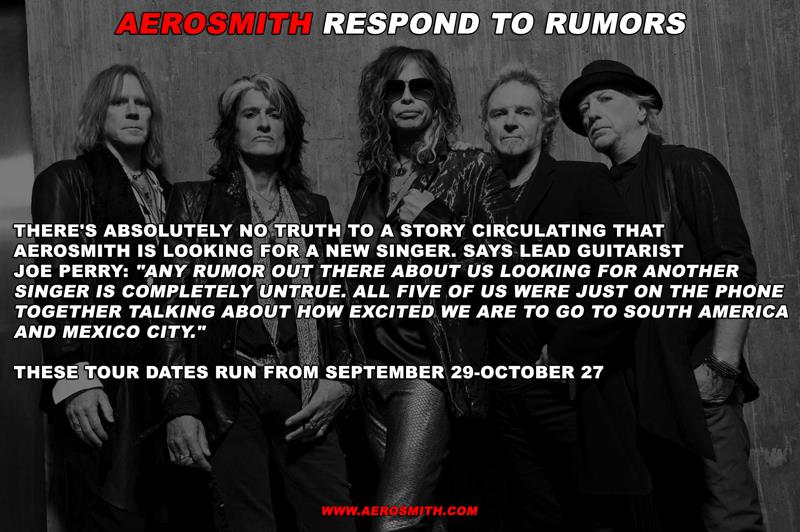 In a brief statement issued through their publicist on Friday night (May 20) and then via their social media accounts, Aerosmith has responded to the rumors that have been circulating regarding their possibly touring with a lead singer other than Steven Tyler. A quote from Joe Perry calls the rumors "untrue" and notes that the "five of us were just on the phone together" about their fall tour.
The rumors cropped up when guitarist Brad Whitford did an interview with Metal Rules. Best Classic Bands wrote about it earlier this week in a story headlined: Aerosmith + Steven Tyler Done? Guitarist Whitford Speaks.
Whitford, who's busy with the resumption of his occasional side project with singer Derek St. Holmes (formerly of Ted Nugent's band), was asked: "With AC/DC going on tour with Axl Rose, does this open the door to Aerosmith reconsidering a short tour without Steven and possible some guest vocalist?
Whitford's candid and surprising answer: "Absolutely, we have considered it but whether it will happen I don't know." Then the kicker: "I think it would be great."
Interviewer Robert Cavuoto then followed up: "If you had a wish list, who would you like to see fronting the band?" Whitford offered a short list of Myles Kennedy (lead vocalist for Slash's side project), Rose (though he was kidding… we think) and Sammy Hagar.
Today's full statement from Aerosmith's publicity firm MSO PR: "There's absolutely no truth to a story circulating that Aerosmith is looking for a new singer." Says lead guitarist Joe Perry: "Any rumor out there about us looking for another singer is completely untrue. All five of us were just on the phone together talking about how excited we are to go to South America and Mexico City."
Don't miss a post! Sign up for Best Classic Bands' Newsletter; form is on every page.
Presumably, no one forced Whitford to make the comments that he did. So what's left unsaid: it was he who offered them. We also don't know why neither the band's website's tour page nor the graphic they posted on Facebook includes the mid-September Kaaboo Festival in Del Mar, CA which was announced a few weeks' ago and continues to the list Aerosmith among the event's lineup, along with such classic rock acts as Lenny Kravitz, Hall and Oates, Gregg Allman, Blues Traveler and more.
Aerosmith's 2016 tour currently numbers 11 dates. Tyler has his debut country album coming as well as a summer tour with his country band Loving Mary. Joe Perry is in the midst of a tour with the Hollywood Vampires (which includes Alice Cooper and Johnny Depp). Whitford and St. Holmes have recorded an album to be released June 3 and begin a month-long tour with Whitesnake that same day.
Related: Joe Perry is working on a solo album
Aerosmith has announced these dates:
Sept 16-18 – Del Mar, CA – KAABOO
Sept 29 – Bogota, Columbia – Parque Simon Bolivar
Oct 02 – Santiago, Chile – Movistar Arena
Oct 05 – Cordoba, Argentina – Estadio de Cordoba
Oct 08 – Buenos Aires, Argentina – Estadio Unico La Plata
Oct 11 – Porto Alegre, Brazil – Anfiteatro Beira Rio
Oct 15 – Sao Paulo, Brazil – Allianz Parque
Oct 18 – Santa Cruz de la Sierra, Bolivia – Allianz Parque
Oct 21 – Recife, Brazil – Classic Hall
Oct 24 – Lima, Peru – Estadio Nacional
Oct 27 – Mexico City, Mexico – Arena Ciudad de Mexico
Best Classic Bands will continue to follow the story.

Latest posts by Best Classic Bands Staff
(see all)