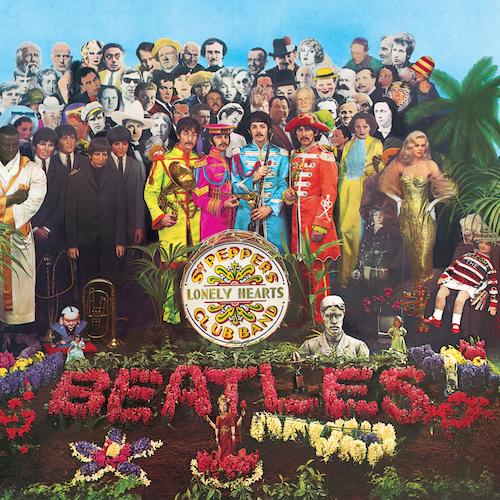 If you are a fan of classic rock—and we assume you are since you're reading this on Best Classic Bands—you may feel a bit lost when you look over the newly published list of 2017's best-selling albums to date. In the top spot on Nielsen's Mid-Year Top 10 Albums (Based on Overall Equivalent Album Units) chart is DAMN, by hip-hop artist Kendrick Lamar, with 1,772,000 "equivalent album sales" (we'll get to that in a second), followed by Ed Sheeran's ÷ (Divide), with 1,749,000. The top 10 list is filled out with sales by contemporary artists such as Drake, the Weeknd, Bruno Mars and the Chainsmokers.
According to Nielsen, equivalent album units comprise "traditional album sales, track equivalent albums [TEA] and streaming equivalent albums [SEA]. Each unit equals one album sale, or 10 individual tracks sold from one album, or 1,500 on-demand audio streams generated by songs on an album."
On the corresponding list of 2017's more straightforward Mid-Year Top 10 Selling Albums, Sheeran bests Lamar and that list also includes four soundtracks (Moana is tops), with Metallica's Hardwired… To Self-Destruct the only classic rock album in sight, having racked up sales of 487,000 so far this year.
If you look at the sales of vinyl LPs, however, a whole different story emerges. Apparently, that's where all of the action resides today among fans of classic rock and related music. Here an alternate reality exists, with The Beatles' Sgt. Pepper's Lonely Hearts Club Band reissue grabbing the top spot—albeit with sales of only 39,000. Also among the top 10 in the vinyl world are Bob Marley and the Wailers' Legend (30,000 sales), Amy Winehouse's Back to Black (27,000), the Beatles' Abbey Road (26,000), Prince and the Revolution's Purple Rain (24,000) and, at #10, Pink Floyd's The Dark Side of the Moon (23,000).
Related: Pink Floyd's Dark Side was rarely off the charts during its peak
While it's tempting to read into these numbers that vinyl sales are rebounding—and there is no doubt that that's true compared, say, to a decade ago—it's sobering to look at those numbers again. During the format's heyday, a best-selling vinyl album would easily move millions of copies from record stores to turntables. Through June 30, Pepper had yet to crack 40,000. By far, the most activity today takes place via streaming—and there, individual songs dominate albums by far: Sheeran's song "Shape of You," Nielsen reports, has been streamed via both audio and video more than 300 million times—this year alone! That's approximately one time each for every resident of the United States!
And, although the massive (and expensive) Sgt. Pepper Deluxe Edition boxed set was #1 on Amazon.com's CD sales chart upon its release in late May, it is nowhere to be found in the current Nielsen top 10, where artists we must confess we've never heard of, including Migos, Future and Post Malone, currently reside. Amazon's current #1 is the new album by rapper Jay-Z; the Pepper standard edition now sits at #14, with the box hanging in at #20.
On the current Billboard vinyl chart in the U.S., Purple Rain currently sits at #1 on the Top Vinyl Albums Chart, #1 on the Top Soundtrack Albums Chart and #1 on the Top Catalog Albums Chart. As soon as the Deluxe and Deluxe – Expanded Edition versions went live, the record became a mainstay in the Top 10 of iTunes Overall Top Albums Chart.
Meanwhile, across the water, we can see some similarities and a few major differences on the British vinyl sales charts. Sheeran is #1 in the U.K., with Pepper right behind him at #2. Classic rock makes a strong showing in general in Britain, with Fleetwood Mac's Rumours at #6 and albums by Queen, Nirvana, Guns N' Roses and others turning up in the top 40. It's David Bowie who makes the biggest splash however, with no less than five vinyl albums in the top 40, starting with Legacy at #7. Right behind it at #8: The Dark Side of the Moon.
Watch the trailer for the reissue of Sgt. Pepper

Latest posts by Best Classic Bands Staff
(see all)