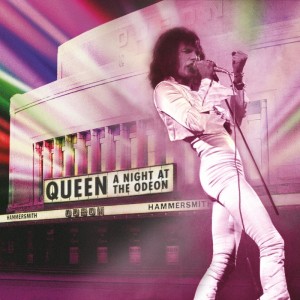 Queen fans: have we got an early Christmas gift for you! On December 24, 1975, Freddie Mercury, Brian May, Roger Taylor and John Deacon played a gig that would seal their status as one of the most important bands of the era – a Christmas Eve special on BBC TV that was the culmination of their 26-date "Queen Invite You to a Night at the Opera" U.K.Tour. Now, 40 years later, a live recording of this show – one of the most bootlegged of their career – Queen – A Night at the Odeon – Hammersmith 1975, will be released for your viewing and listening pleasure on November 20th.
The seminal show occurred while "Bohemian Rhapsody" was in the middle of its record-breaking nine-week run at #1 on the British charts. It was the first time the band had played an entire show live on TV, and just three days after, their fourth studio album A Night at the Opera soared to the top of the charts as well. The concert film features 15 tracks from Queen's first four albums, plus covers of four classic rock'n'roll staples.
Queen – A Night at the Odeon – Hammersmith 1975 will be released on DVD, Blu-ray, CD, vinyl and digitally. The audio formats feature three additional tracks not caught on camera after the film crew accidentally packed up a bit too early. Devoted fans will also be excited to get their hands on the Super Deluxe Box Set, which includes rare footage from a 1975 Queen show in Japan as well as a 22-minute documentary featuring a previously unseen interview with Brian May and Roger Taylor. It's available for pre-order now.
Queen – A Night at the Odeon – Hammersmith 1975 Track List:
1. Now I'm Here
2. Ogre Battle
3. White Queen (As It Began)
4. Bohemian Rhapsody
5. Killer Queen
6. The March Of The Black Queen
7. Bohemian Rhapsody (Reprise)
8. Bring Back That Leroy Brown
9. Brighton Rock
10. Guitar Solo
11. Son And Daughter
12. Keep Yourself Alive
13. Liar
14. In The Lap Of The Gods… Revisited
15. Big Spender
16. Jailhouse Rock Medley
17. Seven Seas Of Rhye
18. See What A Fool I've Been
19. God Save The Queen

Latest posts by Best Classic Bands Staff
(see all)