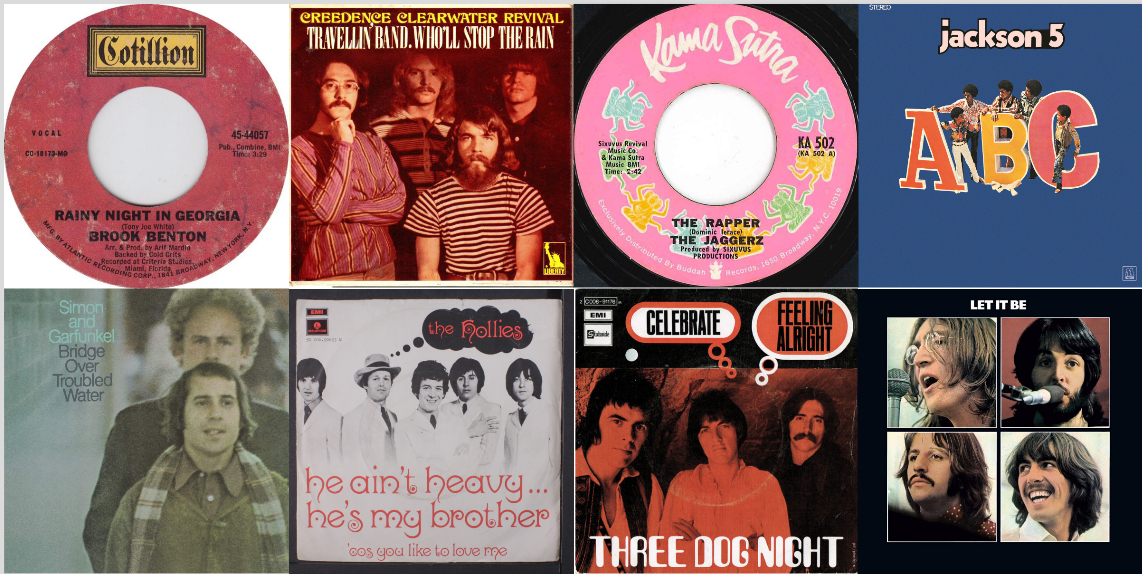 The date was March 21, 1970. Making headlines: UCLA won the NCAA Men's College Basketball Championship, their sixth of 10 the school would win in an unprecedented 12-year run.
With many U.S. postal workers on strike, military workers were assigned to sort and deliver mail in New York City.
And the weekly 100 Top Pops singles chart as published by U.S. music trade magazine, Record World, looked like it could've been a year's best list. Some all-time favorites, representing many of the biggest recording artists, took some huge leaps this week, as they were vying for the top spot.
The countdown begins…
Moving up from #33 to #25, Badfinger was one of the great pop-rock bands of its time. And it was "Come and Get it," written by Paul McCartney and released on the Beatles' Apple label, that started the ball rolling.
Producer credit for Lulu's biggest U.S. hit since 1967's "To Sir With Love" is given to Atlantic's in-house trio of Jerry Wexler, Tom Dowd and Arif Mardin. "Oh Me Oh My," at #20, was later recorded by many other artists.
A double-sided single from Creedence Clearwater Revival – "Traveling Band" / "Who'll Stop the Rain" – was at #19. It fell precipitously from #2 a week earlier, in order to make room for the week's fast-climbing singles.
The first of Elvis Presley's five 1970 chart hits, "Kentucky Rain," fell to #18.
Teen idol Bobby Sherman enjoyed a string of pop hits. One of them, "Easy Come, Easy Go," moved up to #17 from #21 this week.
Three Dog Night were in the midst of a stretch of chart dominance: "Celebrate," which jumped from #23 to #16, was one of nine Top 5 hits they charted from 1969-73.
Taking a huge leap from #64 to #15… The Beatles' "Let it Be," on its way to yet another #1.
The production team of Wexler, Dowd and Mardin were represented by a second single on this week's chart: Aretha Franklin's "Call Me," which became one of Lady Soul'd many #1 R&B hits.
Norman Greenbaum's classic "Spirit in the Sky" jumped from #21 to #13 this week. Although the song peaked at #3 on rival Billboard, it would reach #1 on Record World on May 2.
The Jackson 5's first four singles all made it to #1. The second in that streak, the ultra-catchy "ABC," made an enormous leap this week, from #72 to #12.
The Hollies made a welcome return to the top of the chart this week. "He Ain't Heavy, He's My Brother," with Allan Clarke singing lead, would become their first U.S. Top 10 hit since 1967.
Catch your breath… we're only halfway to the top!
Someone had to take one for the team. Santana's first hit, "Evil Ways," would peak this week at #9. (There was no room above, given the competition.)
Vocal group the Delfonics were at #9 with one of their biggest hits with "Didn't I (Blow Your Mind This Time)." The lush ballad, written by producer Thom Bell and lead singer William Hart, earned a Grammy for Best R&B Performance by a Duo or Group.
The soul group Chairmen of the Board were represented by the biggest hit of their career with "Give Me Just a Little More Time."
Detroit band Frijid Pink enjoyed their only hit single with a cover of "House of the Rising Sun" (#7 this week) with some pretty impressive guitar licks.
Jumping from #13 to #6 was pop group Edison Lighthouse, with "Love Grows (Where My Rosemary Goes)."
Related: The group's lead vocalist had six hits with six different groups. Really.
John Lennon was the only Beatle with a solo single on the chart this week, as "Instant Karma" took a big jump from #19 to #5.
Related: Our look at 1970, the year in rock music
The Dutch pop group Tee-Set were at #4 with "Ma Belle Amie." The song includes lyrics in both English and French. Ready for your close-up?
The previous week's chart-topper, Simon & Garfunkel's superb "Bridge Over Troubled Water," was at #3 this week. It was the duo's third, and final, #1 chart hit.
Brook Benton's great cover of Tony Joe White's "Rainy Night in Georgia" was at #2. Benton earned over 50 singles on the pop charts during his career; this would be his final hit. What a vocal!
And at #1? A one-hit wonder: "The Rapper" by the Jaggerz.
Related: The backstory on "The Rapper"
25. "Come and Get It" – Badfinger (Apple)
20. "Oh Me Oh My (I'm a Fool For You Baby)" – Lulu (Atco)
19. "Traveling Band" / "Who'll Stop the Rain" – Creedence Clearwater Revival (Fantasy)
18. "Kentucky Rain" – Elvis Presley (RCA)
17. "Easy Come, Easy Go" – Bobby Sherman (Metromedia)
16. "Celebrate" – Three Dog Night (Dunhill)
15. "Let it Be" – The Beatles (Apple)
14. "Call Me" – Aretha Franklin (Atlantic)
13. "Spirit in the Sky" – Norman Greenbaum (Reprise)
12. "ABC" – Jackson 5 (Motown)
11. "He Ain't Heavy, He's My Brother" – The Hollies (Epic)
10. "Evil Ways" – Santana (Columbia)
9. "Didn't I (Blow Your Mind This Time)" – Delfonics (Philly Groove)
8. "Give Me Just a Little More Time" – Chairmen of the Board (Invictus)
7. "House of the Rising Sun" – Frijid Pink (Parrot)
6. "Love Grows (Where My Rosemary Goes)" – Edison Lighthouse (Bell)
5. "Instant Karma" – John Ono Lennon (Apple)
4. "Ma Belle Amie" – Tee-Set (Colossus)
3. "Bridge Over Troubled Water" – Simon & Garfunkel (Columbia)
2. "Rainy Night in Georgia" – Brook Benton (Cotillion)
1. "The Rapper" – The Jaggerz (Kama Sutra)

Latest posts by Best Classic Bands Staff
(see all)