10 Career-Spanning (and Unique) Beatles Guitar Solos
by Colin Fleming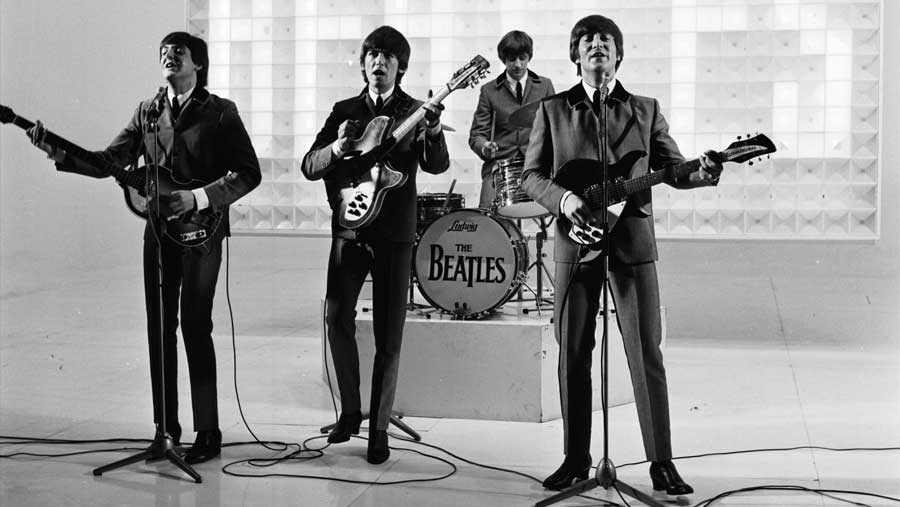 The Beatles are rarely hailed as a band known for parceling out one all-timer of a guitar solo after another, their residence being more squarely in the Land of Song rather than the Land of the Ax. But nearly any Beatles buff grapples with the pleasing task of sorting out which solos stand apart from the rest, such was the sheer volume of worthy exemplars. Here are 10 – from the legendary, to the not-so-obvious – that span their career.
10) "Sweet Little Sixteen" (1962)
This Hamburg field recording, with its piping hot George Harrison solo, is a reminder that this band loved rock and roll every bit as much as you do—or, really, let's call it more. It's the sound of music being a way of life. Harrison was an ever-earnest picker at this point, but he could flash some virtuosity. Not a lot of solos give you the sense that they'd be hot to the touch, but this is one of them.
9) "You Can't Do That" (1964)
John Lennon's guitar parts, as a whole, are tantamount to one of those character actors who forever crops up in old British films, always grounding the latest endeavor in an identity. Here that identity, on the scraping, jagged guitar break, is one of pique, hammering home the song's mood. Not a ton of chops, but a ton of attitude.
8) "Nowhere Man" (1965)
Few solos sound like they've been all but dipped in the sun's rays, but here is one of them, courtesy of George Harrison. It's an autumnal sun, befitting the Rubber Soul album to which "Nowhere Man" belongs, and pure melody that seems to shimmer right out of the speakers. The concluding note manages to blend the timbre of a church bell with the plink of a drop of water landing back into another body of water. With, of course, more dappled light.
7) "Good Morning Good Morning" (1967)
Sometimes—as on Revolver's "Taxman"—Paul McCartney would set aside his bass to take his turn as Hendrix-like ax-smith. Here's another example from Sgt. Pepper, an album where the guitar quotient had been ratcheted down, but which this one track in large part makes up for. With an impossibly fast pumping of notes, McCartney is venturing towards heavy metal, though metal was rarely this lithe.
6) "Honey Pie" (1968)
The White Album is the ultimate amalgamation album, with scores of musical styles crammed into it. Before they heard rock and roll, before they heard skiffle, the Beatles heard jazz, and here's their nod to it. Lennon's solo uses slurring blue notes much as a Lester Young solo would, and you can imagine it emerging from out of a tinny speaker he would have listened to over at his mother Julia's house.
5) "And I Love Her" (1964)
Quick: name an acoustic Beatles guitar solo. Tricky business, right? But this standout from A Hard Day's Night is quite the bailout on a catalog lacking in such treasures. You might not think that Harrison, at this point, had such a solo in him, but it's not hard to imagine a vision-driven McCartney providing instruction. The slowly articulated notes linger in the air like well-chosen words to a lover. The Beatles at their most deeply romantic.
4) "Long Tall Sally" (1964)
The studio version is one of the top Beatles covers—plus, you get back-to-back solos from Lennon and Harrison, a mega-rarity—but the live version from the Hollywood Bowl is the real smoker in terms of Harrison's second solo. It has a pyramidal structure, beginning with a solid base of notes, and then ascending ever higher to a glorious point like some star in the sky, much like the solo on "Day Tripper."
3) "I Saw Her Standing There" (1964)
Not the beloved album version, but rather the performance from the Beatles' first U.S. concert, at the Washington Coliseum on February 11, 1964. Harrison has beaten such holy hell out of his guitar that he plays it out of tune, mid-solo, which only makes it rock all the harder. This is one of the last glimpses of what they were like in Hamburg, only in front of a ton of screaming American kids launching jellybeans at them. [That clip isn't currently available; we've subbed-in an alternate.]
2) "Let It Be" (1970)
Nix the single version of this song, with its fey guitar solo, and stick with the album iteration and a solo to take your head off. You don't expect one like that here, in a song of such grace and grandeur—after all, it's a plea for peace, of the internal variety. This is the most distorted Harrison solo there is, and it's entirely of a piece with the song, an expression of much needed relief. For when the mind doubles over in reflection, sometimes it takes a proper guitar blast to put it upright again.
1) "The End" (1969)
The final song on the final Beatles album featured nine guitar solos—count them if you like—each lasting about two bars and proceeding in a rotation of McCartney, Harrison, Lennon (repeat three times). The final Beatles album was going to be Abbey Road, which we're talking about here, or Let It Be, and it's interesting to note that on each, the final guitar solo belongs to Lennon, the man who started the band. His technique can't touch McCartney's or Harrison's, but his musical will, the rock and roller's heart, dusts the solos that come before in his third and final barrage. This is sourcing the very essence of rock and roll from something primal, and dropping it in your here and now. The forever here and now.

Latest posts by Colin Fleming
(see all)