Rounder Records today (Sept. 8) released Gregg Allman's final studio album, Southern Blood. The legendary singer-musician died May 27 due to complications from liver cancer. You can hear the first two tracks released from the album below.
From the label's press release: "Allman's first all-new recording since 2011's Low Country Blues, the new album is among the most uniquely personal of the Rock & Roll Hall of Famer's career, an emotionally expansive collection of songs written by friends and favorite artists including Jackson Browne, Willie Dixon, Jerry Garcia & Robert Hunter, Lowell George and Spooner Oldham and Dan Penn, meant to serve as a salutary farewell to his legion of devoted fans and admirers.
"Allman collaborated on his closing project with manager and dear friend Michael Lehman and Grammy® Award-winning producer Don Was, a longtime acquaintance and staunch supporter committed to helping the rock icon actualize his very specific aspirations."
Order the CD here and the vinyl version here. A deluxe edition CD/DVD with two live bonus tracks recorded in April and May of 2016, as well as Back to the Swamp: The Making of Southern Blood DVD, is available here. On August 4, a limited edition numbered double-sided picture disc was made available at some local record shops or via GreggAllman.com.
Also today (Sept. 8), the official video was released for "I Love the Life I Live" with never-before-seen footage of early Allman Brothers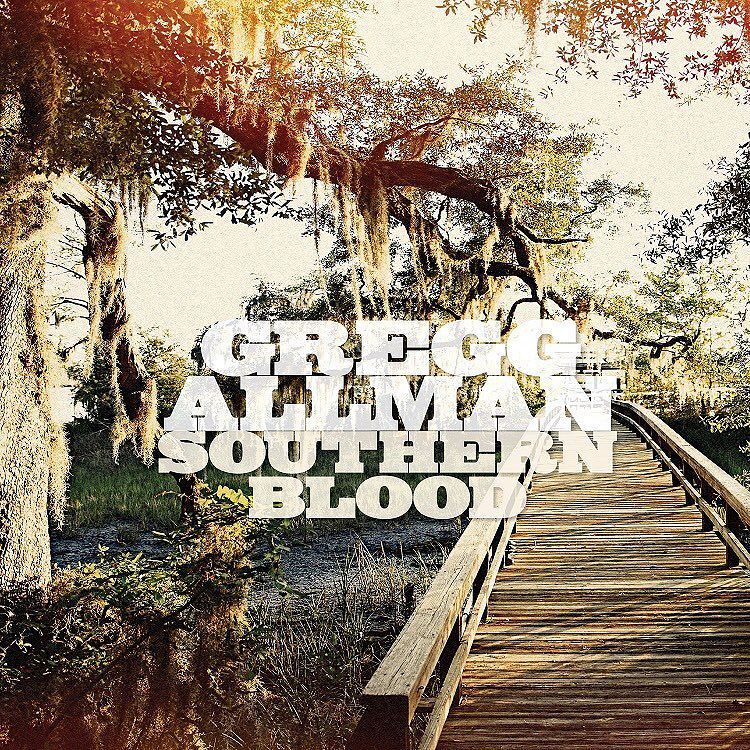 "As his producer, I was dedicated to helping Gregg crystallize his vision for the record and to help make sure that this vision made it to the tape," says Was. "He was a musical hero of mine and, in later years, had become a good friend. The gravitas of this particular situation was not lost on me. Gregg was a sweet, humble man with a good heart and good intentions and it was a great honor to help him put his musical affairs in order and say a proper farewell."
More from the announcement: "Allman, well aware his time was short, approached the project with an unambiguously realistic agenda. High atop his list of goals was to capture the sound of the ultimate Gregg Allman Band in full flight, considering them the tightest knit combo of all the line-ups that had backed him over his 40+ year solo career."
"Gregg was very excited to be in the studio," says Lehman. "He was especially thrilled to be recording this studio album with his solo band – he was so proud of them and loved the sound that they produced together. Gregg felt close to every single one of them. The Gregg Allman Band was like a family or a well oiled machine, always knowing what the other band members were thinking and doing."
Southern Blood was recorded at FAME Studios in Muscle Shoals, Ala. Alongside its own fabled history, the legendary studio occupied a place in Allman's personal back pages.
Watch the official video for "My Only True Friend"
"A constant discussion during all of my nearly 15 years working with Gregg was his desire to return to Muscle Shoals," Lehman says. "He always would talk about how he needed to get back to FAME Studios to bring him full circle."
"Muscle Shoals is hallowed musical ground," says Was. "FAME was the place where Gregg's brother Duane first started making waves in the music world and where the earliest seeds of the Allman Brothers Band were sown in a back room during their first, seminal rehearsals. Duane's presence is still ubiquitous in that building. Recording there was Gregg's way of making his spirit a part of this album, in the same way that his spirit continued to be part of Gregg's life."
Watch the official trailer for the album
The announcement continues: "Duane's presence courses through Southern Blood, from Jackson Browne's 'Song For Adam' – the final verse of which Was says reminded Gregg of his older brother's premature passing – to the funk-fried 'Blind Bats and Swamp Rats,' originally found on the Duane-produced Ton-Ton Macoute!, a lost classic from left-handed blues guitarist Johnny Jenkins.
"Allman, Was, and Lehman spent significant time plotting out Southern Blood, carefully selecting material that would capture the moment and simultaneously serve as a synopsis of an undeniably extraordinary life. Songs like Bob Dylan's haunting 'Going, Going Gone' and Tim Buckley's immortal 'Once I Was' allowed Allman a chance to look back over his time on Earth while also pondering the journey that lay ahead."
Related: Our 2015 interview with Gregg Allman
"Gregg was thrilled that the sound in his head was manifesting itself on the tape," Was says. "He didn't have all the lungpower of his younger self, but we felt that these raw, weathered performances were honest and compelling. We all agreed to leave them as they were on the day they were recorded."
Southern Blood Track Listing
My Only True Friend (Gregg Allman-Scott Sharrard)
Once I Was (Tim Buckley-Larry Beckett)
Going Going Gone (Bob Dylan)
Black Muddy River (Jerome J. Garcia-Robert C. Hunter)
I Love the Life I Live (Willie Dixon)
Willin' (Lowell George)
Blind Bats and Swamp Rats (Jack Avery)
Out of Left Field (Dewey Lindon Oldham Jr.-Dan Penn)
Love Like Kerosene (Scot Sharrard)
Song for Adam featuring Jackson Browne (Jackson Browne)

The BCB team brings you the latest Breaking News, Contests, On This Day rock history stories, Classic Videos, retro-Charts and more.

Latest posts by Best Classic Bands Staff (see all)