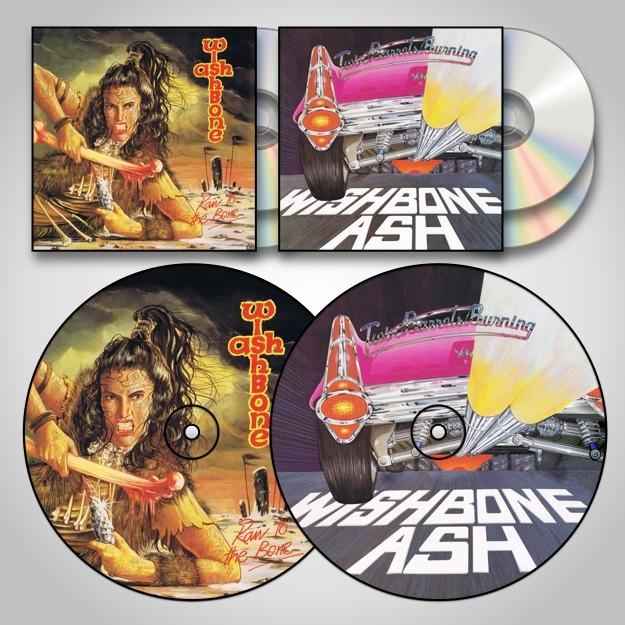 Two albums by Wishbone Ash, Twin Barrels Burning (1982) and Raw to the Bone (1985), have been released as official and remastered definitive editions. Each album is available on 2-CD and picture disc LP with extensive bonus materials.
Both albums feature new liner notes by rock journalist Dave Ling, including new interviews with all the surviving members and archive quotes from the late Trevor Bolder.
Twin Barrels Burning includes the American remixes of the album on a second disc, which have never been on CD before.
Related: What were the top radio hits of 1982?
Raw to the Bone is a 23-track 2-CD set with bonus tracks including all four unreleased songs from the post-album 1986 Sessions. The bonus CD also includes The Friday Rock Show BBC Sessions, which are often described as better than the album versions, plus four live tracks from Hammersmith.
These re-issues by Cherry Red are fully approved by Steve Upton, Laurie Wisefield, Andy Powell, Merv Spence and the estate of Trevor Bolder.
The second disc of bonus tracks accompanying each CD will not be available with any other product or box set.
Twin Barrels Burning 2-CD Track List
DISC ONE:
1. Engine Overheat
2. Can't Fight Love
3. Genevieve
4. Me and My Guitar
5. Hold On
6. Streets of Shame
7. No More Lonely Nights
8. Angels Have Mercy
9. Wind Up
Bonus Tracks:
10. Cat and Dog Fight
11. Go for the Gold
12. Night Hawker
DISC TWO – The American Remixes
1. Engine Overheat
2. Can't Fight Love
3. No More Lonely Nights
4. Wind Up
5. Streets Of Shame
6. My Guitar
7. Hold On
8. Genevieve
9. Angels Have Mercy
Raw to the Bone 2-CD Track List
DISC ONE:
1. Cell of Fame
2. People in Motion
3. Don't Cry
4. Love in Blue
5. Long live the Night
6. Rocket in my Pocket
7. It's Only Love
8. Don't You Mess
9. Dreams (Searching for an Answer)
10. Perfect Timing
Bonus Tracks:
11. She's Still Alive
The 1986 Sessions
12. Apocalypso
13. Valley of Tears
14. Nkomo
15. Talk To Me
DISC 2:
The Friday Rock Show
1. Long Live the Night
2. Cell of Fame
3. Love in Blue
4. People in Motion
Live at Hammersmith on BBC local radio
5. Living Proof
6. Cell of Fame
7. The King Will Come
8. Blowin' Free
Watch Wishbone Ash perform "No More Lonely Nights" in 1982

The BCB team brings you the latest Breaking News, Contests, On This Day rock history stories, Classic Videos, retro-Charts and more.

Latest posts by Best Classic Bands Staff (see all)