Although he is considered a major influence on many of the greatest singer-songwriters from the '60s onward, Tom Rush has recorded only about 20 original compositions during his career, preferring to interpret the words of others. The New England-based singer-guitarist, who released his first album in 1962, was among the very first to record future standards by then-fledgling performers Joni Mitchell, James Taylor and Jackson Browne on his 1968 album The Circle Game; he later showcased young singer-songwriters such as Nanci Griffith and Shawn Colvin.
Voices, which will be released by Appleseed Recordings on April 27, is Rush's first album of mostly originals, featuring 10 tracks written by the artist and two traditional numbers rearranged for the project by Rush. About the latter—"Corina, Corina" and the opening "Elder Green"—Rush says in his liner notes that he included them because, "I didn't want to compromise my folksinger credentials."
According to a press release, Rush—whose previous original songs include the classic "No Regrets"—"writes songs shorn of elaborate metaphors, preferring straightforward, evocative emotional settings. Then his warm baritone, tanned by experience, humor and melancholy, shines right through the lyrics, illuminating them from within."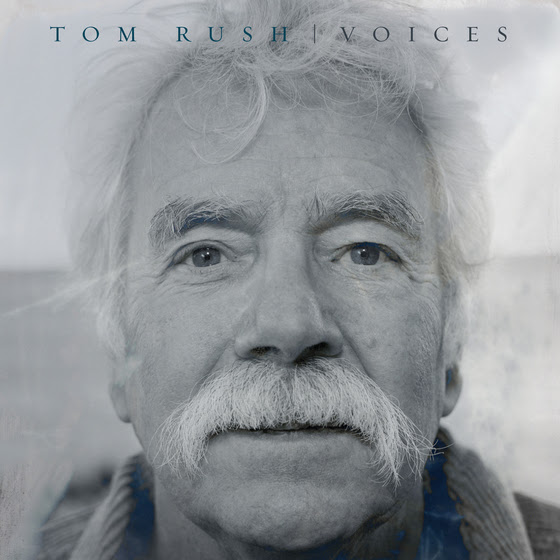 Rush, says the release, "can't pinpoint the reason for the late surge in his songwriting at an age (77) when creativity could be expected to dry up." But he has a theory: 'It might be some musical equivalent of epicormics branching, where a tree that's stressed or elderly starts putting out shoots in great profusion.'"
Related: Joni Mitchell's Court and Spark album reconsidered
As on Rush's previous studio album, 2009's What I Know (Appleseed), his first studio release in 35 years, he is supported by a crew of Nashville-based studio musicians helmed by musician-turned-Grammy-Award-winning producer Jim Rooney, a Rush contemporary on the Boston scene way back who has since worked with Nanci Griffith, John Prine and Iris DeMent, among others. Sidemen include Dobro/pedal steel ace Al Perkins (ex-Flying Burrito Brothers, Stephen Stills' Manassas, Emmylou Harris), bluegrass great Sam Bush (New Grass Revival, Bela Fleck's Flecktones) on mandolin, fiddle, country/bluegrass singers Kathy Mattea and Suzi Ragsdale (on backing vocals), and Matt Nakoa (keyboards, backing vocals), a solo artist who has become a frequent Rush tour accompanist.
Tom Rush Tour Dates
3/17 Franklin, Massachusetts Circle of Friends Coffeehouse
3/23 Easton, Maryland The Avalon Theater
3/24 Alexandria, Virginia The Birchmere
3/25 Philadelphia, Pennsylvania World Cafe Live
3/26 West Chester, Pennsylvania Uptown! Knauer Performing Arts Center
4/6 Chappaqua, New York Chappaqua Performing Arts Center
4/7 Oswego, New York Music Hall
4/8 Toronto, Ontario Canada Hugh's Room
4/13 New York, New York Rubin Museum of Art
4/29 Lexington, Massachusetts Isaac Harris Cary Memorial Building
5/3 Ann Arbor, Michigan The Ark
5/4 Kent, Ohio The Kent Stage
5/5 Lewis Center, Ohio Central Ohio Folk Festival
5/6 Pomeroy, Ohio Fur Peace Ranch
5/20 Concord, New Hampshire Capitol Center For the Arts
6/22 Brownfield, Maine Stone Mountain Arts Center
7/7 New Bedford, Massachusetts Zeiterion Theatre
7/13 Natick, Massachusetts The Center for Arts in Natick
7/14 Natick, Massachusetts The Center for Arts in Natick
12/5 Cotuit, Massachusetts Cotuit Center For the Arts
Watch Tom Rush sing "Come See About Me" in 2016

Latest posts by Best Classic Bands Staff
(see all)