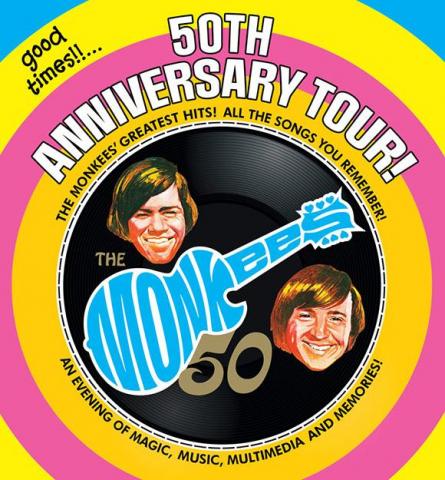 While The Monkees are taking a well-deserved victory lap as they celebrate their 50th Anniversary with a terrific new studio album, Good Times!, only two of their members – Micky Dolenz and Peter Tork – are performing on their tour. However, their concert at New York's The Town Hall on Wednesday night (June 1) became the perfect opportunity for Mike Nesmith – who's busy writing a book – to join his mates for one show, even if it was virtually.
Nesmith wasn't at the venerable theater on Manhattan's West 43 Street. He appeared via Skype to play his song "Papa Gene's Blues," from The Monkees' debut album, to enthusiastic applause (see below).
He recently told ABC Radio News that he and his bandmates were "thrilled" with how Good Times! turned out.
"I thought it came out great, and the songs that people have been writing for it I thought were great," says Nez. "[I]t just came together like an ordinary record, but because it was our 50th [anniversary], we knew it was gonna be kind of a touchstone, so everybody had high hopes for it. And then when it came out like it did, it was like, 'Holy smokes, this actually… sounds good!'"
Don't miss a post! Sign up for Best Classic Bands' Newsletter; form is on every page.
Afterwards, on his Facebook page, Nesmith wrote: "seemed like it went well — no glitches — and it was a LOT of fun — we'll try to find another place to do another one."
In his review of Good Times!, Best Classic Bands Editor Rob Patterson wrote: "While this whole 13-song affair is exceptionally good and redolent with much of what made The Monkees musically popular back in the day and long after, a few splendid moments bear singling out. "You Bring The Summer," written by Andy Partridge, sounds like something Brian Wilson would have written back in the day for The Monkees (with hints of XTC shimmer). And if this were, say, 1968, it would be headed for top of the pops on AM radio all summer long.
"And if I've heard a song more lovely, enchanting and heartwarming than 'Me & Magdalena' in recent months, it sure doesn't come to mind. Nesmith and Dolenz sing it together in a delectable duet that ices the luscious cake of a simply elegant song penned by Ben Gibbard of Death Cab for Cutie."
Related: Review: The Monkees find greatness with Good Times!
The Monkees 2016 Tour Dates (Click here for tickets)
June
3 Toronto, ON – Casino Rama – Entertainment Centre
4 Windsor, ON – The Colosseum at Caesars Windsor
5 Cleveland, OH – Hard Rock Live Northfield Park
7 Fort Wayne, IN – Foellinger Theatre
8 Grand Rapids, MI – Meijer Gardens Amphitheater
10 Louisville, KY – Louisville Palace Theatre
11 Hammond, IN – The Venue At Horseshoe Casino
12 Indianapolis, IN – Murat Theatre at Old National Centre
14 Dayton, OH – Rose Music Center at The Heights
16 Salt Lake City, UT – Red Butte Garden Amphitheatre
28 Dallas, TX – AT&T PAC – Winspear Opera House
30 Tulsa, OK – Hard Rock Hotel & Casino – The Joint
July
1 Mayetta, KS – Prairie Band Casino & Resort
14 Ottawa, ON – Lebreton Flats Park
16 Hampton Beach, NH – Hampton Beach Casino Ballroom
22 Hot Springs, AR – Oaklawn Racing and Gaming – Finish Line Theater
24 Augusta, GA – Bell Auditorium
August
6 Reno, NV – Grand Sierra Resort
September
4 Vancouver, BC – PNE Amphitheatre
14 Tucson, AZ – Fox Tucson Theatre
15 Phoenix, AZ – Mesa Arts Center – Ikeda Theater
16 Los Angeles, CA – Pantages Theatre
17 Las Vegas, NV – Primm Valley Casino Resorts – Star of the Desert Arena
20 San Francisco, CA – The Warfield
21 Modesto, CA – Gallo Center For The Arts
23 Lincoln City, OR – Chinook Winds Casino Resort
24 Lincoln City, OR – Chinook Winds Casino Resort
25 Seattle, WA – The Moore Theatre
29 Austin, TX – Paramount Theatre
October
1 Biloxi, MS – Hard Rock Biloxi
3 Branson, MO – Welk Resort Theatre
21 Anaheim, CA – City National Grove Of Anaheim
22 Paso Robles, CA – Vina Robles Amphitheatre
29 Shippensburg, PA – Shippensburg University – H. Ric Luhrs PAC

Latest posts by Best Classic Bands Staff
(see all)