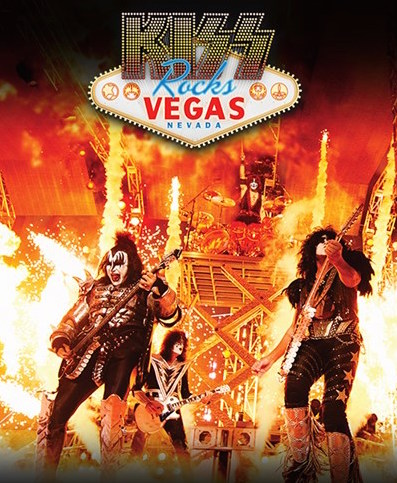 Update (August 3): No surprise… Kiss Rocks Vegas is being released in a variety of formats on August 26: DVD+CD, Blu-ray+CD, DVD+2LP, and Deluxe Edition DVD+Blu-ray+2CD. Whew! (See track listings below.)
Missed Kiss rocking out during their brief Las Vegas residency a few years back? Well, couch potatoes, beginning June 14 you can catch them from your living room sofa.
In November 2014, a helicopter landed at the Hard Rock Hotel and out hopped Kiss, invading Las Vegas for a nine-show run between November 5-23. Now North American fans can experience it again when Kiss Rocks Vegas hits pay-per-view.
Fans watching this live show can expect sky-high flames, ear-bursting volume and even a few drops of blood. Exclusive interviews and backstage footage are also included.
Here's the trailer from when the concert played in theaters last month…
Don't miss a post! Sign up for Best Classic Bands' Newsletter; form is on every page.
Lead vocalist Paul Stanley had talked to Las Vegas Weekly about how the idea for the Kiss residency started: "To spend as much time as we do in Vegas and to live as close as we do, the idea of doing a residency and leaving our stage setup, as opposed to breaking it down nightly, was really appealing. Here, we're in the enviable position of being able to do a Kiss show that we haven't been able to do. We will pack 10 pounds of gunpowder into a 5-pound bag."
Kiss has earned 30 Gold Record awards, the most of any American band. Their worldwide sales total more than 100 records sold. The classic rock band was inducted into the Rock and Roll Hall of Fame in 2014.  Kiss was also honored as recipients of the illustrious ASCAP Founders Award in 2015.
They begin their 2016 "Freedom To Rock: North American tour on July 4. Dates currently continue through September 10.
Related: Freedom To Rock tour details
CD Track Listing:
1. Detroit Rock City
2. Creatures Of The Night
3. Psycho Circus
4. Parasite
5. War Machine
6. Tears Are Falling
7. Deuce
8. Lick It Up
9. I Love It Loud
10. Hell Or Hallelujah
11. God Of Thunder
12. Do You Love Me
13. Love Gun
14. Black Diamond
15. Shout It Out Loud
16. Rock And Roll All Nite
Acoustic Set:
1. Coming Home
2. Plaster Caster
3. Hard Luck Woman
4. Christine Sixteen
5. Goin' Blind
6. Love Her All I Can
7. Beth

Latest posts by Best Classic Bands Staff
(see all)