John Fogerty and All Those Hits: 2018 Review
by Greg Brodsky
You go to a John Fogerty concert for a) that voice; b) his guitar playing; c) those incredibly descriptive song lyrics; d) the experience of hearing him perform all those hits. The answer is, of course, e) all of the above.
The classic rock legend delivered all that and more at a benefit performance at Englewood, NJ's Bergen PAC on November 8, 2018. The itinerary worked out well: he had performed at BluesFest in London and was making his way back home.
Creedence Clearwater Revival were together for only four years, yet sold over 30 million records in the U.S. alone, releasing an astounding 14 Top 10 hits, most of which Fogerty performed at this show. (His five-piece band includes his son, Shane, on guitar. The proud father noticeably beamed on several occasions while watching him solo during the concert.)
Fogerty began with six straight CCR songs, starting with "Travelin' Band" and "Green River," followed by "Hey Tonight" (which saw him energetically running around the stage) and "Up Around the Bend," earning him his first of several standing ovations from the audience of this New York City suburb.
Watch the band perform "Hey Tonight" the very next night
"Lookin' Out My Back Door," of course, features Fogerty's marvelous lyrics (e.g., tambourines and elephants are playin' in the band). Shane – the spitting image of his father – performed the song's skiffle at the end, earning a fist pump from dad.
Related: Fogerty and his family have been performing CCR favorites during the 2020 pandemic
Nearly halfway through, Fogerty said: "I've been in the right place at the right time, many times in my life. One was when I was 12 and met Pete Seeger. Everybody was into folk music at the time [1957] and at the top of the mountain was Pete Seeger. When I met him, he told me about this song," as he launched into a spirited version of "The Midnight Special," one of the evening's highlights.
Watch a performance of "The Midnight Special," from earlier that year
The classic tracks continued: a blues-y "Long as I Can See the Light," a bone-chilling "I Heard It Through the Grapevine," with that heavy bass line (courtesy of the band's James Lomenzo), a solid guitar solo and a brilliant, extended solo from keyboardist Bob Malone.
Watch a performance of "Grapevine" from earlier that year
A mini-set of New Orleans-flavored songs followed: "Born on the Bayou," "My Toot Toot," "New Orleans" and "Keep on Chooglin'" (with Fogerty on harmonica), the latter of which featured a great drum solo from Greg "Goose" LaPointe. (Guitarist Devon Pangle completes the first-rate lineup.)
Watch them perform "Keep on Chooglin'" earlier that year
The set ended with a flourish: more solo favorites and Creedence hits, including "Down on the Corner," "Centerfield" and "Fortunate Son," among them, followed by two rousing encores: "Bad Moon Rising" and "Proud Mary."
Watch "Proud Mary" from this concert
Related: Top radio hits of 1969
Fogerty was born May 28, 1945. Don't miss him when he's back on the road – with all those hits. Tickets are available here and here.
Craft Recordings has announced a 50th anniversary half-speed master edition of Cosmo's Factory, coming Aug. 14, 2020.
Related: Listings for 100s of classic rock tours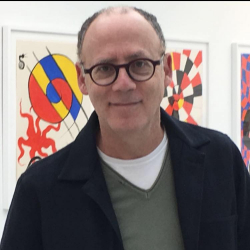 Latest posts by Greg Brodsky
(see all)