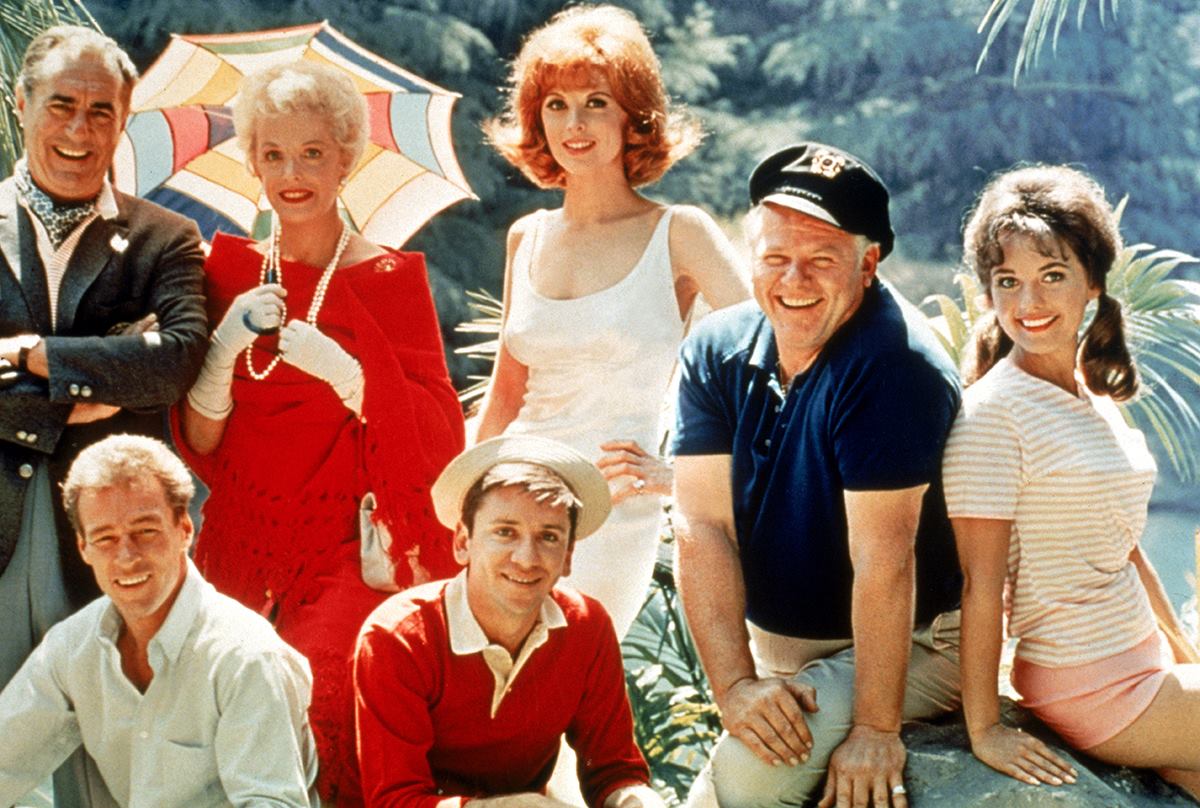 "Mary Ann or Ginger?" It's one of the most frequently asked questions when people discuss their favorite TV sitcoms of the '60s. The characters–one a farm girl from Kansas known for her pigtails, and the other a glamorous movie star often dressed in a gown–were, of course, two of the shipwrecked castaways of the SS Minnow on Gilligan's Island, which ran on CBS from 1964 to 1967. Though it only lasted for three seasons, the program has become a cultural touchstone for multiple generations, thanks to decades of reruns in syndication and on cable.
Dawn Wells, the actress who portrayed Mary Ann Summers, was born on Oct. 18, 1938, and was thus just 25 years old when the series made its debut on September 26, 1964. She died at age 82 on Dec. 30, 2020, in Los Angeles, due to complications from Covid-19. Her death leaves just one surviving member of the "seven stranded castaways": Tina Louise, who was 30 when the show premiered with her in the role of "the movie star," Ginger Grant.
Jim Backus, who portrayed "the millionaire" Thurston Howell III, was 51 when the series premiered. He was the first member of the cast to die when he passed at age 76 in 1989. (Incidentally, $1 million in 1964 would be worth roughly $8.4 million in 2020, adjusted for inflation.)
Natalie Schafer, "his wife," was significantly older than her on-screen husband. "Lovey" was 63 when the program first aired. She was the third cast member to pass when she died at age 90 in 1991.

Russell Johnson, "the Professor," was, with "Mary Ann," one of two members of the ensemble cast to not receive acknowledgment during the first season's opening credits. The theme song, performed by the Wellingtons, introduced the characters "Gilligan, the Skipper, too, a millionaire and his wife, a movie star… and the rest, are here on Gilligan's Island."
The slight was clearly a sore point for Johnson. "How you could do a show with seven people and throw two of them out? I have no idea," he said in an interview. [The producers promised to make amends if the series was picked up for a second season.] Johnson was 39 when the series bowed; he died at age 89 in 2014.
Alan Hale, "the Skipper," was 43 when the show debuted. He was the second cast member to die when he passed in 1990 at age 68.
Bob Denver, the program's title character and bumbling first mate, was 29 when Gilligan's Island first aired. He was 70 when he died in 2005.
Watch Hale and Denver in costume as themselves
The producers did, indeed, keep their promise when they updated the program's theme song.
Gilligan's Island ran for 98 episodes (plus a pilot) during those three seasons, with a minimum of plot devices. Viewers had to suspend their disbelief at the sheer number of visitors the castaways had on their uncharted island in the Pacific. Those included Don Rickles, Zsa Zsa Gabor, Larry Storch, and Kurt Russell, among them.
"A jungle boy!"
Another unique feature was the frequent costume changes for passengers of "a three-hour tour."
The program was only a modest hit, ranking #18 on Saturday nights during season one and #22 on Thursday nights during season two. CBS moved it to Mondays for season three, where it ranked just #49 overall. Its final episode aired on April 17, 1967. Several made-for-TV filmed sequels aired a decade later, minus Tina Louise, who refused to participate.
Upon hearing of the death of her fellow castaway, Louise wrote, "I will always remember Dawn's kindness to me. We shared in creating a cultural landmark that has continued to bring comfort and smiles to people during this difficult time. I hope that people will remember her the way that I do — always with a smile on her face."
Back to the original topic: "Mary Ann or Ginger?" Mary Ann gets a slight edge.
Related: When Led Zeppelin met Gilligan's Island

Latest posts by Best Classic Bands Staff
(see all)