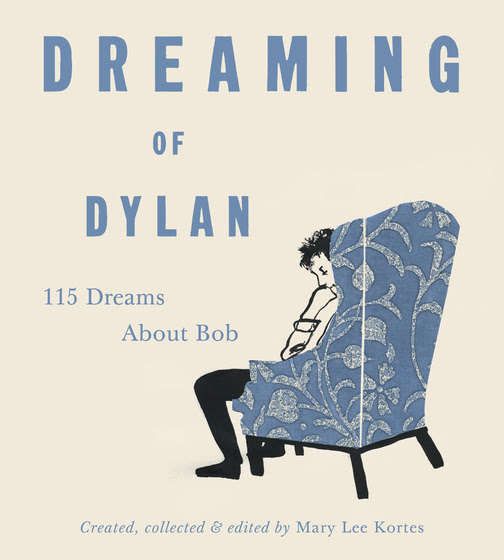 A new book, Dreaming of Dylan: 115 Dreams About Bob, by Mary Lee Kortes of the band Mary Lee's Corvette, brings together "the mysterious world of dreams and the mysterious world of Bob Dylan," according to a press release announcing the book's publication. Created, collected and edited by the singer/songwriter, the "heavily visual hardback book, printed on quality art paper and designed as a unique gift item for Dylan devotees," according to the press release, will be published by BMG on November 13.
Mary Lee's Corvette generated significant buzz after releasing a live song-for-song interpretation of Dylan's Blood on the Tracks album that captured the attention of the artist himself. "Dylan invited Kortes to open shows for him, and she was fully embraced by his devoted circle of fans. Over time people began to tell her about the dreams they'd had about Bob, which ultimately led to her curating and compiling this aesthetically engaging off-kilter collection of nocturnal visions," according to the announcement. The tales are paired with more than 100 original images, illustrations and photographs.
"There are plenty of musical dreamers here, from the incomparable Patti Smith to Squirrel Nut Zippers frontman Jimbo Mathus to Kevin Odegard, whose guitar is heard on the memorable intro to Dylan's 'Tangled Up in Blue, to renowned drummer Will Rigby," the release continues." Not to mention the everyday dreamers, from plumbers to poets to pastors, who appear alongside dentists, attorneys, and psychotherapists."
Related: Our review of Dylan's More Blood, More Tracks collection
"Some dreams are poignant; some are disturbing; some are touching; and others are nothing short of bizarre," it says. "Taken together they're an enthralling look at what the famously enigmatic singer/songwriter represents in the deepest recesses of our minds."
Kortes is a musician and author based in Brooklyn, N.Y. She has released five albums of original material. She has toured the world both as a headliner and an opening act for established artists, including Dylan. Kortes is also a published short story writer. Dreaming of Dylan: 115 Dreams About Bob is her first book.
Watch a trailer for Dreaming of Dylan

Latest posts by Best Classic Bands Staff
(see all)