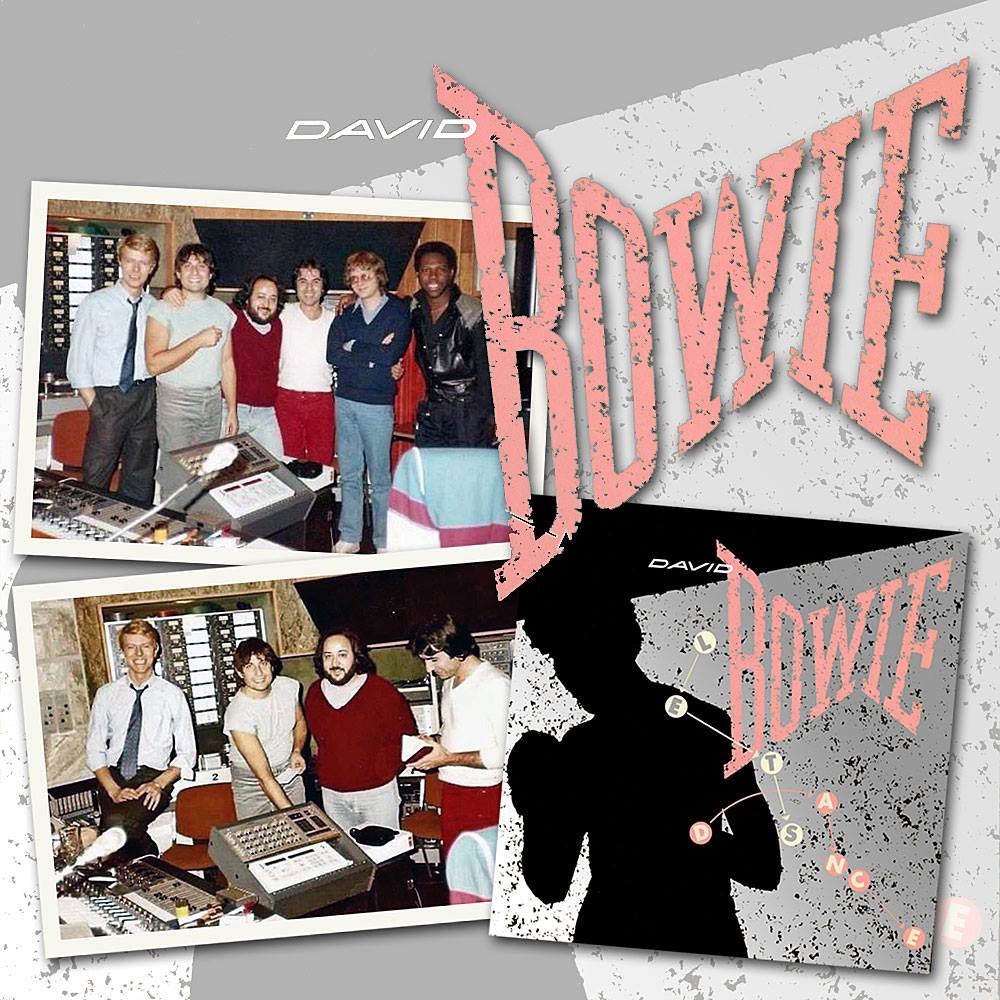 In late 1982, David Bowie was visited at his home in Switzerland by Nile Rodgers to listen to songs for the album that became Let's Dance. Inspired by the new songs that Bowie had written the pair decided to record a set of demos straight away. Without a band, the Montreux Jazz Festival organizer, Claude Nobs, was asked if there were any local musicians that could join the sessions to work on the demos. Turkish born Erdal Kızılçay, who would later work extensively with Bowie on Labyrinth, The Buddha of Suburbia & 1. Outside, was recruited to play bass along with an unidentified drummer and second guitarist.
On Dec. 19-20, 1982, this makeshift band entered Mountain Studios in Montreux, Switzerland with David Richards (who also worked with Bowie on "Heroes," "Under Pressure," and others) engineering. On their first day, they recorded a funky stripped back demo for "Let's Dance."
Rodgers noted: "I've been blessed with a wonderful career but my creative partnership with David Bowie ranks very, very, very high on the list of my most important and rewarding collaborations. This demo gives you, the fans, a bird's eye view of the very start of it! I woke up on my first morning in Montreux with David peering over me. He had an acoustic guitar in his hands and exclaimed, 'Nile, darling, I think this is a HIT!'
"This recording was the first indication of what we could do together as I took his 'folk song' and arranged it into something that the entire world would soon be dancing to and seemingly has not stopped dancing to for the last 35 years! It became the blue print not only for 'Let's Dance' the song but for the entire album as well. If you played 2nd guitar or drums let us know who you are!
"The time we spent mixing it just before Christmas was full of tears as it felt like David was in the room with us. David, I love you and we all miss you!"
At the end of the track, Bowie's voice can be heard laughing saying "That's it, that's it! Got it, got it!" Within four months 'Let's Dance' would be one of the biggest and most influential hits of the decade. On what would have been Bowie's 71st birthday on Jan. 8, 2018, a demo version was released for the first time. Bowie's social media accounts had first teased the release on Christmas Day with #BowieTeaser.
Listen to the "Let's Dance (Demo)"
The official version was recorded later that month at New York's Power Station. The guitar solo at the end of the song was played by a then-largely unknown blues-rock guitarist from Austin, Tex., Stevie Ray Vaughan, and helped spark the buzz for his debut album, Texas Flood, released later that year.
While Bowie had continued to have singles success in the U.K., the "Let's Dance" single became the biggest of his career internationally and represented a big comeback for Bowie in the U.S. where he hadn't had a pop hit since "Golden Years" in 1976.
The Let's Dance album was released on April 14, 1983. Bowie's 15th studio album was also his first for EMI after a lengthy run on RCA Records. The LP was a gargantuan success, yielding three hit singles: the title cut (#1 worldwide), "China Girl" (#2 U.K., #10 U.S.) and "Modern Love" (#2 U.K., #14 U.S.). Their accompanying videos each received significant play at MTV. Let's Dance was nominated for the Grammy Award for Album of the Year (losing to Michael Jackson's Thriller).
Watch the video for the song's official version
Related: Bowie was honored with Royal Mail stamps in 2017

Latest posts by Best Classic Bands Staff
(see all)