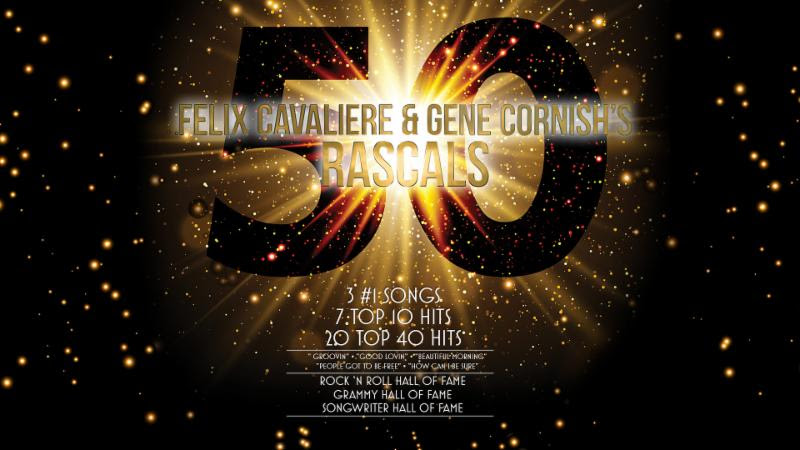 Two founding members of The Rascals, Felix Cavaliere and Gene Cornish, are teaming up for the first time in five years for a run of summer and fall tour dates. The tour began with several dates in July. (Watch them perform "A Beautiful Morning" from their July 18 concert in Stamford, Conn. below)
"I had an epiphany while performing in Hawaii last year," says Cavaliere (singer/songwriter/keyboards) in a press release. "It's not about me—it's about the fans. It's about the music. I spoke with Gene and he agreed that we can't take any of this for granted anymore."
Felix Cavaliere and Gene Cornish's Rascals with Hall of Fame drummer, Carmine Appice, resume the schedule in August. See below for the dates, with more expected.
Update: Cornish collapsed on stage on September 7
Watch a preview of the tour
Related: Cavaliere is one of rock's best blue-eyed soul singers. Who are the others?
Cornish, who first worked with Cavaliere and future Rascals singer Eddie Brigati in Joey Dee and the Starliters in 1964, echoed those feelings. "There's something magical that happens when we're on stage together," says Cornish (guitar) in the same release. "We're going to celebrate these songs for as long as the fans allow us to and give the fans a chance to see us perform live."
Members of the Rock and Roll Hall of Fame, Grammy Hall of Fame, Vocal Group Hall of Fame and Songwriters Hall of Fame, the Rascals scored 17 Top 20 hits, three of them #1 hits: "Groovin'," "Good Lovin'" and "People Got to Be Free," the latter of which is celebrating the 50th anniversary of its release this year.
"Gene and I both thought there's no way we can replace our brother Eddie [Brigati], and Dino [Danelli, drummer] expressed that he didn't want to do it," Cavaliere adds. "We both thought of Carmine at the same time."
During his first phone call with Cornish, the drummer, whose resume includes Vanilla Fudge, Cactus, Rod Stewart, Beck Bogert & Appice, Ozzy Osbourne and other bands, said, "I'm in. I grew up watching the Rascals on Ed Sullivan, I'm a huge fan," says Appice. "These songs are the soundtrack to so many peoples' lives. I'm looking forward to sharing the music with life-long Rascals fans, and to new generations of fans."
Watch them perform a Rascals favorite during the tour
Tour Dates (Tickets are available here and here)
8/16 Alexandria, VA – The Birchmere
8/17 Orilla, Ontario, Canada – Casino Rama
8/24 Anaheim, CA City – National Grove of Anaheim
8/25 Saratoga, CA – The Mountain Winery
9/9 Northfield, OH – Hard Rock Rocksino
9/21 Morristown, NJ – Mayo Performing Arts Center
9/22 Cranston, RI Park Theatre – RI Center for the Performing Arts
10/25 Ridgefield, CT – Ridgefield Playhouse
10/26 New York, NY – The Town Hall
10/27 Lynn, MA – Lynn Auditorium
11/4 Louisville, KY – Louisville Palace Theatre
Watch Felix Cavaliere and Gene Cornish joining Billy Joel at Madison Square Garden

Latest posts by Best Classic Bands Staff
(see all)