The Alan Parsons Project's album, The Turn of a Friendly Card, is getting an expanded reissue as a 3-CD plus 1-Blu-ray box set. The deluxe limited edition was released March 3, 2023, via Esoteric Recordings. First issued in November 1980, it was the fifth album by the collaboration of composer, musician and manager Eric Woolfson and celebrated producer and engineer Alan Parsons, and includes their first two U.S. hits, "Games People Play" and the hauntingly beautiful "Time."
Inspired by the themes of gambling, when both Woolfson and Parsons had resided in Monte Carlo, the album was recorded in Paris with sessions featuring the contribution of Ian Bairnson (guitars), David Paton (bass), and Stuart Elliott (drums) with Woolfson playing keyboards and providing lead vocals, along with Elmer Gantry, Chris Rainbow and Lenny Zakatek. The Turn of a Friendly Card would become one of the biggest selling albums for The Alan Parsons Project, attaining Platinum in the U.S. and gold status in many European countries.
The new deluxe edition also includes 42 tracks drawn from Woolfson's songwriting diaries, studio session out-takes plus a new 5.1 surround sound mix by Parsons and a high resolution remastered original stereo mix. The box contains a lavish, illustrated book with a new essay with photos, memorabilia and recollections from Parsons and Sally Woolfson. It also includes a reproduction poster.
Eric Woolfson died in 2009 at age 64. Here's an audio clip in which he explains how Monte Carlo's famed gambling industry inspired the album.
The complete track listing appears below the Amazon links.
Alan Parsons Project The Turn of a Friendly Card Box Set Track Listing
DISC ONE
THE TURN OF A FRIENDLY CARD REMASTERED
1 MAY BE A PRICE TO PAY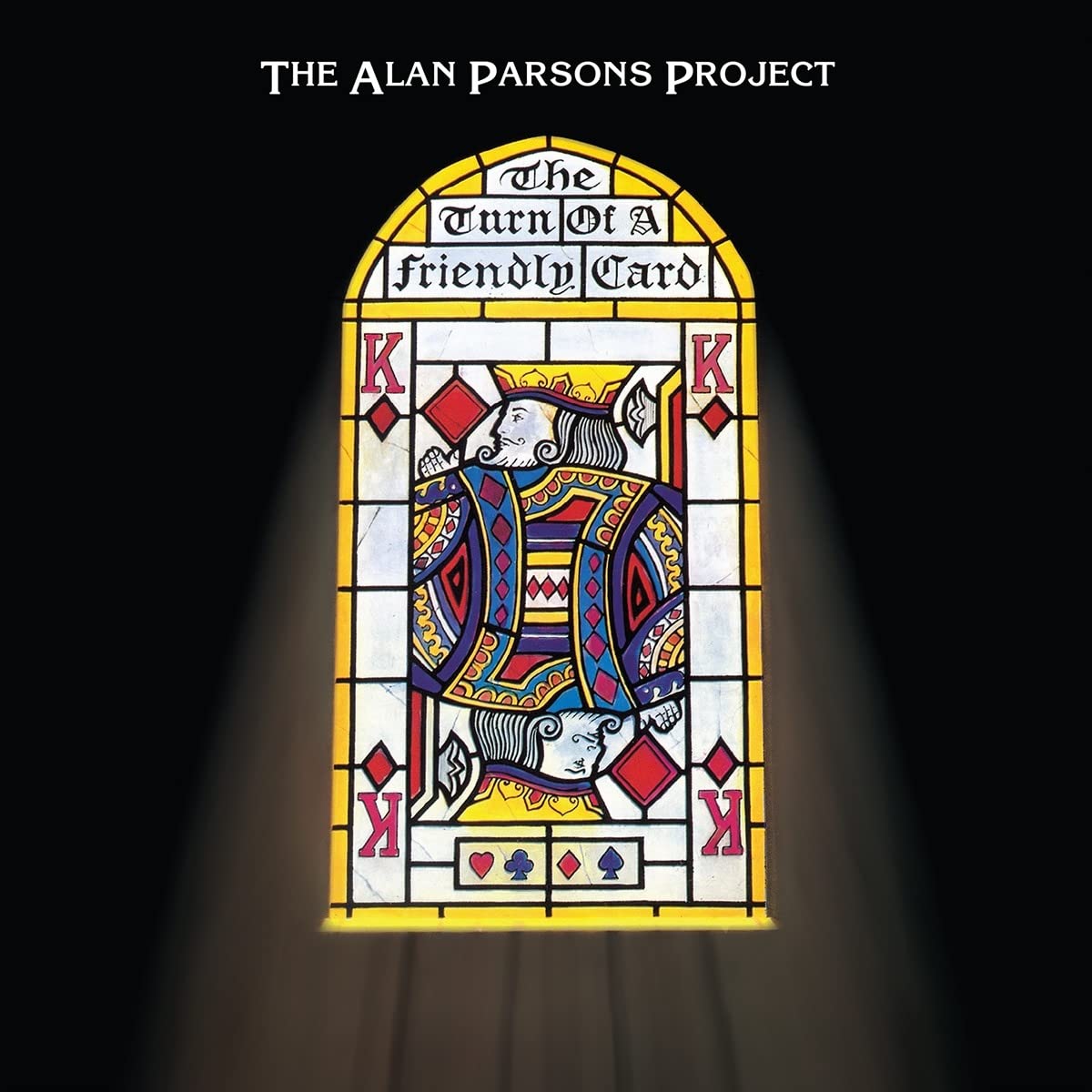 2 GAMES PEOPLE PLAY
3 TIME
4 I DON'T WANNA GO HOME
5 THE GOLD BUG
6 THE TURN OF A FRIENDLY CARD (PART ONE)
7 SNAKE EYES
8 THE ACE OF SWORDS
9 NOTHING LEFT TO LOSE
10 THE TURN OF A FRIENDLY CARD (PART TWO)
BONUS TRACKS
11 MAY BE A PRICE TO PAY (INTRO DEMO)
12 NOTHING LEFT TO LOSE (BASIC BACKING TRACK)
13 NOTHING LEFT TO LOSE (CHRIS RAINBOW OVERDUB VOCAL COMPILATION)
14 TIME (EARLY STUDIO ATTEMPT)
15 GAMES PEOPLE PLAY (ROUGH MIX)
16 THE GOLD BUG (DEMO)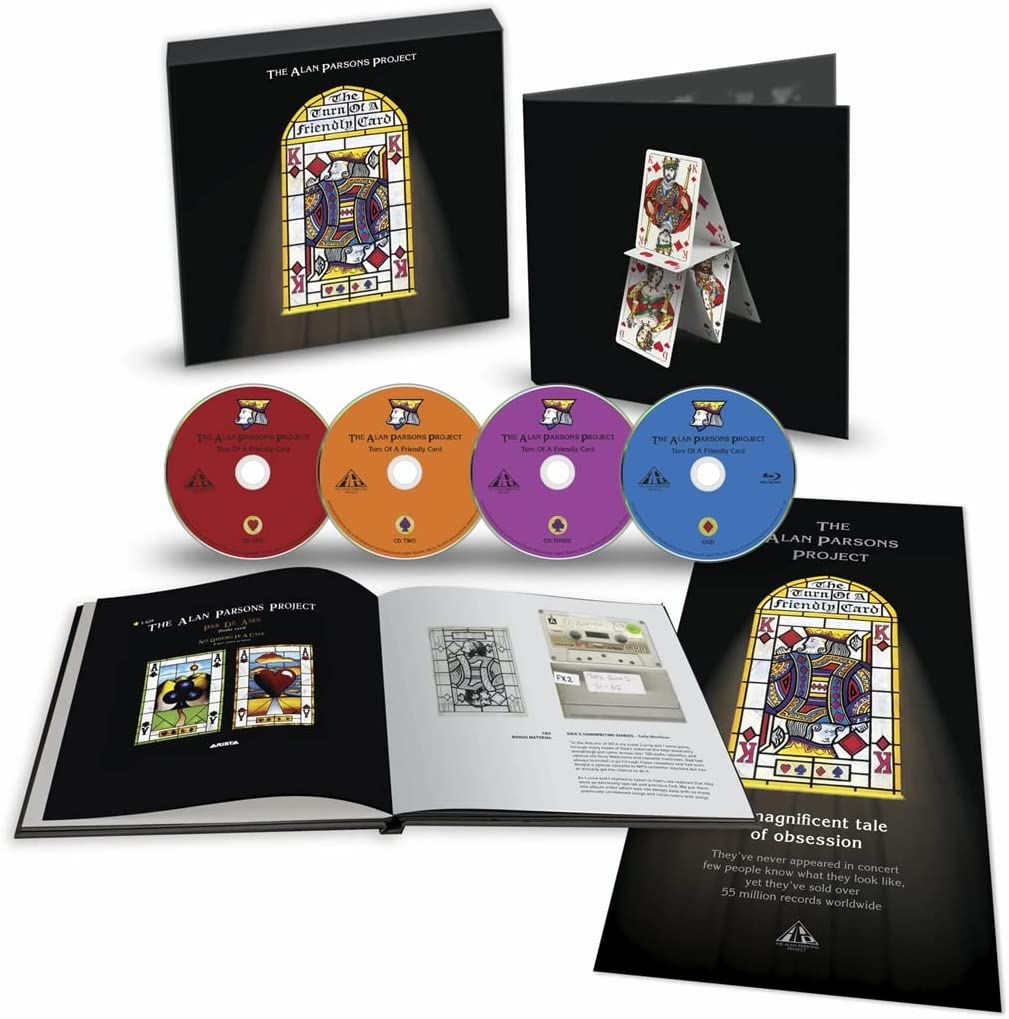 DISC TWO
ERIC WOOLFSON'S SONGWRITING DIARIES
1 MAY BE A PRICE TO PAY
2 GAMES PEOPLE PLAY
3 TIME
4 I DON'T WANNA GO HOME
5 THE TURN OF A FRIENDLY CARD
6 SNAKE EYES
7 NOTHING LEFT TO LOSE
8 TOFC / SNAKE EYES / I DON'T WANNA GO HOME
9 LA LA LA LAH
10 NEXT YEAR
11 SOMEONE ELSE
12 TAKING IT ALL AWAY
13 TO THOSE OF YOU OUT THERE
DISC THREE
RECORDING SESSIONS BONUS TRACKS
1 MAY BE A PRICE TO PAY (EARLY VERSION – ERIC GUIDE VOCAL AND UNUSED GUITAR SOLO)
2 GAMES PEOPLE PLAY (EARLY VERSION – ERIC GUIDE VOCAL)
3 TIME (ORCHESTRA AND CHRIS RAINBOW BACKING VOCALS)
4 THE GOLD BUG (EARLY REFERENCE VERSION)
5 THE GOLD BUG (CHRIS RAINBOW BACKING VOCALS)
6 THE GOLD BUG (CLAVINET WITH NO DELAY)
7 THE TURN OF A FRIENDLY CARD – Part One (EARLY BACKING TRACK)
8 SNAKE EYES (EARLY VERSION – ERIC GUIDE VOCAL)
9 THE ACE OF SWORDS (EARLY VERSION WITH SYNTH ORCHESTRATION)
10 THE TURN OF A FRIENDLY CARD – Part Two (ERIC GUIDE VOCAL AND EXTENDED GUITAR SOLO)
SINGLE EDITS
11 GAMES PEOPLE PLAY (SINGLE EDIT)
12 THE TURN OF A FRIENDLY CARD (SINGLE EDIT)
13 SNAKE EYES (SINGLE EDIT)
DISC FOUR – BLU RAY
5.1 SURROUND SOUND MIX (2019) AND HIGH- RESOLUTION ORIGINAL STEREO MIX BY ALAN PARSONS
1 MAY BE A PRICE TO PAY
2 GAMES PEOPLE PLAY
3 TIME
4 I DON'T WANNA GO HOME
5 THE GOLD BUG
6 THE TURN OF A FRIENDLY CARD (PART ONE)
7 SNAKE EYES
8 THE ACE OF SWORDS
9 NOTHING LEFT TO LOSE
10 THE TURN OF A FRIENDLY CARD (PART TWO)
VISUAL CONTENT
1 THE TURN OF A FRIENDLY CARD (ALBUM AD)
2 GAMES PEOPLE PLAY (PROMOTIONAL VIDEO)
3 THE GOLD BUG (PROMOTIONAL VIDEO)
4 THE TURN OF A FRIENDLY CARD (PROMOTIONAL VIDEO)
Related: Parsons was on the Queen's 2021 Birthday Honours List

Latest posts by Best Classic Bands Staff
(see all)