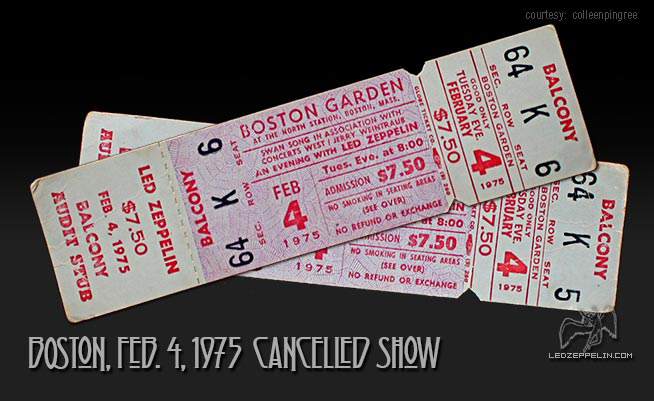 On the evening of January 6, 1975, a few thousand rock fans were lined up outside the venerable Boston Garden, awaiting the sale of tickets at 10 a.m. the following morning to an upcoming Led Zeppelin show. "For years and years, we had people line up overnight to wait for tickets," recalls Steven Rosenblatt, the ticket-office manager at Boston Garden on that winter night, "but we never had anything like this."
The band was about to release their much-anticipated new studio album, Physical Graffiti, which was due Feb. 24. It had been nearly two years since their previous studio album, 1973's Houses of the Holy.
Related: Our inside story of how the band broke through with "Whole Lotta Love"
Since the night was bitter cold, Rosenblatt allowed the awaiting ticket purchasers into the hall's lobby to stay warm as they waited. But that wasn't good enough for some of the crowd who then broke into the concert hall itself. Rosenblatt decided to put tickets on sale at 2:30 a.m. to help disperse the crowd.
Nonetheless, some inside the hall broke into the beer concession stands and set fire to the bleacher seats. Riot police were called in. By 6 a.m. all the tickets had been sold and order had been restored. But some $20,000 to $50,000 worth of damage had been done to the venue.
Boston Mayor Kevin H. White was unhappy with the situation. A few days later he canceled the February 4th Led Zeppelin concert altogether and banned the classic rock band from playing the city for five years.
Watch them perform "Communication Breakdown" at London's Earl's Court on May 25 that same year…
Related: Led Zeppelin's 50th anniversary 2018 plans are unfolding

The BCB team brings you the latest Breaking News, Contests, On This Day rock history stories, Classic Videos, retro-Charts and more.

Latest posts by Best Classic Bands Staff (see all)