What songs were rocking the Scarsdale High School class of 1975?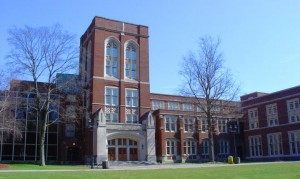 My high school class has its 40th reunion this fall. Cue the (musical) platitudes: I Cannot Believe It's True" (Phil Collins), "Where Does the Time Go" (Todd Rundgren), "Make Me Wanna Holler" (Marvin Gaye).
Anyway, I'm programming the music for the opening cocktail party and have been obsessing over the songs of the early '70s, culling the perfect musical moments to bring the past into the present.
Reunion music has to be more than random nostalgic selections. The songs should reflect their era and the alumni's ages during that era. They must have meaning for each attendee, whether mod or rocker, stoner or nerd. And ideally their lyrics reference the passage of time and the relationship between people who were young together.
I'm programming music dating to 1971-1975 and I'm being a hard-liner: nothing from the '60s, even though we listened to some in high school. Nothing released later than June 1975. I'm mostly staying away from anything that still gets mainstream airplay 40 years later and focusing on album cuts and songs with a message for the current reunion as well as the past it is commemorating. Songs that spark "Wow, this sure takes me back" rather than "I heard this in the elevator at my doctor's office yesterday."
Here's my playlist, as it stands today. I reserve the right to continue tweaking as the reunion approaches, probably changing the order and swapping out a song or two. I may have to cut down songs a bit too, to fit within the one-hour time frame I've been given and to make transitions smoother.
1 CSNY: "Love the One You're With" (Live version from 4 Way Street)
2 Cat Stevens: "Oh Very Young"
3 Joni Mitchell: "All I Want" or "Carey"
4 Marvin Gaye: "What's Going On" (sadly there's still too many dying)
5 Paul Simon: "Kodachrome," reflecting on all the crap we learned in high school and the way we used to take pictures of each other
6 The Who: "I'm One" from the teen angst tribute album Quadrophenia
7 Steve Miller Band: "The Joker" (because I vividly remember a classmate performing a cover version with his band at the time)
8 Led Zeppelin: "The Song Remains the Same"
9 The Rolling Stones: "Time Waits for No One"
10 Allman Brothers Band: "Ain't Wasting Time No More"
11 Sly & the Family Stone: "Family Affair"
12 The Moody Blues: "The Story in Your Eyes"
13 Aretha Franklin: "Border Song (Holy Moses), representing the seminal 1972 album Young, Gifted and Black as well as standing in for Elton
14 Jethro Tull: "Cheap Day Return," the shortest song on Aqualung
15 Steely Dan: "Reeling in the Years"
16 Rod Stewart: "You Wear It Well"
17 Bob Dylan: "Forever Young"
18 Pure Prairie League: "Amie (Falling In & Out of Love)," starting 2:30 in
19 Seals & Crofts: "We May Never Pass This Way (Again)" because we may not
I know, it's a lot of American and British white guys, but the fact is this list accurately reflects what my high school peers and I listened to back then. A reunion is not a time for political correctness, it's a time to recreate the soundtrack to a party when your parents were out and the turntable was spinning as much as the heads of newbie drinkers.

Latest posts by Laura Huntt Foti
(see all)