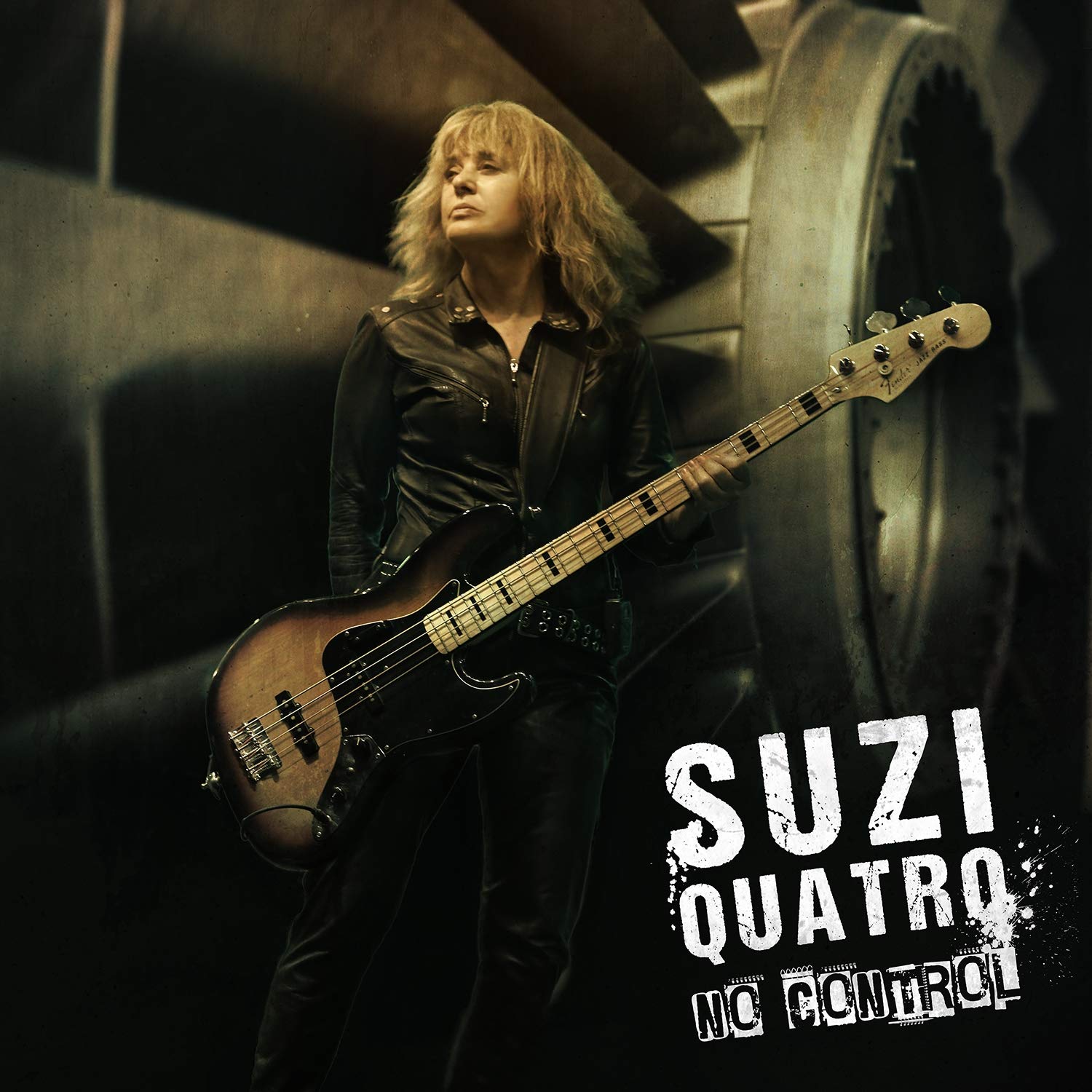 Bass guitarist and vocalist Suzi Quatro, best known for a series of hit singles in the 1970s and for her recurring role as "Leather" Tuscadero on the popular sitcom, Happy Days, released a new studio album, No Control, on March 29.
The album, from SPV/Steamhammer, is her first solo studio LP since 2011. Listen to several songs below.
Quatro, born June 3, 1950, is in the midst of an extensive 2019 tour calendar.
Watch the video for the first single, "No Soul/No Control"
Quatro has plenty of 2019 concerts scheduled including U.K. dates as part of a "Legends Live" lineup that also includes David Essex and Les McKeown's Bay City Rollers.
Watch the video for "Macho Man"
The classic rock artist, who turns 69 on June 3, has successfully worked as a musician for more than 50 years. Though she's from Detroit, Quatro's initial success was overseas. Her big breakthrough occurred in a two-year span, from 1973-74, with a series of singles, two of which – "Can the Can" and "Devil Gate Drive" – reached #1 in the U.K. and several other European territories.
Though "Can the Can" and a cover of "All Shook Up" charted in the U.S., it wasn't until her 1978 duet with Chris Norman, "Stumblin' In," that Quatro achieved a hit at home when the song reached #4 on the Hot 100.
On her continuing to record and perform, Quatro says: "I'll retire when I go onstage, shake my ass, and there is silence."
No Control features 11 new songs (plus two bonus tracks). The majority of the material consists of collaborations with her son from her first marriage, Richard Tuckey. In the announcement, Quatro says: "This was our first attempt at writing and recording something together. And, through this unusually beautiful English summer of 2018, we sat outside, acoustic bass, acoustic guitar, iPad recording app, and lots of paper, throwing ideas back and forth."
Listen to Quatro's biggest U.S. hit
Watch Quatro perform as "Leather" Tuscadero on Happy Days
Suzi Quatro 2019 Tour (Tickets for many of the shows are available here and here)
Germany
Aug 30 – Plauen – Parktheater
Aug 31 – thale – Bergtheater
Sep 01 – Kranichfeld – Freilichtbühne Niederburg
Sep 22 – Leipzig – Gewandhaus
Sep 28 – Dortmund – Westfallenhalle 3A
Oct 01 – Reutlingen – Stadthalle
Oct 02 – Kassel – Stadthalle
Oct 04 – Wuppertal – Stadthalle
Oct 05 – Osnabruck – Osnabrückhalle
Dec 07 – Heilbronn – Harmonie
Dec 13 – Dresden – Kulturpalast
Dec 14 – Jena – Sparkassen Arena
Dec 15 – Nürnberg – Löwensaal
Australia
Oct 27 – Perth – Regal Theatre
Oct 30 – Rockhamton – West End Hotel Arena
Nov 01 – Gold Coast – The Star Theatre
Nov 04 – Melbourne – Palais Theatre
Nov 06 – Newcastle – Entertainment Centre
Nov 08 – Sydney – Enmore Theatre

The BCB team brings you the latest Breaking News, Contests, On This Day rock history stories, Classic Videos, retro-Charts and more.

Latest posts by Best Classic Bands Staff (see all)