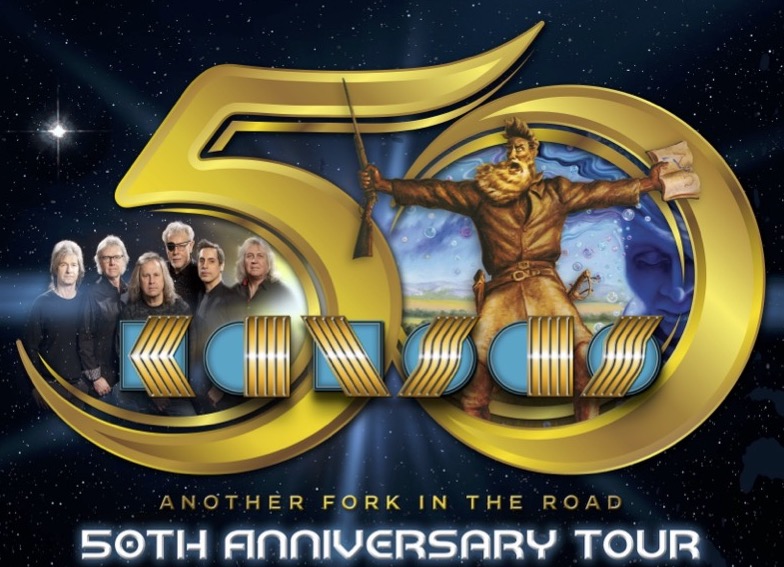 Kansas will celebrate their 50th anniversary in 2023 with an extensive tour with dozens of dates. The progressive rock band's tour is dubbed "Another Fork in the Road." That's also the title of their recent 3-CD set, Another Fork in the Road – 50 Years Of Kansas. The title arrived on Dec. 16, 2022, via InsideOut Music. And just like the tour's repertoire, the career-spanning collection features tracks from across the band's sizable discography. The band's long and continuing history has seen them issue 16 studio albums and sell in excess of 30 million albums worldwide.
The progressive rock band will celebrate their big anniversary with extensive touring in North America in 2023 and into 2024. The band is currently comprised of original drummer Ehart, bassist/vocalist Billy Greer, vocalist/keyboardist Ronnie Platt, violinist/guitarist David Ragsdale, keyboardist/vocalist Tom Brislin, and original guitarist Richard Williams. Before the 50th anniversary tour begins in June, they'll first perform a classics set, from March through May.
Kansas 2023-2024 Tour (Tickets are available here and here)
Kansas Classics 2023 Tour
Mar 11 – Tampa, FL – Busch Gardens
Mar 17 – Shawnee, OK – Heart of Oklahoma Exposition Center
Mar 23 – Winterhaven, CA – Quechan Casino
Mar 24 – Pala, CA – Pala Casino
Mar 25 – Queen Creek, AZ – The Good Life Festival
Apr 01 – Lincoln, CA – Thunder Valley Casino Resort (with Blue Oyster Cult)
Apr 20 – Marion, IL – Marion Cultural & Civic Center
Apr 22 – Forrest City, AR – EACC Fine Arts Center
May 19 – Decatur, IL – Devon Lakeshore Amphitheater
May 21 – Louisville, KY – Iroquois Amphitheater
Kansas 50th Anniversary Tour – Another Fork In The Road
Jun 02, 2023 Pittsburgh, PA Benedum Center for the Perf. Arts
Jun 03, 2023 Baltimore, MD The Lyric
Jun 09, 2023 Glenside, PA Keswick Theatre
Jun 10, 2023 Glenside, PA Keswick Theatre
Jun 16, 2023 Fort Wayne, IN Embassy Theatre
Jun 17, 2023 Detroit, MI Fisher Theatre
Jun 29, 2023 Toronto, ON Massey Hall
Jul 01, 2023 Rochester, NY Kodak Center
Jul 07, 2023 Cincinnati, OH Taft Theatre
Jul 08, 2023 Indianapolis, IN Clowes Memorial Hall
Jul 14, 2023 Minneapolis, MN State Theatre
Jul 15, 2023 Chicago, IL The Chicago Theatre
Jul 21, 2023 Wausau, WI The Grand Theater
Jul 22, 2023 Milwaukee, WI The Riverside Theater
Jul 27, 2023 Kansas City, MO The Midland Theatre
Jul 29, 2023 St. Louis, MO The Fabulous Fox Theatre
Aug 04, 2023 Des Moines, IA Hoyt Sherman Place
Aug 05, 2023 Omaha, NE Orpheum Theater
Aug 18, 2023 Knoxville, TN Tennessee Theatre
Aug 19, 2023 Nashville, TN Ryman Auditorium
Aug 25, 2023 Denver, CO The Paramount Theatre
Aug 26, 2023 Salt Lake City, UT Eccles Theater
Sep 6, 2023 Vancouver, BC Queen Elizabeth Theatre
Sep 8, 2023 Seattle, WA The Paramount Theater
Sep 9, 2023 Portland, OR Arlene Schnitzer Concert Hall
Sep 12, 2023 Boise, ID Morrison Center for the Performing Arts
Sep 14, 2023 San Francisco, CA Golden Gate Theatre
Sep 16, 2023 Los Angeles, CA The Orpheum Theatre
Sep 17, 2023 San Diego, CA Balboa Theatre
Sep 20, 2023 To Be Announced
Sep 22, 2023 Albuquerque, NM Kiva Auditorium
Sep 24, 2023 El Paso, TX The Plaza Theatre
Oct 12, 2023 Worcester, MA The Hanover Theatre
Oct 13, 2023 Brookville, NY Tilles Center for the Performing Arts
Oct 20, 2023 San Antonio, TX Tobin Center for the Performing Arts
Oct 21, 2023 Sugar Land, TX Smart Financial Centre at Sugar Land
Oct 26, 2023 Huntsville, AL Von Braun Center – Mark C. Smith Concert Hall
Oct 27, 2023 Memphis, TN Orpheum Theatre
Nov 03, 2023 Charlotte, NC Ovens Auditorium
Nov 04, 2023 Durham, NC Durham Performing Arts Center
Nov 16, 2023 Dallas, TX AT&T Winspear Opera House
Dec 01, 2023 Savannah, GA Johnny Mercer Theatre
Dec 02, 2023 Atlanta, GA Fox Theatre
Jan 12, 2024 Jacksonville, FL Florida Theatre
Jan 13, 2024 North Charleston, SC North Charleston Performing Arts Center
Jan 19, 2024 Fort Myers, FL Barbara B. Mann Performing Arts Hall
Jan 20, 2024 Clearwater, FL Ruth Eckerd Hall
Jan 27, 2024 Melbourne, FL Maxwell C. King Center for the Performing Arts
Jan 28, 2024 Fort Lauderdale, FL Broward Center for the Performing Arts
More dates to be announced.
Related: Listings for 100s of classic rock tours
"The song 'Can I Tell You' may not have been our biggest 'hit,' but it is one of the most important songs in the career of the band," says Williams. "'Can I Tell You' was the first song on the demo reel we sent to Don Kirshner. Hearing that demo is what led to Kansas getting a record deal. It felt appropriate, after fifty years, to come full circle and record it with the current lineup."
The full track-listing is below the Amazon links. (Note: due to licensing restrictions there are minor differences between the European and North American release.)
Another Fork in the Road includes extensive liner notes by journalist Jeff Wagner, as well as pictures of rarely seen memorabilia and archive material, all overseen by founding member Phil Ehart.
Another Fork in the Road Track Listing
Disc 1:
Can I Tell You (new 2022 version)
The Absence of Presence (The Absence of Presence, 2020)
Throwing Mountains (The Absence of Presence, 2020)
Crowded Isolation (The Prelude Implicit, 2016)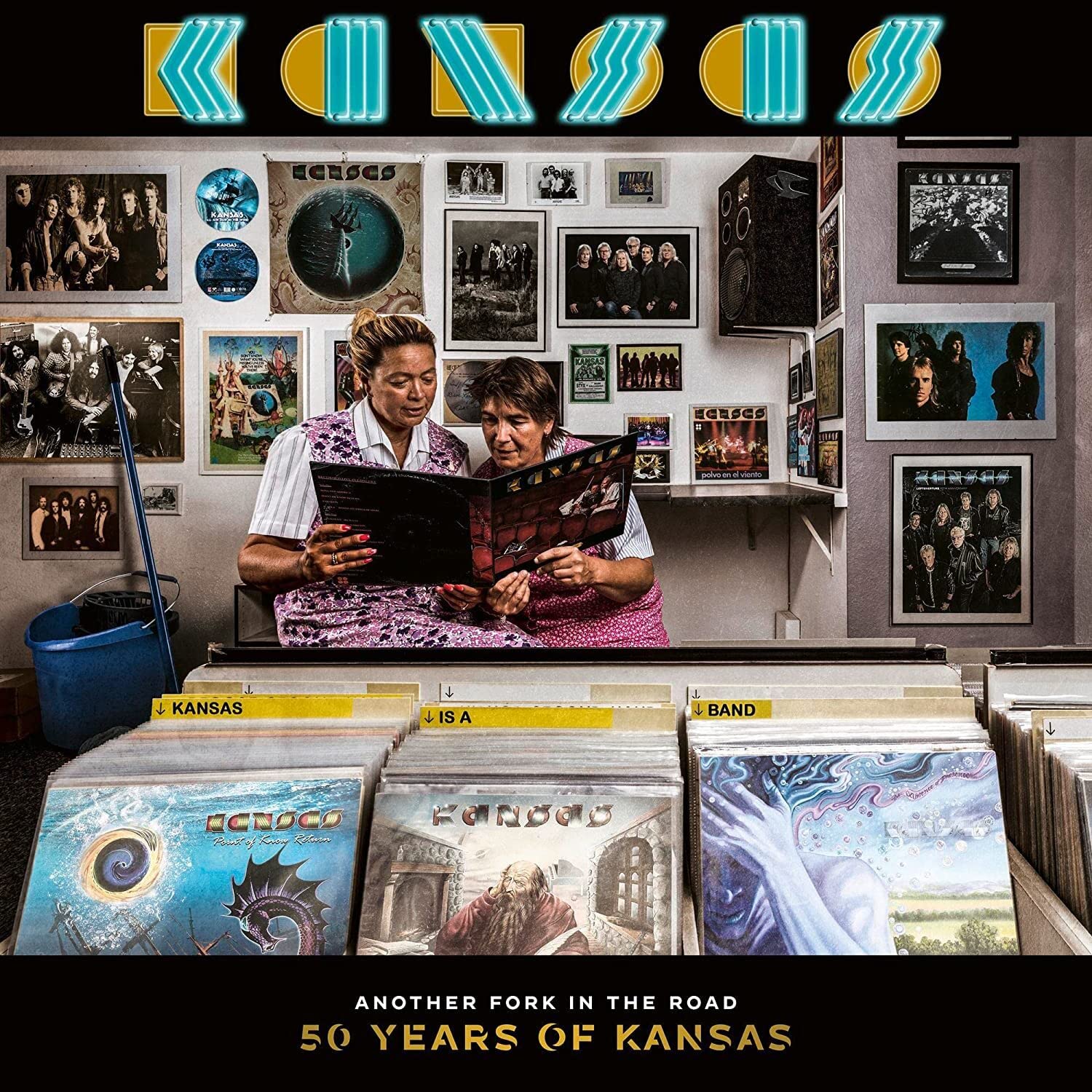 Summer (The Prelude Implicit, 2016)
The Voyage of Eight Eighteen (The Prelude Implicit, 2016)
Icarus II (Somewhere to Elsewhere, 2000)
The Coming Dawn (Thanatopsis) (Somewhere to Elsewhere, 2000)
Distant Vision (Somewhere to Elsewhere, 2000)
The Wall (Always Never the Same, 1998)
Dust in the Wind (Always Never the Same, 1998)
Desperate Times (Freaks of Nature, 1995)
Under The Knife (Freaks of Nature, 1995)
North America Version – Disc 2:
Fight Fire With Fire (Drastic Measures, 1983)
End of the Age (Drastic Measures, 1983)
Incident on a Bridge (Drastic Measures, 1983)
Play the Game Tonight (Vinyl Confessions, 1982)
Crossfire (Vinyl Confessions, 1982)
Windows (Vinyl Confessions, 1982)
Hold On (Audio-Visions, 1980)
Loner (Audio-Visions, 1980)
Curtain of Iron (Audio-Visions, 1980)
No One Together (Audio-Visions, 1980)
On The Other Side (Monolith, 1979)
Angels Have Fallen (Monolith, 1979)
How My Soul Cries Out For You (Monolith, 1979)
EU Version Disc 2:
House on Fire (In the Spirit of Things, 1988)
Rainmaker (In the Spirit of Things, 1988)
Silhouettes in Disguise (Power, 1986)
Secret Service (Power, 1986)
Three Pretenders (Power, 1986)
End of the Age (Drastic Measures, 1983)
Incident on a Bridge (Drastic Measures, 1983)
Play the Game Tonight (Vinyl Confessions, 1982)
Crossfire (Vinyl Confessions, 1982)
Windows (Vinyl Confessions, 1982)
Hold On (Audio-Visions, 1980)
Loner (Audio-Visions, 1980)
No One Together (Audio-Visions, 1980)
On The Other Side (Monolith, 1979)
How My Soul Cries Out For You (Monolith, 1979)
Disc 3:
Carry On Wayward Son (Two for the Show, 1978)
Portrait (He Knew) (Point of Know Return, 1977)
Sparks of the Tempest (Point of Know Return, 1977)
Miracles Out of Nowhere (Leftoverture, 1976)
Magnum Opus (Leftoverture, 1976)
Icarus – Borne On Wings of Steel (Masque, 1975)
Child of Innocence (Mas que, 1975)
Down The Road (Song for America, 1975)
Song For America (Song for America, 1975)
The Devil Game (Song for America, 1975)
Death of Mother Nature Suite (Kansas, 1974)
Belexes (Kansas, 1974)
Journey From Mariabronn (Kansas, 1974)
Related: Our Album Rewind of Leftoverture

Latest posts by Best Classic Bands Staff
(see all)