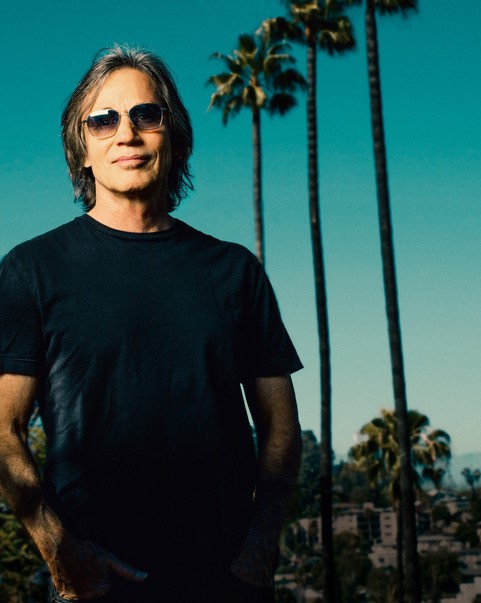 Jackson Browne revealed on March 24 that he has tested positive for the coronavirus. In an interview with Rolling Stone, the singer-songwriter said he thinks his recent trip to New York City to perform at the annual Love Rocks NYC benefit concert on March 12 was where he contracted the virus.
"As soon as I had a small cough and a temperature, I tested [for Covid-19]," he told the website. He's currently quarantined and recuperating at his Los Angeles home.
Hours after that revelation, Browne, 71, announced the release of two new recordings, "Downhill From Everywhere" and "A Little Soon to Say." They're available for pre-order here.
Listen to "A Little Soon to Say"
Browne shared the bill at the concert at New York's Beacon Theatre with Dave Matthews, Cyndi Lauper, Warren Haynes, brothers Chris Robinson and Rich Robinson, and others. "And now it turns out that several people who were at that show have tested positive," he says. "I'm going to try and get in touch with everybody and keep talking with them."
Musician Larry Campbell, who performed at the same benefit, tested positive on March 23.
"I feel lucky that I'm not really badly affected," says Browne. "I guess I've got a really strong immune system. There's so much we don't know. The one thing you can do is not go anywhere, not show up anywhere. Now I wish I hadn't gone to New York and done this benefit. How much simpler would it have been had I just called in and said, 'No, I'm not going to travel on a cross-country flight and spend two days in New York with all these people that are singing all over the country.'"
Watch Browne perform at the March 12 Love Rocks NYC concert
"So many people that have it aren't going to be tested," he says. "They don't have symptoms, but they might have it and might be able to pass it on."
Browne is scheduled to tour with James Taylor this summer. The tour with Taylor, who turned 72 on March 12, and Browne, two of America's most accomplished singer-songwriters, has been highly anticipated. The first concert is May 15. (Tickets are available here and here.)
Browne is known for his laid-back vibe, which helped set the tone for much of the music that came out of California in the '70s. It was during this time that Browne co-wrote "Take it Easy" with Glenn Frey, which would go on to become the first hit song for the Eagles.
The singer-songwriter has also written such classic rock songs as "Running on Empty," "The Pretender" and "Doctor My Eyes." He was inducted into the Rock and Roll Hall of Fame in 2004.

Latest posts by Best Classic Bands Staff
(see all)