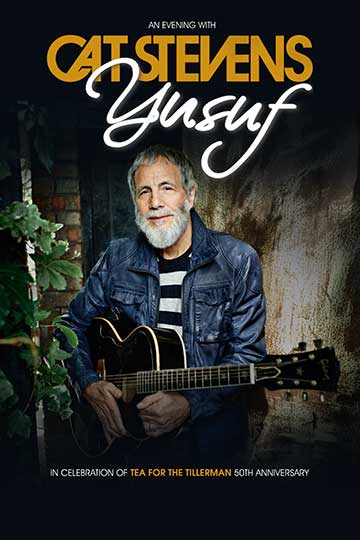 Cat Stevens has announced his first concerts of 2020, which the singer-songwriting legend says are the first of "many more" to come. The news, revealed throughout November, includes dates in Ireland, and numerous European countries, and followed the Nov. 6 announcement of two dates in Italy. The tour will celebrate the 50th anniversary of his Tea For the Tillerman album.
Stevens hasn't toured since his well-received "A Cat's Attic: 50 Year Anniversary" acoustic tours of the U.S. and U.K. in 2016 and South Africa, Australia, and New Zealand of 2017. Earlier this year, he hired a new talent agency.
The Nov. 6 announcement called the pair of shows the first of Stevens' 2020 summer European tour. He turned 71 on July 21.
While Stevens earned early acclaim in his native England, it would be several more years before his skill as a songwriter developed and he began to achieve success elsewhere with such breakout 1970s singles as "Wild World," "Moonshadow" and "Peace Train."
Tea For the Tillerman, released on November 23, 1970, was Stevens' fourth studio album. Although he had charted with earlier singles in other territories, the album's "Wild World" became his first U.S. hit, paving the way for even more worldwide success.
Watch Stevens perform "Wild World" in 2015
Tillerman also includes "Father and Son" and "Where Do the Children Play?" Follow-up albums Teaser and the Firecat and Catch Bull at Four were huge sellers as well, the latter reaching #1 on the Billboard charts.
Cat Stevens 2020 Tour (Tickets are available here and via the individual venues)
Jun 24 – Cork, Ireland – Live at the Marquee
Jun 28 – Paris, FR – Olympia
Jun 29 – Paris, FR – Olympia
Jul 06 – Barcelona, SP – Festival Jardin Pedralbes
Jul 16 – Stuttgart, Germany – Jazz Open (with Van Morrison)
Jul 18 – Lucca, IT – Piazza Napoleone
Jul 20 – Rome, IT – Teatro delle Terme di Caracalla
Jul 24 – Berlin, Germany – Citadel
Jul 26 – Hamburg, Germany – City Park
Jul 30 – Trondheim, Norway – Olavsfest
Related: Our 2016 review of Stevens' first NYC concert in 40 years
Stevens' life and career went through a sudden and dramatic transformation at the end of 1977 when he converted to Islam, changing his name to Yusuf and leaving the music business. He continued to create music at times for the Muslim community but courted widespread controversy in 1989 by making comments that appeared to show him supporting a fatwa against author Salman Rushdie over the latter's publication of a book seen as anti-Islam by some adherents of the religion.
Related: Listings for 100s of classic rock tours
Stevens, as Yusuf Islam, made a tentative return to secular music more than 10 years ago, dropping his surname from his album cover art. He was inducted into the Rock and Roll Hall of Fame in 2014.
Watch Stevens perform "Where Do the Children Play?" from Tea For the Tillerman in 1976
When Stevens made the seemingly shocking decision to abandon the rock star lifestyle and walk away, rather than leaving his legions of fans empty handed, he instead wrote his final album, Back to Earth, as a parting farewell, using tracks such as "Last Love Song" and "Just Another Night" to help explain his decision to depart. The album has been remastered for late 2019 release.

The BCB team brings you the latest Breaking News, Contests, On This Day rock history stories, Classic Videos, retro-Charts and more.

Latest posts by Best Classic Bands Staff (see all)