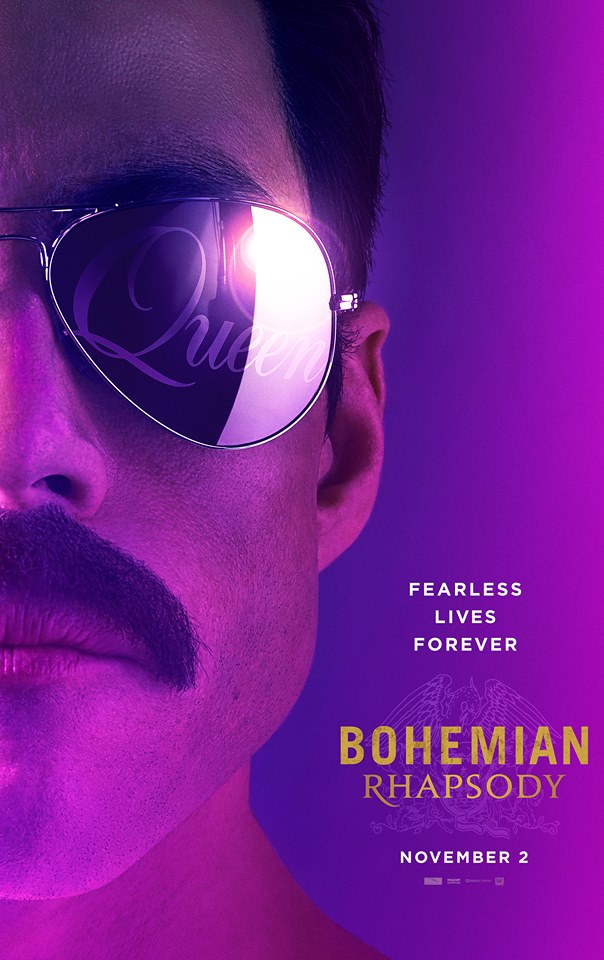 The Queen biopic, Bohemian Rhapsody, enjoyed a solid second weekend – November 9-11 – at the worldwide box-office. In North America, it picked up a solid $30.85 million, bringing its total to more than $100 million in North America in its first 10 days. Internationally, the film scored a whopping $63 million for the weekend, for a total international cume of $185 million. Its worldwide tally is now $285 million.
The movie was #1 in its Nov. 2-4 opening weekend in North America, earning an estimated $50 million at the box-office. It picked up another $72.5 million internationally, giving it a tremendous $122.5 first full weekend worldwide. The film, from Twentieth-Century Fox, had its world premiere at London's SSE Arena in Wembley on October 23 and opened in the U.S. on Nov. 2. Reviews were mixed; see below.
Rami Malek (TV's Mr. Robot) portrays legendary Queen frontman, Freddie Mercury; Ben Hardy (X-Men: Apocalypse, Mary Shelley, Only the Brave) plays Roger Taylor; Gwilym Lee (The Hollow Crown, Jamestown) plays Brian May; Joe Mazzello (The Social Network, G.I. Joe: Retaliation) plays John Deacon. Lucy Boynton (Murder on the Orient Express) stars as Mercury's lifelong companion, Mary Austin.
So what did the critics think? As of Nov. 4, the website Rotten Tomatoes had counted 287 reviews, 177 of which were ranked "Fresh," for a 62% positive rating. Of the Top Critics, there were 33 reviews, with only 15 of them positive, for 45%. Fans seem to have ignored the critics: the site reveals an enormous "Want to See" rating of 94% as of Nov. 11.
Here are some review quotes:
USA Today: "Bohemian Rhapsody" the song is a sonic masterpiece and "Bohemian Rhapsody" the movie is just a conventional rock flick.
Daily Telegraph (U.K.): The final hurrah for Mercury's genius, this huge, hubristic spectacle lets you grant his troubled film a pass: at least it keeps on fighting to the end.
Us Weekly: if you are not cheering along with the crowd as Mercury belts out an ultra-satisfying rendition of "We are the Champions," then a doctor should check your pulse.
Los Angeles Times: Sprawling, jumbled and disappointingly airbrushed…
Variety: With a performance as commanding as Rami Malek's at its center, why isn't Bohemian Rhapsody a better movie?
Rolling Stone: There's only praise to heap on Rami Malek whose tour de force performance as Freddie Mercury will definitely rock you.
New York Post: What we ultimately wanted from Bohemian Rhapsody was not carbon-copied concerts, but behind-closed-doors insight into a deeply private, complicated, internationally beloved superstar.
The Wrap: An object example of how a film can be entertaining and even exhilarating without being particularly good.
The New York Times: A baroque blend of gibberish, mysticism and melodrama, the film seems engineered to be as unmemorable as possible, with the exception of the prosthetic teeth worn by the lead actor, Rami Malek.
Watch the "We Will Rock You" trailer
Related: Bohemian Rhapsody's karaoke challenge

The BCB team brings you the latest Breaking News, Contests, On This Day rock history stories, Classic Videos, retro-Charts and more.

Latest posts by Best Classic Bands Staff (see all)