Trakin Care of Business: Get Back, Honky Cats
by Roy Trakin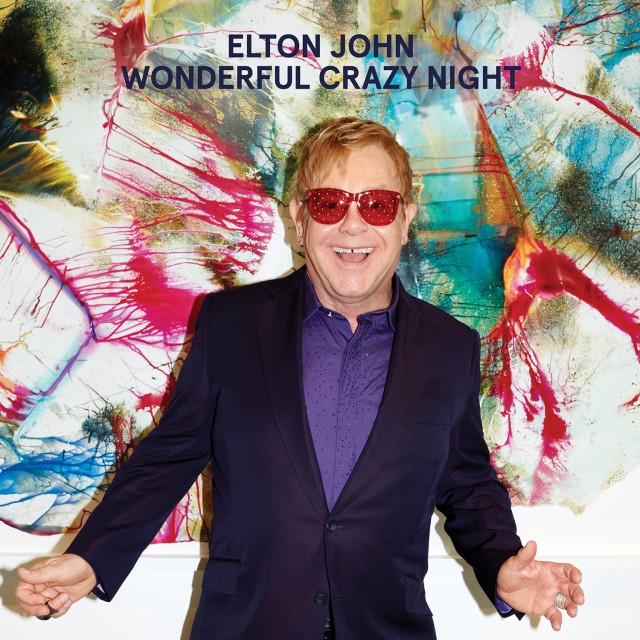 1) Elton John, Wonderful Crazy Night (Island Records): The third in the 68-year-old rock legend's T Bone Burnett-produced comeback which began with 2010's Union – their collaboration with seminal influence Leon Russell – and 2013's rather somber, introspective The Diving Board, is a blatant attempt to recall past glories. Longtime collaborators like guitarist Davey Johnstone, drummer Nigel Olsson and animated percussionist Ray Cooper have returned to join the continued presence of lyricist Bernie Taupin and Elton's patented honky-tonk piano playing. The results are the upbeat vibe of songs like the title track, the bluesy guitar workout "Claw Hammer" and the funky single, "Looking Up." But the album clearly illustrates the dilemma faced by classic rock icons. Forced not only to compete with up-and-comers like Charlie Puth who are a third their age, but their own legacy, Elton is damned if he does try to recreate his greatest hits and damned if he doesn't. The new album is about survival, the price we pay and the rewards for that durability. "Could have given up so easily," he insists in "Looking Up" – along with "Guilty Pleasure," a clear nod to rave-ups like "Crocodile Rock" and "Philadelphia Freedom" – "I was a few cheap shots away/From the end of me." So much of Wonderful Crazy Night harks back to classic Elton John, but what's missing is a little harder to put your finger on. Is it the loss from his now-lowered vocal range, which deprives us of the plaintive peaks? Or is it the disconcerting lack of melodic hooks – something you'd never accuse him of in the past – on all three of these earnest, spirited attempts to simultaneously resonate in our memories and the present. Still, "The Open Chord" skillfully echoes the Paul Buckmaster string arrangements and Gus Dudgeon productions of his earliest work, while the deluxe-edition-only "England and America" offers such a rousing climax you're left to wonder why it was left off the standard release. Certainly, his ability to pound the ivories has never been more assertive, from the vintage Jerry Lee Lewis banging in the soulful title track and the jazzy interludes accompanied by punchy horns in "Claw Hammer" to the dramatic, classical Liberace piano stylings of the Beatle-esque "A Good Heart" and the Mozart-like harpsichord that bookends "Free and Easy," another deluxe bonus track. On the other hand, except for the evocative "I've Got 2 Wings," a song from the point of view of real-life Louisiana preacher/guitarist Elder Utah Smith, who died in 1965, speaking from his unmarked grave, Taupin's lyrics are frustratingly generic, even if Elton does his damnedest to infuse them with life. In the end, there's no question the man's still standing, but too much of Wonderful Crazy Night buckles under the weight of his own world-class catalog.
2) Coldplay at Super Bowl 50: With the cyberspace backlash to a cavorting Chris Martin and Coldplay's appearance at this year's Super Bowl, you'd think the U.K. band was personally responsible for the CTE concussions suffered by NFL players that shadowed this year's game like a chicken wing-and-beer hangover. Surely, the football-powers-that-be hedged their bets by surrounding the band with thousands of screaming fans, and the star-power accompaniment of past Bowl headliners Beyonce and Bruno Mars, who managed to completely steal the thunder from the Pepsi spectacular's alleged main act. That said, Coldplay's brief set proved their ability to create good will, from the crowd-pleasing "Viva La Vida" and "Paradise" to the new "Adventure of a Lifetime," and their "Clocks"/"Fix You" medley homage to past performers, lyric-checking U2's "It's a Beautiful Day" and Prince's "Purple Rain." And there seemed to be genuine camaraderie when all three convened for "Up&Up," with Martin draping his arms around Beyonce, a collaborator on the song "Hymn for the Weekend" on A Head Full Of Dreams, whose colorful psychedelic themes proved the perfect backdrop for the big game's Bay Area location. As for Coldplay itself, who used their appearance – just as Beyonce did – to announce a stadium tour this summer, they are proving to be the anti-Beatles, starting out as an underground band and turning into Top 40 teen idols, a curious move that just lends their detractors more ammunition. Of course, the band had the last laugh, experiencing a spike in sales that dwarfed both Beyonce – though "Formation" was not yet available – and Bruno Mars, who had no new product out.
3) Rockmania Live: In a well-covered story that appeared on Best Classic Bands and elsewhere, Nielsen's annual music industry financial report noted that catalog product is outselling currents in three of the four categories, including overall albums, physical tracks and digital tracks, with currents having a slight edge only in digital albums. With classic rock acts also dominating the live concert market, it was only a matter of time before someone came up with an alternative to the rock icons who are nearing not just retirement, but the great beyond. Enter ex-Arista, ex-MTV, ex-Maverick and ex-Hollywood Records executive Abbey Konowitch, who knows a thing or two about packaging and marketing talent, who has a new concept he is exploring that recreates classic rock albums – like his first project, Led Zeppelin's Houses of the Holy – with a band embedded into a symphony orchestra, accompanied by a state-of-the-art 3D multimedia visual. To create this sort of combination of Pink Floyd laser light show and a tribute band, he has enlisted Grammy-winning producer Rob Cavallo to rework the material along with Beck's dad, noted film composer David Campbell, with an eye towards not just boomers looking to relive their youth but Millennials who have shown a remarkable affinity for this music. It's a promising concept, one made even more relevant by the amount of bands – think The Eagles and The Who, for starters – who have already lost key members even while their brand remains strong. Currently in pre-production to debut later this year, Konowitch has set up a Facebook page for the project here.
4) Anomalisa (Paramount Pictures)/Hail, Caesar! (Universal Pictures): Say what you want about screenwriter-turned-director Charlie Kaufman and the Coen brothers, they manage to create their own very distinctive worlds that are like no other while still working within the Hollywood system. Co-directors Kaufman and Duke Johnson's stop-action puppetry brings a strange air of unreality to its animated tale of a customer service rep and author in full mid-life crisis visiting Cincinnati to speak at a convention, where he has a steamy one-night stand in his nondescript hotel room (perfectly rendered) with a young woman who harbors her own inferiority complex. The man's slightly haughty British accent is provided by David Thewlis, the girl is a playful Jennifer Jason Leigh, while all the rest of the characters – male and female – are voiced by veteran actor Tom Noonan. Like Being John Malkovich, Adaptation, Eternal Sunshine of the Spotless Mind – which Kaufman wrote – and Synechdoche, New York, his only previous experience at directing, he plays with the notion of personal identity, free will, alienation, memories and the existential angst of romance, while hinting at how we might all be robots underneath (everyone's faces look like removable, interlocking masks), programmed by an unseen force that controls us, yes, like puppets on a string. There's also a love/hate dichotomy in the Coens' poison-pen but ultimately loving valentine to the old studio system, with Josh Brolin as a harried film executive whose task it is to keep the cameras rolling and any scandals away from the gossip columnists, here played as competing twins by Tilda Swinton. His Eddie Mannix is based on an actual character, more gangster than the repentant Catholic portrayed here, who was a "fixer" for Louis B. Mayer's MGM. The movie spoofs a number of classic genres, from Busby Berkley mermaid choreography and Gene Kelly-style dance numbers (featuring Channing Tatum as a hoofing sailor) to biblical toga-and-sandal epics, like the titular Ben Hur spin-off whose star, a straight-faced George Clooney, plays along with the joke after being kidnapped by a not-so-militant posse of Communist screenwriters, led by someone playing the real-life leftish philosopher Dr. Herbert Marcuse. It's a lark for the siblings, medium-level Coens, not quite up to No Country for Old Men or Fargo, but more along the lines of genial spoofs like O Brother, Where Art Thou? and their other Hollywood satire, Barton Fink, about an apocalyptic writer's block.
5) Gripes and Other Ephemera: Betting on sports is illegal everywhere but Las Vegas, though most everybody can be persuaded to participate in that hoary annual ritual known as the Super Bowl pool. You know the one, where you buy boxes from a grid divided into 100 and match them with the last digits of the score after every quarter. I won a thousand-buck jackpot going on 10 years ago, and have been hooked since. This year, I was sitting with a three on the Denver Broncos and a zero for Carolina, bemoaning the Panthers' end-of-first-half clock mismanagement, preventing them from scoring a last-minute field goal, which would have made the score 13-10 Denver (and a win for me) instead of 13-7, as it ended up. But that didn't prepare me for what happened at the end of the game, and the "big" payoff. With the score at 16-10, and Peyton Manning giving no indication he would risk throwing, but content to merely try to run out the clock, a Carolina fumble led to a late Broncos touchdown, making the score 22-10, my money relying only on a point-after; even if they are now taken from the 15-yard-line rather than the three, as they always had been, I liked my chances. Only using his trusty "when to go for two points" chart – and looking to go up by 14 (two full touchdowns and extra points), darned if wise guy coach Gary Kubiak didn't decide to eschew the extra point to go for two, making the final score 24-10 and costing me a cool $80. And that, folks, is why I don't gamble… Ryan Murphy's The People v. O.J. Simpson: American Crime Story on FX connects the dots between the dawn of 24/7 tabloid journalism back in 1995 and today's reality TV soap operas by including the children of the Juice's best buddy Robert Kardashian, who got their first taste of the media spotlight with the trial of last century. Cuba Gooding plays O.J. as guilty as he was without capturing the man's aw-shucks charm, and John Travolta is hilarious as the wooden, thick-eyebrowed Robert Shapiro. But it's Courtney B. Vance's flamboyant Johnnie Cochran, making like Phil Morris' Jackie Chiles on Seinfeld except with gravitas, and Sarah Paulson's tightly wound, but dogged Marcia Clark who steal the show…

ROY TRAKIN is a pop culture critic, rock music aficionado, published author and radio talk show host who has written for every publication that ever mattered (Soho Weekly News, New York Rocker, Musician, CREEM), even if most of them don't exist anymore. He ruminates on a variety of music, culture-related topics and personal gripes in his regular "Trakin Care of Business" column, which he has published since the early aughts, primarily in music industry trade magazine HITS and on its Daily Double website. Best Classic Bands is excited to be its new home; we'll be running a new one every two weeks. The opinions are strictly his (even if sometimes we wish we'd said 'em first).

Latest posts by Roy Trakin (see all)